At The Open
With Marcia Frost...
Tuesday, August 28th-Main, Day Two
It was a long, sunny day of lots of matches and, after a summer of rain delays, excessive heat and unseasonable cold, I'm taking comfort in the redundancy.
Michael McClune was out on Court 7 this morning, using the wildcard he received as the Boys' 18 Nationals champ to face the 20th-seeded Juan Ignacio Chela. Michael, who had recently turned professional, impressed the growing crowd despite having a difficult time staying on the sccoreboard. It wasn't long before he was down 6-2,4-1. He became ill at that point and couldn't get through the set, but after losing that one (6-1) he seemed to calm a bit and showed a bit more of his talent in the third. It almost looked like he would pull it out -- there were five set points for him -- but the seed finally prevailed in a tiebreaker.
I had a little bit of time so I went into Arthur Ashe Stadium to catch some of Lleyton Hewitt vs. Amer Delic. It's hard to believe it's been four years since I watched newly crowned NCAA champion Amer play next door in the Grandstand during his U.S. Open debut. It was a match I will probably never forget (as I'm sure he won't either) when he lost in the fifth on a very questionable match point call. Since that time he has made it up to the top 100 in the world, however, as he admitted in the post-match conference, he still has more to go before he can beat Lleyton Hewitt. It was still fun to watch, though, as I enjoy the tennis they each play.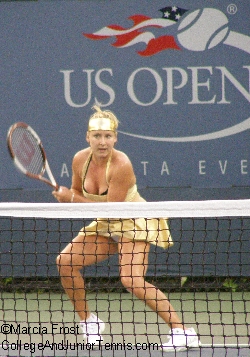 In her Grandstand professional debut today was 17 year old Ashley Weinhold. Ashley earned her spot after winning the Girls' 18 Nationals. I can't say she played as well today as she did in Berkeley. Twenty-year old Anna Chakvetadze, who was seeded six after having an incredible year, was certainly a formidable opponent even when she was double-faulting and making errors. And Ashley couldn't seem to get past her nerves. It was actually all over in 46 minutes, 6-1,6-1.
It was shades of DejaVu for me as I watched Madison Brengle play Bethanie Mattek. It was actually five years ago that I saw Bethanie as the 17 year old recently-turned-pro receiving a wildcard into the main draw. Since than she has become more famous for her outfits than her tennis (see above), but the talent is still there. It started as a very even match with some long games and good points. They remained on serve all the way through 4-4 and it was that one break which was the only difference between them and Bethanie took the set, 6-4. Madison couldn't seem to get past that loss and Bethanie was playing her best tennis, a combination that gave the 22 year old the 6-1 set and match.
(Cardinal) Hats off to a great effort by Scott Lipsky & David Martin. The Stanford grads are one of the greatest doubles duos out there who have remained together throughout college and the pros. They just ran into a bit more experience Tuesday in the No. 9 seeded team of Lukas Dlouhy & Pavel Vizner and fell in three sets of great doubles.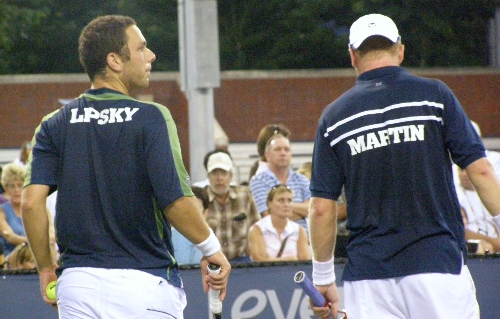 As fast as I ran, even around the block of gates (what are they thinking?) between Arthur Ashe Stadium and the path to Louis Armstrong, I couldn't get from the Madison Brengle match to Nate Schnugg & Kellen Damico. I heard the teens put on quite an effort before falling to the third-seeded Jonas Bjorkman & Max Mirnyi, 6-4,6-2.
I'm looking forward to a day of mostly doubles Wednesday with the exception of John Isner's second round match with Rik De Voest. There are some great teams to watch -- Donald Young playing with Rajeev Ram; Nationals winners Jamie Hampton & Melanie Oudin -- and with any luck I'll catch them and eight hours of sleep.
Until Tomorrow,
Marcia Frost