Sunday, August 12, 2007-And The Winner Is...
Congratulations to Ashley Weingold!
Friday, August 10, 2007-Wrap-Up through Day Six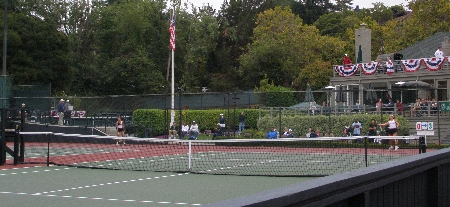 A family emergency sent me back to New York a few days earlier than expected. Everything is under control and I am on my way to the Boys' 18 & 16 Nationals in Kalamazoo, but before I begin that coverage I just wanted to wrap-up my thoughts on the Girls' 18s.
When I left the Girls' 18s last year, I had no doubt in my mind (and I expressed it to quite a number of people) that Lauren Albanese was going to win. It was obvious to me that she was the most motivated and I didn't see anyone else who could break through those long matches and take it. I can't say the same this year. The prospective winners run much deeper this year. I am not a bit surprised to see unseeded Julia Boserup into the quarterfinals and would not be shocked to see her go all the way, however, I can't say that she couldn't be beat by Melanie Oudin, Asia Muhammed or Ashley Weinhold. And No. 16 Alison Riske has taken out the top-seeded Julia Cohen. While I am fairly certain that we will see one of those five earning the U.S. Open wildcard from the Girls' 18 Nationals, I'm not able to predict which one.
I would like to say a few things about the new site of the Girls' 18 Nationals. It is true that the site is not perfect. As a non-athlete I was not alone in finding the trip up and down the hill to be a bit exhausting. And the rain and cold left a lot to be desired, as did the price increase of accommodations in comparison to San Jose. So we have all found out that no site is perfect. Unfortunately, there aren't that many sites ready, willing and able to give up their courts for eight days of hundreds of strangers. The Berekely Tennis Club and Claremont Resort & Spa were and they are both beautiful with incredible viewing from almost all courts. Tournament Directors Andrea Norman and Jennifer Pitzen managed to put it all together there. An incredible host of volunteers are helping to keep it going in an event that also raises money for local kids. They are all listening to suggestions on changes for next year and I'm sure, wherever possible, they will be included. I look forward to coming back next year (hopefully for a longer period of time) to see for myself.
Until next year,
Marcia Frost
Click Here For The Official USTA Nationals Girls 18 Website
Click On A Photo To Enlarge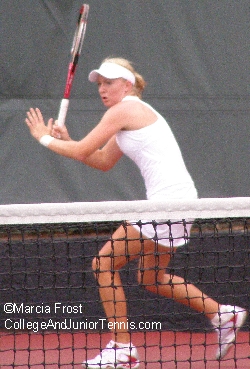 Julia Boserup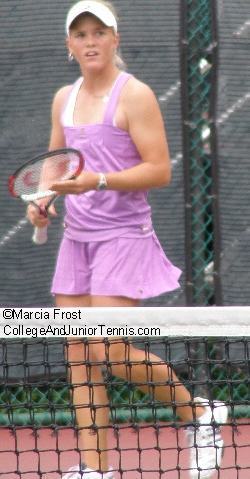 Melanie Oudin
Ashley Weinhold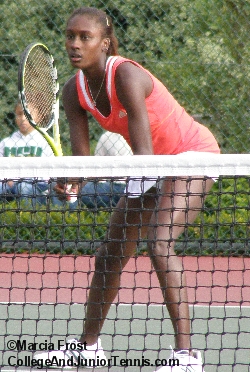 Asia Muhammed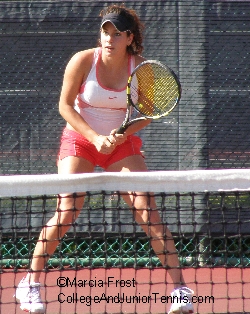 Julia Cohen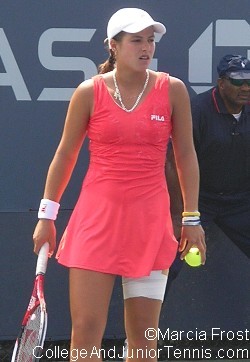 Lauren Albanese
Monthly Guides to
College Tennis Planning
Available in Kindle & Print

Sibling Pairs featured in
American Doubles...






Monthly Guides to
College Tennis Planning
Available in Kindle, Print & EBook
for H.S. Seniors
and H.S. Juniors
Return to:
College And Junior
Tennis Homepage