U.S. OPEN TENNIS CHAMPIONSHIPS
USTA Tennis Center - Flushing, New York
Qualifying: August 22-26, 2000
Main Draw: August 28-September 10, 2000
Junior: September 3-10, 2000
At The Open With Marcia Frost...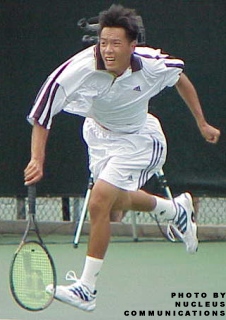 Tuesday, August 29th PM-Main Draw, Day Two
Today was packed full of amateur players waiting to prove themselves "at the Open." While no one stopped the presses, they did make people stand up and take notice.
Phillip King, USTA Super Nationals Boys' 18 Champion and Kristen Schlukebir, the Girls' 18 Champion were both scheduled to go on as the second match of the day. The King match started first and I was able to catch the first set before heading over to Schlukebir's.
It is easy to see how King won the Nationals two years in a row. He has a lot of power. Even a pro like Andrei Pavel had difficulty returning his serve when it was on mark. Though King did manage to get up one break in the first set, he just did not have the experience to anticipate Pavel's moves enough. He was defeated, 6-3,6-4,6-3.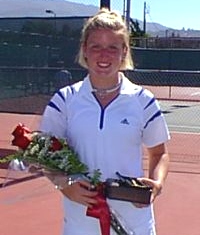 Kristen Schlukebir -- at only 16 -- drew quite the crowd to watch her hard hitting shots. It was certainly not lack of talent that lost this match. Schlukebir's shots were beautiful and her serves powerful, it was her mental game that she did not have under control. She appeared very nervous and often watched shots go by her. Hopefully Schlukebir has gotten her nerves under control and will let the talent take over when she plays doubles with Tanner Cochran at the end of the week.
The most exciting match of the day I found -- and the crowd shared my feelings -- was the Cary Franklin/Graydon Oliver doubles match against Marius Barnard/Robbie Koenig. In a fashion reminiscent of the Jensen Brothers, they really had fun out there!
Franklin & Oliver came on to Court 15 ready to play their hearts out and have a good time. The NCAA Doubles Champions brought a large group of teammates with them to watch as they took the first set 7-5. The set was full of rallys and superb shots. At one point (5-4 in the University of Illinois' duo's favor) they went to deuce six times in one game!
Franklin/Oliver continued to stay just a little better than the South African's in set two. They were actually up 4-2. Though they had the backing of the growing crowd with them, they eventually fell, 7-5,5-7,6-1.
Tomorrow is a new day with more hope for another young duo. Maybe Tres Davis & Robby Ginepri will be the ones to break through to a moment of glory.
Previous days...
---