At The Open With Marcia Frost...
Wednesday, September 4th-Junior Championships Day Four
The colors of the day were red, white and blue as the Americans took the courts and most of them moved on the next round. The biggest winner of all was Robert Yim, who upset No. 14 seeded Steve Darcis.
Robert Yim had total control of Court 9 today. Though Steve Darcis of Belgium is ranked as the number nine player in the world, Robert had him running for shots and hitting wildly. In a match that most certainly brought his ranking a lot higher than the current 40, Robert had the 6-3,6-1 win in just under an hour.
The No. 2 seeded Ally Baker had no problem dismissing Linda Smolenakova of Slovakia. She served up a handful of aces and never lost serve during a 6-2,6-4 win.
Brian Baker also had a quick and easy win against Robert Smeets. Robert never got a break as the boys No. 8 seed headed into the quarters.
The young duo of Vahid Mirzadeh and Nick Rinks out hit and outlasted the more experienced Mathieu Montcourt and Jo-Wilifried Tsonga. Vahid and Nick held most of the match, though the elders did push them to a tiebreak. They survived the challenge for a 6-3,7-6 win.
Top-seeded Tanner Cochran and Kristen Schluekbir were winners today as a team and separately in singles. The team defeated Hanna Nooni and Neha Uberoi, 7-5,6-4. Both girls also moved easily on to the next round in straight sets.
Another American pair to advance in doubles today was Shadisha Robinson and Tory Zawacki. Though it was a challenge, they defeated Aleksandra Wozniak and Katrina Zoricic, 6-4,7-5. In her singles match, however, Shadisha Robinson never quite got into her match with Tatiana Golovin. Tatiana, the No. 15 seed, took it 6-1,6-4.
Not all Americans were lucky today. The eighth seeded team of Brian Dabul and Lamine Ouahab quickly and easily eliminated Stephen Bass and James Wan, 6-1,6-1. Chris Kwon couldn't get past France's Laurent Redorc despite a few breaks in the match.
In an all-American doubles match, Jessica Kirkland and Alexandra Mueller quickly moved past Polina Zaretser and Megan Moulton-Levy, 6-3,6-2.
For Jamea Jackson the problem wasn't winning. The fifteen year old was up in her match against Salome Devidze, 1-6,6-2,4-3, but had to retire due to cramps. Jamea was worked on by a trainer, but felt so bad she had to be taken off the court in a wheelchair.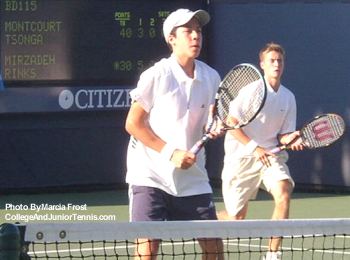 Vahid Mirzadeh & Nick Rinks
Until Tomorrow...