At The Open
With Marcia Frost...
Sunday, September 7th-
Junior Open, Final Day
(Main Draw, almost* Final Day)
It had been 16 years since two Americans -- Lindsay Davenport and Brian Dunn -- were in the finals of both U.S. Open Junior Boys and Girls Championships. And CoCo Vandeweghe and Devin Britton were determined to make their presence known.
As they have the last few years, tournament organizers put the junior finals on courts 7 & 11 -- opposite ends, at the same time. I decided that I miss too much with the back and forth wearimg down of the cobblestones, so I spent a set at each. My first stop was at the boys, where third-seeded Grigor Dmitrov and the first ever qualifying wildcard to make a final -- Devin Britton -- were going at it. The match started much as I expected, with the two hard-hitters winning short points, mostly on their serves. Both players looked solid and no one was giving up a break.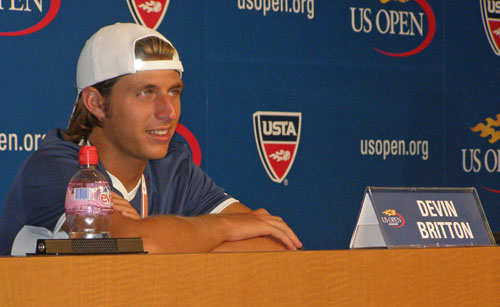 Bulgarian Grigor was just a bit more consistent as he shook up the teen from Mississipi into two double faults at 5-4 and Grigor had the first set. There was one break and one lead for Devin for 2-1 in the second, but he couldn't hold it and dropped the second at 6-3 after saving two match points. I spoke a bit with him after the match and he was still elated to have made the final when he wasn't even sure he was going to make the Open. If it wasn't for Austin Krajicek, who dropped out of the main draw in order to have time to go to Spain with the Davis Cup, giving Rhyne Williams a main draw berth, Devin Britton (above) would have not had that wildcard in the qualifying that took him all the way to the final match. The next concentration will be college, as Devin says he will be attending (and playing for) the University of Mississippi in January.
Grigor Dimitrov, who like his opponent is 17, was not new to picking up a Grand Slam event trophy. He had recently done just that at Wimbledon, propelling him to his current No. 4 spot in the ITF Junior world rankings. Grigor explained the difference in the match for him, "I wasn't nervous at all. I was prepared for that... just keeping my game in the level that I wanted to play was good, because all the matches I was very focused."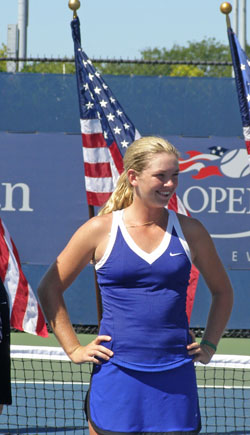 Her mother was the member of two Olympic teams (and won a silver medal in 1984), her uncle is former NBA star KiKi Vandeweghe and her brother just left for Pepperdine to play volleyball on scholarship, so what's the best sports advice the California girl has gotten, "Smile." And that she did -- all the way to the trophy ceremony on Arthur Ashe Stadium.

I arrived at the CoCo Vanderweghe-Gabriela Paz Franco match to find the two unseeded players trading breaks. From 4-3 CoCo to the eventual tiebreaker, there were four breaks, with CoCo having a set point at 6-5. She got another chance, though, in the breaker and the American had her first set. The two 16 year olds went at in the second set and despite a final score of 6-1, there were a lot of long games. Much of the difference came with Gabriela's serve as the Venezuelan's double faults (she confirmed that she was having some shoulder pain) cost her a number of games as CoCo Vandeweghe became the first girl from the United States to win the U.S. Open Junior Championships since Meilen Tu in 1994.

It was a great U.S. Open for the United States with Americans in the finals of the Junior Boys & Girls Singles, Junior Girls' Doubles, Men's Doubles, Women's Doubles, Mixed Doubles, and Women's Singles after a major homecourt drought last year. Congratulations to all and especially to juniors CoCo Vandeweghe, Devin Britton, Mallory Burdette and Sloane Stephens -- the latest juniors to make their mark on the U.S. Open.

Goodbye for now,
Marcia Frost


Be sure to check out Colette Lewis' Zoo Tennis for more U.S. Open Junior stories

*Tropical Storm Hanna interfered with the men's semi so the final has been moved. Be sure to tune into CBS on Monday at 5:00 pm E.S.T.

Boys' 18
SINGLES
Finals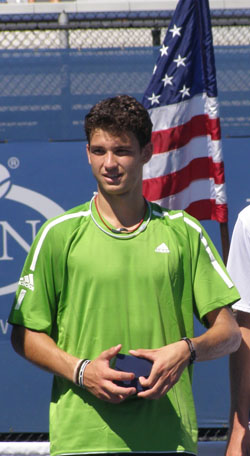 Grigor Dimitrov (3) (above) defeated Devin Britton, 6-4,6-3
Semifinals
Grigor Dimitrov/Bulgaria (3) defesated Tsung-Hua Yang/Chinese Tapei (1), 6-3,5-7,6-2
Devin Britton/USA defeated Filip Krajinovic/Serbia, 1-6,6-4,6-2
DOUBLES
Finals
(Boys Doubles Trophy Pic to come)
Niklaus Moser/Cedrik-Marcel Stebe defeated Henri Kontinen/Christopher Rungkat (2), 7-6(5),3-6,10/8
Semifinals
Niklaus Moser/Cedrik-Marcel Stebe defeated Peerakt Siributwong/Kittipong Wachiramanowong (6), 6-2,3-6,11/9
Henri Kontinen/Christopher Rungkat (2) defeated Marcelo Arevalo/Alex Llompart, 6-3,6-1
Girls' 18
SINGLES
Finals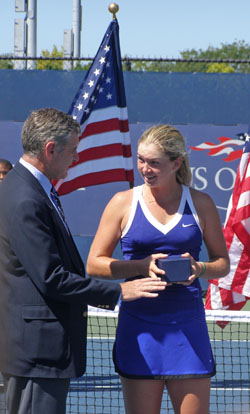 CoCo Vandeweghe (above) defeated Gabriela Paz Franco, 7-6(3),6-1
Semifinals
CoCo Vandeweghe/USA defeated Kristina Mladenovic/France (12), 6-2,7-6(5)
Gabriela Paz Franco/Venezeula defeated Melanie Oudin/USA (2), 6-4,6-4
DOUBLES
Finals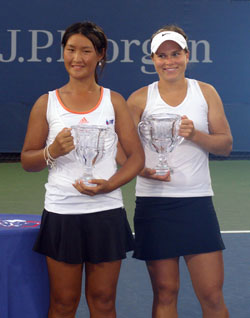 Noopawan Lertcheewakam/Sandra Roma (3) defesated Mallory Burdette/Sloane Stephens, 6-0,6-2
Semifinals
Mallory Burdette/Sloane Stephens defeated Richel Hogekamp/Arantxa Rus (5), 7-6(2),6-3
Noopawan Lertcheewakam/Sandra Roma (3) defesated Beatrice Gumulya/Jessy Rompies, 6-3,5-6,10/8


click on a photo to enlarge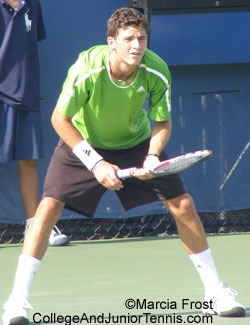 Singles Winner
Grigor Dimitrov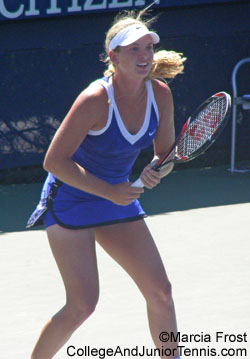 Singles Winner
CoCo Vandeweghe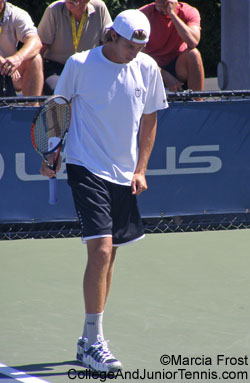 Singles Finalist
Devin Britton
Singles Finalist
Gabriela Paz Franco
Create an Amazon Wedding Registry

Monthly Guides to
College Tennis Planning
Available in Kindle, Print & EBook
for H.S. Seniors
and H.S. Juniors
AMERICAN DOUBLES...
the Trials... the Triumphs... the Domination
Monthly Guides to
College Tennis Planning
Available in Kindle & Print
Sibling Pairs featured in
American Doubles...
Coaching Your Tennis Champion

see review
Create an Amazon Wedding Registry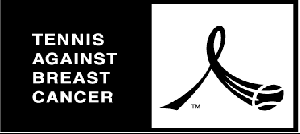 Return to:
College And Junior
Tennis Homepage