At The Open
With Marcia Frost...
Wednesday, August 20th-Qualifying, Day Two
I was running in circles today trying to catch all the college and junior players at the U.S. Open Qualifying and I actually did pretty well. Unfortunately, most of the players did not.
It wasn't the greatest of matches (more errors than winners), but Jean-Yves Aubone of the Florida State University was the college tennis hope of the day as he defeated Melle van Gemerden of the Netherlands. The 6-4,6-1 victory was filled with mostly short points and did not take long, unlike Alex Clayton's loss to Karol Beck.
The Stanford sophomore came out looking as smooth as ever, taking the first three games. Unfortunately, the more experienced Slovakian was sharper and took the set 6-4. He commanded the second with just two games to Alex.
I can't say that it was age that gave Martin Fischer the edge, but a lot of credit goes to a perfect dropshot he hit Bryan Koniecko with. The Austrian kept the pressure up the whole match and, though there were many crowd-pleasing points and close games, it was his 6-3,6-4.
Sixteen year old wildcard Christina McHale had some impressive shots, but just couldn't get past seventeenth seeded Olga Sauchuk. The Ukrainian was everywhere. Although it was just a one break difference in the first set, she was just too good in the second for a 6-1 finish.
It was a similar situation for Julia Cohen, who I've been told just transferred from the University of Florida to the University of Miami. I only saw a few points of that one, but it was Korea's Ye-Ra Lee's 6-1,6-0 match.
Georgia Tech's Amanda McDowell, who was the 2008 NCAA singles champion (and ITA National Player of the Year), could not get her game together against former Clemson player Julie Coin of France, however, the match was much closer than the 6-1,6-1 score describes. In the second set there were two games that went a total of 11 deuces. It was Amanda's serve that was her biggest downfall today, and Julie's was right on.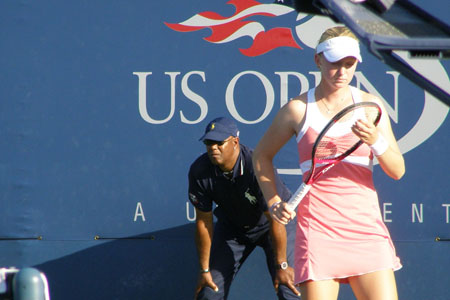 The final score may have been straight sets (6-4,6-2, to be exact), but that was not the whole story in the Julia Boserup-Nina Bratchikova match. When I first arrived at the USTA Girls' 18s Nationals, I was extremely impressed with the way Julia was playing and I felt that way again today.
From the very first long game, it was a match filled with exciting points. It could have easily gone either way, but the Russian took it over the young American by literally a few points here and there. I expect her to be a contender in the Junior event here.
Between all the "Julia(e)s," I caught a bit of Madison Brengle's 6-1,5-7,7-6(5) victory over Ana Jovanovic; Audra Cohen's comeback against Alina Jidkova; and the upset of No. 2 seeded Kevin Anderson by Giovanni Lapentti, who returned the former Illini's serve like no one I had ever seen do before.
I also did not see much of Ryan Harrison, a 16 year old professional, and Daniel Munoz-De La Nava so I can't explain exactly what happened between Ryan's taking the first (6-4) and leading the second, and then losing the final two 6-4,6-3. Perhaps he ran out of steam, as I did, at the end of a very long day.
Until Tomorrow,
Marcia Frost
*Take a look at the impact college tennis is having on professional tennis in
NCAA Champions at the 2008 U.S. Open