At The Open With Marcia Frost...
Tuesday, August 24th
Qualifying, Day One

This year's US Open Qualifying is filled with kids. Some are amateur, some are professional and some are trying to make up their minds, but a whole lot are 18 and under.
Sixteen year old Jessica Nguyen was understandably nervous for her first round Qualifying match and Lucie Safarnova took full advantage. In under ten minutes the Czech won the first three games off the petite teen. It was an incredible -- and consistent -- serve with few faults that kept Jessica in the match. After Lucie won the first set 6-2, the match got a little closer. Jessica held Lucie to just one service break. There were a few good points during that set, but the California native was unable to conquer her nerves and lost the second, 6-4.
There was no problem with nerves from 14 year old Alexa Glatch as she dismissed Japan's Miho Saeki, 6-4,6-2. Alexa has played pro events before, proving herself as far as the finals. She's also travelled the world playing ITF junior events. All that experience has paid off and complimented her incredible serve & volley game. Alexa looked even better than she did at the USTA National Hardcourts Girls 18 (where she came in third). There didn't seem to be anything Miho could do as I counted five aces and many crowd-cheering winners. Next up for Alexa is seventeenth-seeded Mervana Jugic-Salking.
Perhaps his mind was on that Junior Grand Slam doubles title in two weeks that he wants to add to the three others he already has, but Scott Oudsema couldn't get his singles game together today. The power that is such an assett in doubles worked against him in his match with Hermes Gamonal of Chile. Too many long and wide balls cost him games, then sets, until he succombed, 7-5,6-4. There's still much more play for Scott, though, in men's doubles and junior singles & doubles.
Alex Kuznetsov, who recently turned professional, was not able to get past tenth-seeded Guiermo Garcia-Lopez. The 17 year old is one of the fastest players I've seen in a long time -- quick with his hands as well as his feet. He has a terrific serve whether it's a first or second and all the strokes needed for a first class player, but Alex isn't quite there yet and the Spainard gave him a lesson to the tune of a 6-2,6-3 win. I'm sure the racquet-throwing didn't help his game, but I think that will subside and it will all come together with a little more experience.
There were many more kids on the court today that I was unable to catch, but I'll make it a point to get to them in the juniors. USTA National Hard Court Girls 18 finalist Andrea Remynse lost to Marta Domachouska, 6-0,6-4... Alexandra Mueller defeated Zuzana Ondraskova, 6-4,6-2... In a U.S. teen playoff, Cory Ann Avants edged by Neha Uberoi, 6-4,6-7(4),6-4.
One match I was very disappointed I missed was the National Tennis Center's own Mykyta Kryvonos. Actually, I spent quite awhile trying to find that match as it was moved twice. By the time I finally did locate it, Mykyta had lost to the ninth-seeded Janko Tipsarevic, 6-4,6-4.
Tomorrow will bring another group of juniors to the US Open. Among them are Phillip Simmonds, Brendan Evans, Vania King and Donald Young, who was stopped today by fans asking for autographs and pictures. I am sure there will be no problem getting an audience for that match!
Until Tomorrow,
Marcia Frost
Click on a photo to enlarge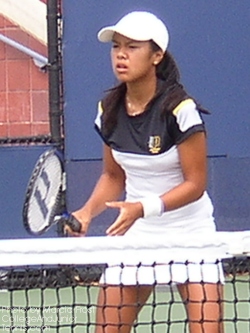 Jessica Nguyen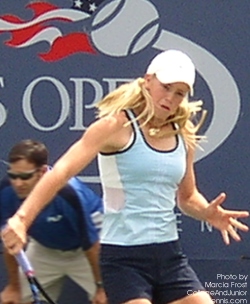 Alexa Glatch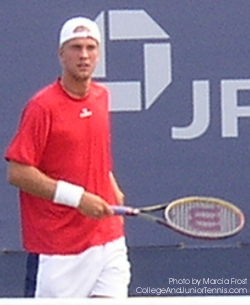 Scott Oudsema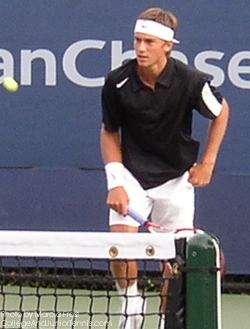 Alex Kuznetsov
Create an Amazon Wedding Registry
Return to:
College And Junior
Tennis Homepage