At The Open
With Marcia Frost...
Thursday, August 24th-Qualifying Day Three

Her name is Ashley Weinhold, but you can just call her the comeback kid. For the second day in a row she beat the odds (and the older, more experienced player) to ignore the score and win her match.
There were long games and opportunities for the 17 year old Texan to get by Anne Kremer (seeded 31) in the first set, but she just couldn't get through. It looked like the match would end in the next set as the 31 year old from Luxemborg had a 5-3 lead, but in the blink of an eye it was Ashley's at 5-4,5-5,5-6 and then 7-5 for the set. It seemed to all have been wasted when Anne took control in the third for a 4-1 lead. Ashley then fed on the support from the crowd (and fellow American teen Madison Brengle) to pull out everything she had. From that point she would win five of the six games and a 7-3 tiebreaker. In Friday's final (qualifying) round, Ashley Weinhold will face twelth-seeded Varvara Lepchenko.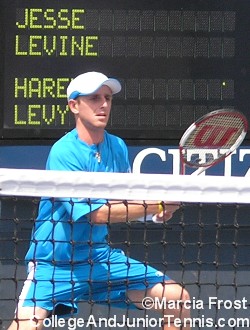 The only thing confusing about the crowd-pleasing match on Court 2 was who the score was in favor of (was that Levy or Levine?), and that score kept changing in the first set. It was the first time I had watched a full Jesse Levine in nearly a year. The 18 year old Floridian had a very disappointing Kalamazoo ending when he had to pull out of the final (against Donald Young) because of a virus that struck many players, officials and guests at the tournament. He had been given a wildcard into this event and was making good use of showing off his talent. While watching him it is easy to wonder if he had been a dancer or gymnast in another life as he not only gets to the unbelievable, but does it with acrobatics. However, Harel Levy has comeback from a hip injury in great shape. Despite a 4-2 lead for the Boca Raton kids in the tiebreaker, it was the Israeli who took the set. The second would have long points and games as Jesse tried every trick he could to outsmart the veteran without luck. He would succumb, 6-3. There is still the junior event for Jesse as he also contemplates his collegiate plans.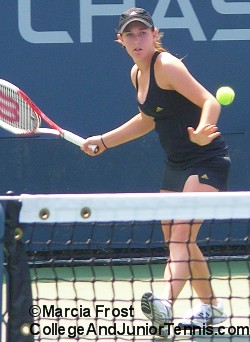 There was no comeback today for Madison Brengle, though everyone held out hope until the end. The match started differently than the previous with the Delaware native at the net from the start. A few unforced errors had her back away, however, and she couldn't quite find her game against third-seeded Yulia Beygelzimer.. After a quick break she seemed to have more confidence as even her opponent's coach remarked about her talent. It was a back and forth set until Yulia's hard fought break at 5-5. From there she won the next two games and took the match. Madison has some time off now to prepare for next week's events.
Ashley Weinhold-Varvara Lepchenko will of course be my feature match on Friday. Fortunately it's going to be right next door to another match I'm anxious to see. Two NCAA singles champions will be battling for a place in the main draw. No. 32 Amer Delic (Illinois, 2003) and No. 8 Benjamin Becker (Baylor, 2004) should put on quite a show for the crowd. It's one not to be missed and I certainly won't.
Until Tomorrow,
Marcia Frost
P.S. I usually leave the clothing comments for the fashion writers, but after last year -- when I had huge polo ponies staring me in the face everyday -- I have to remark about how much I love the new ball boys/girls uniforms. The pony has shrunk and the dark blue is not overplaying my photos. (The women's tank/sleeveless style is actually very fashionable, too, looking good on the kids and adults.) On behalf of media everywhere, thank you Ralph Lauren!