At The Open
With Marcia Frost...
Friday, August 25th-Qualifying Day Four (Final Day)
I guess there is no such thing as a week of perfect weather. First it was showers last night, than intermittant rain today. In the end all the matches were played, though not with the results junior tennis fans had hoped for.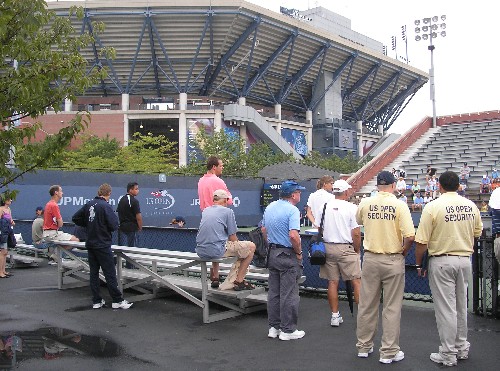 There was no comeback for Ashley Weinhold today. The match was delayed by rain for two hours before the 17 year old Texan could take the court against twelth-seeded Varvara Lepchenko of Uzbekistan. The 20 year old had taken out Jamie Hampton in the first round and she was determined to take out her fellow American. Still, Ashley looked more solid at the beginning than she had in previous days.
The women traded breaks in the first few close games until they were back on serve at 3-2 Varvara. Ashley was right in there all the way, with crowd support that included cheering for her volley winners. It was a close won until Varvara broke for 5-3 and then the set in the next game. While they traded some decent points in the second set, Ashley just couldn't get the momentum back and she fell, 6-1. This certainly isn't a U.S. Open end for Ashley as I pick her for one of the top singles and doubles finishers at the Junior Championships.
I was fortunate enough to be able to keep my eye on the battle of the NCAA champions during changeovers of Ashley's match and, when it was done, my full attention changed to Court 7. There was a growing crowd that included a third NCAA Singles Champion, Benjamin Becker's former Baylor teammate Benedikt Dorsch (2005) and a reknowned coach, Amer Delic's former Illinois coach Craig Tiley, who is now the head of Tennis Australia and Tournament Director of the Australian Open. It was quite a group and quite a match.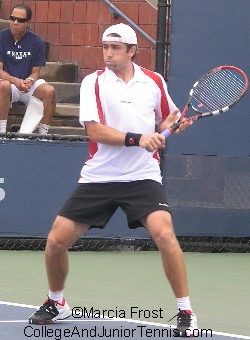 If I ever wanted to define a servers' duel it would be the first set of this match. The power on court was certainly a far cry from the women next door. The serves came by with such force that the fans would duck if they thought they were anywhere near the receiving end. A few long, multiple deuce games were thrown in, but mostly the players just concentrated on trying to return each other's serves. It was Benjamin who finally broke at 3-2 and he held it for a 6-3 set.
By the second set, Benjamin and Amer had gotten a lot more handle on each other's serves and there were a few more longer points to be played. It was the higher seed (8) Benjamin who broke just once, but it was enough to give him the match at 6-4 over No. 32 Amer. Four other past college players who also made it through the Qualifying are Robert Kendrick (Washington & Pepperdine), Jeff Morrison & Michael Russell (Florida) and Jesse Witten (Kentucky).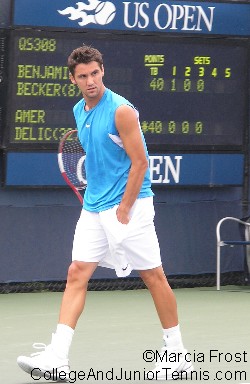 Tomorrow is Arthur Ashe Kid's Day at the U.S. Open. My coverage is going to be a little different this year due to a (positive) change in the ITA All-Star Outing. Those chosen for this year's event are: Melissa Applebaum, Audra Cohen & Luigi D'Agord of Miami; Emily Applegate of Washington & Lee; Suzi Babos of the University of California; Alice Barnes & Anne Yelsey of Stanford; Luisa Cowper of Armstrong Atlantic State; Cristelle Grier & Alexis Prousis of Northwestern; Jelena Pandzic of Fresno Pacific; Marta Simic of Broward Community College; Diana Srebrovic of the University of Florida; Kevin Anderson & Ryan Rowe of the University of Illinois; Andre Begemann & Scott Doerner of Pepperdine; Will Boe-Wiegaard of Bates; Scott Green & Ross Wilson of Ohio State; Mislav Hizak of Embry-Riddle; John Isner of Georgia; Damian Johnson of Temple College; Benjamin Kohlloeffel of UCLA; Mattias Oddone of Drury.
This year's recipients of the ITA/Arthur Ashe Leadership and Sportsmanship Award - Megan Moulton-Levy of William & Mary and Jonathan Stokke of Duke have also been invited to attend the All-Star Outing. These top players in all divisions of college tennis will be honored with a luncheon in the President's Suite and some will be participating in an exhibition in Arthur Ashe Stadium with local college players Mark Clemente (Columbia) and Janet Kim (Yale). It will be great to see the college players so prominently at the Open.
Until Tomorrow,
Marcia Frost
above from top: Ashley Weinhold, Benjamin Becker, Amer Delic