At The Open
With Marcia Frost...
Saturday, August 26th-
Kid's Day and the ITA All-Star Outing
It was an exciting day at the Billy Jean King National Tennis Center as the ITA All-Stars took center stage on a Arthur Ashe Kid's Day that will be remembered by all.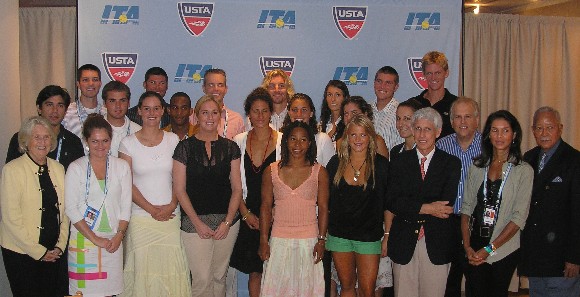 In the past, the ITA All-Star Outing was held at the West Side Tennis Club in Forest Hills. There was play through round-robins with the players and special guests, and a luncheon was served. This year the USTA has been getting more involved in the promotion of college tennis and the ITA All-Star Outing was moved to the Tennis Center. The participants were treated to a day in the President's Suite, complete with a luncheon hosted by long-time tennis fan Mayor David Dinkins.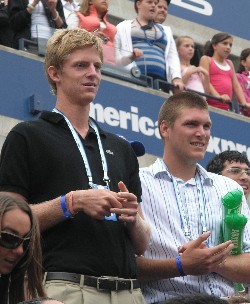 During the luncheon, the ITA All-Star team of Melissa Applebaum & Audra Cohen of Miami; Emily Applegate of Washington & Lee; Alice Barnes & Anne Yelsey of Stanford; Luisa Cowper of Armstrong Atlantic State; Alexis Prousis of Northwestern; Jelena Pandzic of Fresno Pacific; Diana Srebrovic of the University of Florida; Kevin Anderson & Ryan Rowe of the University of Illinois (pictured left); Andre Begemann of Pepperdine; Will Boe-Wiegaard of Bates; Scott Green & Ross Wilson of Ohio State; Damian Johnson of Temple College; Mattias Oddone of Drury all received plaques for their achievements. Also honored were this year's recipients of the ITA/Arthur Ashe Leadership and Sportsmanship Award - Megan Moulton-Levy of William & Mary and Jonathan Stokke of Duke.
After the luncheon, Will, Jon, Megan and Audra participated in a Arthur Ashe Stadium pre-show exhibition with local players Janet Kim of Yale and Mark Clemente of Columbia. After a tour of the Tennis Center, the group headed to New York City for an evening of fun at ESPN Zone.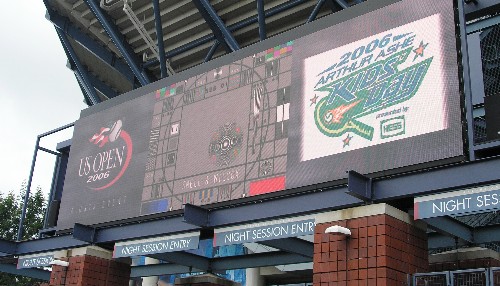 The ITA All-Star Outing was certainly not the only thing going on for Arthur Ashe Kid's Day. There was a host of games, fun and celebrities on hand for kids of all ages.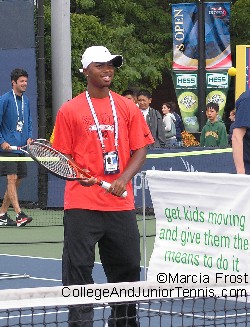 Among the activies was the Nike Challenge Court, featuring Donald Young (right) hitting with the kids. There were also wondering characters, stilt walkers and jugglers throughout the ground, plus hairbraiding and tattoos (painted on, of course).
This year's stadium show played to a crowd of nearly 24,000 (a record) and had a host of celebrity participants. In addition to musical acts Teddy Geiger, Cheyenne Kimball, Ne-Yo and the Cheetah Girls, actors Ellen Degeneres, Shannon Elizabeth and Jason Biggs also showed up to play a little tennis. The tennis stars participating were Andy Roddick, Andre Agassi, Serena Williams, Steffi Graf and James Blake.
After a day of fun it's time to get down to the very serious business of America's Grand Slam event. The main draw of the U.S. Open begins on Monday. I'll be on hand to watch the under 18 group -- Donald Young, Alex Clayton, Vania King, Lauren Albaense and Alexa Glatch. Also, as of this writing, Ryan Sweeting is officially a college player intending to return to the University of Florida when his stint at the U.S. Open is over.
Until Monday,
Marcia Frost