At The Open
With Marcia Frost...
Monday, August 28th-Main Draw, Day One
What a difference a year makes. Last year, Vania King was just a wildcard qualifier who suprised everyone, Lauren Albanese couldn't make it past the first round of the junior event and new pro Donald Young couldn't win a round in the main. Okay, the latter hasn't changed much, though he did win Kalamazoo again and lose in four sets today, but life for Vania & Lauren sure has changed.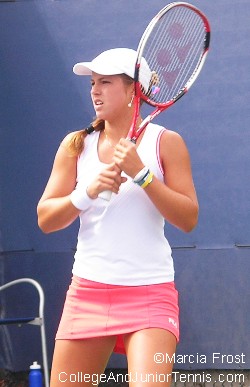 Lauren Albanese vs. Olga Savchuk on Court 13. The 16 year old American wildcard and the 19 year old from the Ukraine. They were separated by over 500 spots on the WTA rankings, but that didn't matter today as I witnessed one of the strangest matches I have seen.
I usually refrain from point by point recaps. I find that it's hard to hold someone's interest on the web through so many details (I confess, there have been match stories that I couldn't even get through), but this is just one match that I can't possible describe without a lot of details so try to follow -- it's worth the effort...
It all started with a bird. A baby bird, that is. The bird did not want to get off the court without a bit of persuasion. Finally, he/she left and the match started. Lauren looked as relaxed as a 16 year old could under the circumstances. The match progressed on serve until she broke for a 5-3 lead, but then Olga broke back and Lauren did the same, giving her a 6-5 lead with the Ukrainian serving. There was a set point for Lauren, but she missed it and they headed to deuce. Once again, a set point and Lauren couldn't get it in the court. Then, a third set point handed to her -- because Olga dropped her racquet on the court and couldn't possibley get anything back, but Lauren overhits the ball and it goes out! We're back at deuce, ad-in, Olga's game. We're into a breaker.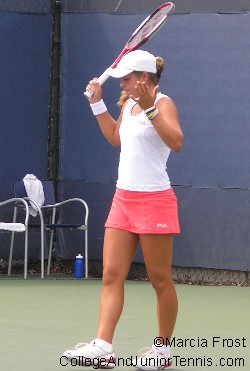 The breaker began with the players trading short points without excitement. Olga reached 6-5 and -- while she was in the back of the court -- Lauren went to the net for an easy drop shot and hit it right into the net. Set to Olga Savchuk, 7-6(5).
Now, I have seen Lauren Albanese fall apart on court (though she more often than not can get it back together), but despite all the missed opportunities, she held it together and pumped herself up into the second set. There were missed break points, but finally the Floridian teen did make it through and has a set point at 5-4. Olga returns the serve, Lauren turns around -- smiling since she knew the ball was heading out -- and the ball hits her on the back! Point to Olga. Set point number two comes and Olga returns a winner... set point three and then it's deuce on a questionable call. Finally, on set point four, Lauren takes the second, 6-3.
Compared to the rest of the match, the third set was pretty uneventful with the exception of Olga's three trainer treatments for her thigh and neck (?). She just couldn't get herself back together and Lauren Albanese used her wildcard from winning the Girls' 18 Nationals to advance to the second round in two minutes shy of three hours. Ironically, the last player to do this was Laura Granville (in 1998 & 1999), who is now ranked 52 in the world and today lost in the first round.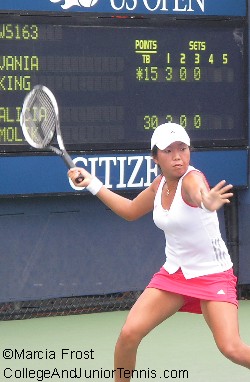 Vania King, who recently turned professional and is now ranked at 72 in the world, moved on to the next round quickly and easily today over Australia's Alicia Molik. Although she struggled a bit with her serve, the rest of Vania's game was solid whether she was at the baseline or the net. There didn't seem to be anything Alicia could do as the 17 year old was right there for every shot and her game seemed to be a bit off today. It was Vania's, 6-3,6-2.
The men's doubles draw was released today. I was disappointed to see that there are still no college players to be seen, however, a wildcard was given to juniors Nate Schnugg & Kellen Damico. Theirs will be just one of many matches I hope to see tomorrow, though the forecast isn't looking very dry.
Until Tomorrow,
Marcia Frost