At The Open
With Marcia Frost...
Wednesday, August 29th-Main, Day Three
The weather is still beautiful and the play still exciting as we go into day three of the U.S. Open main draw.
It was a fairly slow day in the college and junior tennis world. I caught up with some work and interviews in the morning before I headed out for an afternoon and evening of great doubles. My first stop was at Court 8 where the largest back court crowd I'd ever seen had gathered. The star attraction was Donald Young, playing with one of the greatest doubles players on the Pro Circuit, Rajeev Ram. The two were playing together for the first time. Their opponents were Agustin Calleri & Luis Horna for this first round match.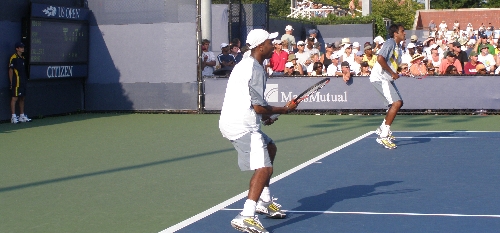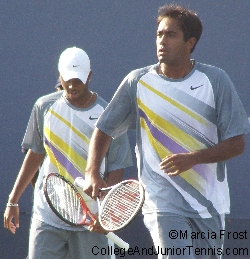 I settled into a seat (which was no easy task -- the crowd packed in like sardines) and was not disappointed with the doubles action. On court was a great group of serve and volleyers who were not used to losing points on either. The first break came at 4-4, when the South American duo pulled it, but it would take four deuces and three set points before they had 6-4 in the first. In the second set the doubles picked up to more of a crowd-pleasing level, especially since it was the Americans with the break and the 6-4 set.
The third set was full of some great points, but mostly a lot of hard serve and overheads that didn't land until a court later. The break came early for Agustin & Luis (2-2) and they held it through to 5-4, despite some close games. Three match points later Rajeev & Donald were out of doubles.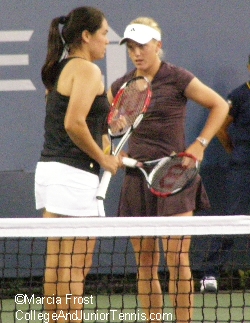 Girls' 18 Nationals doubles winners Jamie Hampton & Melanie Oudin had quite a challenge in front of them -- fifth-seeded Young-Jan Chan & Chia-Jug Chueng. I was extremely impressed by the Chinese duo and, though I don't know them, it was pretty clear they had been playing together a long time. Their movements were quick and almost choreographed and, even though Jamie & Melanie put up quite a fight and took many of the games to deuce, they were just no match. It was fun to watch, but disappointing to the crowd, as the teens went down 6-1,6-1.
I missed Ashley Weinold & Madison Brengle since they were at the same time as the above match, however, I was told they came back for a bit in the second with some good points before falling, 6-1,6-3. I did catch John Isner as he made his way to a date with Roger Federer. John, who is the current leader of the tournament in aces with 48, is taking full advantage of his wildcard and charming the spectators. Today he faced South African Qualifier Rik De Voest in front of a small Grandstand crowd that grew after a bit in the third after Serena finished. The crowd included former University of Georgia Coach Manny Diaz, whom John did seem to look at for reassurance every now and then, but in general he seemed relax as he took Rik, 6-3,6-3,7-6(4).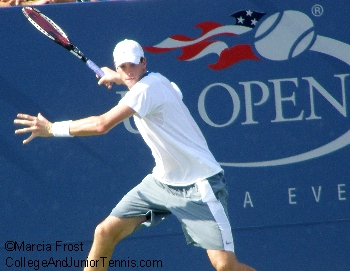 There are some more great doubles matchups for Thursday (I'm still counting the moments until Scott Oudsema & John Isner take on Bob & Mike Bryan) and the second round for Donald Young. It won't be easy for him as he will face No. 13 Richard Gasquet.

Until Tomorrow,
Marcia Frost
---

Monthly Guides to
College Tennis Planning
Available in Kindle, Print & EBook
for H.S. Seniors
and H.S. Juniors
---
---
---
---
---
---
---
---
Return to:
College And Junior
Tennis Homepage