At The Open
With Marcia Frost...
Wednesday, August 30th-Main Draw, Day Three
I've just spent nearly 12 hours at the U.S. Open and feel the need to see some tennis. What's wrong with this picture? It was the strangest of days with morning tennis that wasn't really there and a big gap in the middle before the juniors appeared again.
It started out as quite the match with quite the crowd. Last year's U.S. Open Junior Champion Ryan Sweeting and Guillermo Coria, a tennis star in his own right. Ryan is technically the only college player in the singles draws, currently playing under the University of Florida as an amateur. The match started with the kind of quick moving and fast playing Guillermo Coria everyone expected, while Ryan was battling nerves. The first two games belonged to the Argentinian without problem and just as I was about to write what great shape he was in... he began moving slower. Then, at 2-2, he came to a crawl and Ryan took a 3-2 lead. As he struggled to even sit, Guillermo called for a trainer. Soon there was a party of four standing over him as he lay on the ground. No one could hear what they were saying, but it appeared they were urging him not to continue. He soon shook Ryan's hand and retired.

I spoke to Ryan a bit after the match and, as you can tell from the hat he's wearing, he's still considering himself a Gator. He puts his return to the University of Florida at 50-50 odds for the moment, but it's going to at least wait until his trip to Moscow as a Davis Cup hitting partner. When he does arrive in Gainesville he has an apartment waiting with Florida teammate Greg Ouelette. He acknowledged that he hit with Andy Roddick the other day and ,"I don't think my level is anywhere near Roddick's right now." He commended Coach Andy Jackson for being "very supportive of whatever I decide." Ryan seemed pretty ready to make a well-thought decision and his biggest fear right now is what faces him behind the scenes in Moscow, "James (Blake) is thinking of the best way to initiate me!"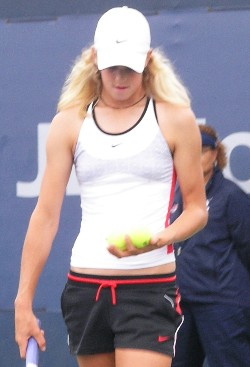 Since Ryan's match ended so quickly, I had time to check out Alexa Glatch and Jarmila Gajdosova. The 19 year old from the Slovak Republic was leading 4-1 when I arrived. The set was over rather quickly with a few aces. Sixteen year old Alexa, who sat out most of the year with a broken elbow, didn't appear to be moving to anything and I thought perhaps the bandage on her leg indicated a serious injury. The match continued at basically the same pace as the crowd grew tired of points on aces, errors and missed opportunities. It was a very quick 6-2,6-1 for Jarmila Gajdosova.
Anyone who knows me (players, coaches and fellow members of the press included) knows that I hardly ever ask a player "what happened out there?" Today was one of those rare exceptions. And I asked it of Alexa Glatch because I was stumped. I had watched her play dozens of times and I had never seen anything like today. I had thought she was injured, but her response was simply, "I am fine. There is nothing wrong with my leg. I just lost." Alexa did say that she planned to play the Junior Championships where last year she was a singles and doubles finalist.
There wasn't anything going on mid-day for me to watch. This evening I got to see the Kellen Damico & Nate Schnugg go at it against Spain's David Ferrer & Fernando Vicente. While the first set was a bit of a server's duel, after the latter broke at 5-5, they held control of the match. There were some good points, and the crowd was impressed with the juniors before they succombed, 7-5,6-2.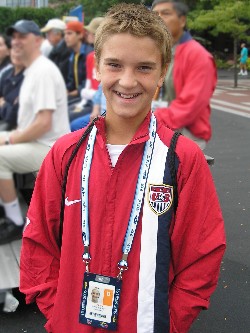 In some U.S. Open-related news, I spent a few minutes with last year's U.S. Open Junior Doubles Champion Alex Clayton, who has spent most of the last year trying (with some success) his luck on the tour. I asked him about his college plans and got the impression a higher education is definitely in his future. He said it won't be until at least January '07 and that he'll make a decision in about a month as to when and where. I also ran into TJ Pura (left). He is an adorable 11 year old who has earned a top 20 national ranking with an incredible game (that includes a one-handed backhand). I also just posted a timely story about Shinann Featherston, another local top-ranked player who is part of a family that is all over the Open.
Tomorrow should be an exciting one. I've got Lauren Albanese vs. Svetlana Kuznetsova; Alex Clayton & Donald Young vs. Simon Aspelin & Todd Perry; and Jamie Hampton & Ashley Weinhold vs. Anna Chakvetadze/Elena Vesnina And, tomorrow evening around 7:00 pm I'm told the Junior Qualifying Draw will be released. I'll have that posted as soon as possible. It's going to be quite a Thursday!
Until Tomorrow,
Marcia Frost