At The Open
With Marcia Frost...
Thursday, August 30th-Main, Day Four
It's taken two years of growth, but Donald Young has proven that he can play with the big boys. Today he didn't get a chance to prove it again.
Donald Young vs. Richard Gasquet. It was going to be quite a matchup of two former world junior numbers ones. There was a difference, however. At 21 Richard had three more years of experience and a thirteen seeding. The match was to take place om Armstrong Stadium, but instead Richard Gasquet called a press conference to announce he was withdrawing. It was a throat infection and fever that kept him from even completing the morning practice. He knew he would not make it through a best of three match. So, Donald Young advances to the third round (which, by the way, earns him an additional $15,500) to face Feliciano Lopez.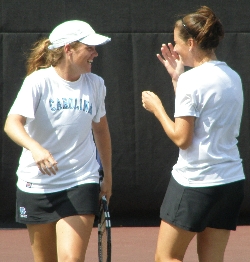 Without the Young-Gasquet match I had some time today to check out some more doubles matches (see sidebar below) and do some more interviews. One of those doubles matches that I did not get to was that NCAA Champions Sara Anundsen & Jenna Long. I spent the whole day regretting the mistake, but I made it. I had gone over the schedule with a fine tooth comb and did not see their match on the roster. I went off to the Players' Lounge and came back to check the scoreboard. And then I saw it... Jenna Long & Sara Anundsen had just lost to Klaudia Jane & Alicja Rosolska, 6-2,6-1. On further investigation, I found out my schedule was missing the backside of matches. I usually double-check against the daily program and today was the day I didn't. The University of North Carolina grads were very understanding when we spoke later. Even though I did miss the match I got the scoop -- Sara has just taken the job as Assistant Woman's Coach at Princeton, while Jenna is off to the Pro Tour.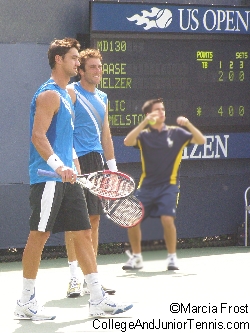 I did get to see some of Amer Delic & Justin Gimelstob playing doubles. It's not a matchup I would have thought of together, but it was certainly working out there. The two made a great team and they proved it by defeating Robin Haase & Jergen Melzer, 6-3,7-6. Another interesting match I went by was a doubles pair up of three out of four Americans who have been making the news. Ahsha Rolle, who is still making waves in singles, was teamed with Angela Hayne while Vania King, who I still haven't grasped as going from a top junior to a top pro in what seemed like seconds, was playing with Emilie Lolt. I caught some great points before the latter seeded duo won 6-4,6-1.
As soon as I saw the draw I knew I had to see the match. John Isner, the biggest tennis news of the 2007 U.S. Open (and maybe the summer of 2007 in general), and Scott Oudsema, the record holder for the most Junior Doubles Grand Slam titles and the winner of quite a few pro doubles titles, teamed against the top doubles team in the world -- Bob & Mike Bryan. The match was moved to Arthur Ashe Stadium in front of the television cameras and a pretty decent sized crowd. It started out a bit slow with mostly service winners deciding the games, but the momentum changed when Scott & John broke for a 2-1 lead. Before they knew it the Brothers Bryan were down 3-1 and they needed to get serious. And they did.

It was Mike Bryan who first took control, putting points away at the net as quick as they could get to them. There was still a challenge from their opponents and deuce games, but the Bryans proved they have the quickest feet and hands in doubles. The crowd didn't get too many great points (I counted four) in the match before the top-seeds won, 6-4,6-1.
Things will change dramatically for me tomorrow as I head into Flushing Meadow Park for the U.S. Open Junior Championships Qualifying. There has been quite a controversy in the junior tennis world over the wildcards into the junior events, but there are so many outstanding players I have no doubt the quality of talent would have been well-represented in any of the choices.
Boys' Junior Qualifying Singles Girls' Junior Qualifying Singles
Until Tomorrow,
Marcia Frost
---
American Doubles... On Top Of The World
Why am I spending my downtime at the Open watching doubles and interviewing players? I am happy to announce that I have signed a contract with Mansion Grove House to produce a book on American Doubles. The book will explore the United States' domination of doubles in Juniors, College and Professionals. It will also include lots of photos, tips from top coaches and interviews with players who have won major titles in Junior, College & Professional doubles. And, of course, there will be an extensive look at the career of the Bryan Brothers and how they have changed the world of doubles. We are hoping for a release at the NCAAs in May 2008.

I am currently conducting interviews and welcome any ideas of players to include. My current list is quite extensive, but if you have any thoughts -- especially players who have won major titles in Junior, College and Profesional doubles, please e-mail me - Marcia@MarciaFrost.com.
See the Latest
at NIKE
---
Monthly Guides to
College Tennis Planning
Available in Kindle & Print
---
---
See the Latest
at NIKE
---
---
---
---
---
Return to:
College And Junior
Tennis Homepage