At The Open
With Marcia Frost...
Thursday, August 31st-Main Draw, Day Four
There was certainly lots of good tennis today at the U.S. Open, however, the juniors were not on the winning side.
It's been a good run for Lauren Albanese and it ended in a good place -- on Louis Armstrong Stadium against 2004 U.S. Open Champion (and this year's No. 6 seed) Svetlana Kuznetsova. The 16 year old came out looking less nervous than you would expect. There were some short ball errors, but she stayed in it from the beginning. Svetlana broke for 2-1 and Lauren came close to getting it back in the following game, but she just couldn't do it. The first set was over in just 26 minutes with 6-1 for the former champion.
The most obvious thing lacking in Lauren's game today was her net play which had gotten her through a lot of tough spots this tournament. That's not to say it would have been enough to get past today's opponent. It was still quite an experience for the teen from Florida and it was capped off when she got to challenge a ball that she thought was out. The crowd roared when Lauren's call was proven right and she got to smile -- if only for a moment -- on center court.
Alex Clayton & Donald Young, this year's winners at Kalamazoo as well as last year's U.S. Open Junior Doubles winners, gave it their all against the No. 8 seeded Simon Aspelin & Todd Perry. in the first set. It was good doubles that drew quite a crowd and the elder duo just squeaked by for a 7-5 win. The second set was quite different as Alex, who I have referred to as one of the best volleyers in the juniors, was missing his best shots while the seeds were outserving them to a shutout.
Another teen faced the very top on Armstrong today. New pro Vania King fell to second-seeded Justin Henin-Harden. I wasn't able to see much of the match, but what I did see was Vania giving it her all. She also gave it all when she belted out the National Anthem tonight before the evening's matches. It was a surprise to many to see her name on the program and I understand she did a great job while I was out catching some evening doubles.
There were lots of young Americans playing doubles on the grounds tonight. I'm sorry to say that there was no homecourt advantage. Phillip Simmonds & Jesse Witten, Scoville Jenkins & Rajeev Ram, as well as Jesse Levine & Sam Querrey all lost today. I got to see a little of each match because I kept going back to check on Court 5 to make sure I caught Jamie Hampton & Ashley Weinhold. Under an incredible red-sky sunset, the two played together for the first time against Anna Chakvetadze & Elena Vesnina. The teens had some trouble getting their games together, but there was some great serve and volley. Since Ashley has lost constant partner Sanaz Marand to the University of North Carolina, we may see some more of these two playing together, but for tomorrow, Ashley's partner will be Donald Young in Mixed Doubles.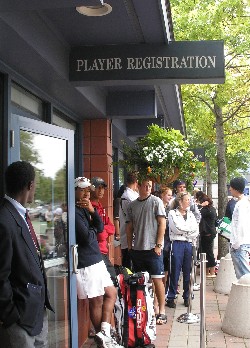 Today was registration for the Junior Open Championships. The Qualifying for singles begins tomorrow out in the park (just outside the main entrance to the National Tennis Center by the subway). It's the day I need to reserve the most energy for as I'll be (attempting) to cover the Burdettes playing doubles, as well as Alexis Prousis & Anne Yelsey and Ryan Sweeting's singles match, while going outside the complex to the Qualifying matches. Unfortunately, the draws have not been posted online as I had been promised and I've been trying to get them for the last two hours. In order to attempt to get home before midnight to get some rest for my busy day tomorrow, I am going to give up on getting them tonight. I will make sure the full draws and results are posted tomorrow.

And for my moment of the day... I noticed a familiar face staring at a television screen in the pressroom today. As the mother of a pre-teen in the 90s I immediately recognized Lance Bass of NSYNC. I asked him if he needed help getting tickets so he could watch the match in the stadium, but he assured me he had seats. He had just come into the media center to use the bathroom (not his exact words) and just liked the atmosphere so he thought he would stay and watch the match on tv a little. I told him he was welcome anytime. It was tough, but I resisted the urge to go against my journalist's oath and ask for an autograph to bring home!

Until Tomorrow,
Marcia Frost


P.S. This year I have an assistant. Be sure to check the main U.S. Open page for some of Tom Kosinski's stories. Today he gives us a view from three qualifiers-to-be.