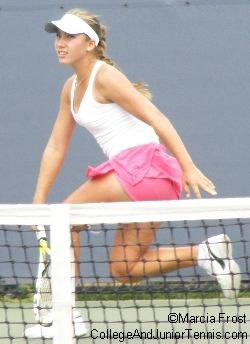 Stephanie Vidov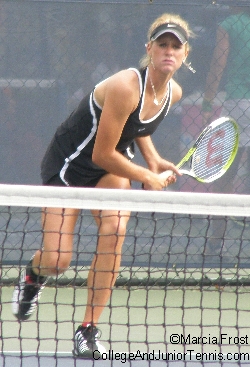 Allie Will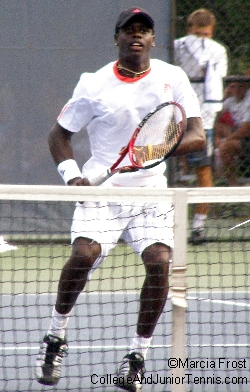 Jarmere Jenkins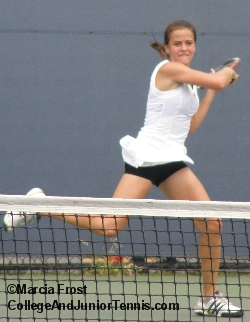 Nicole Gibbs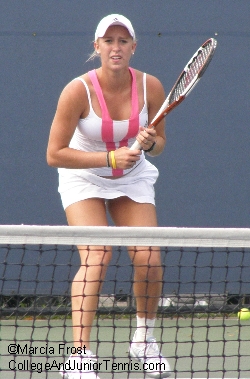 Alexa Guarachi
Dennis Nevolo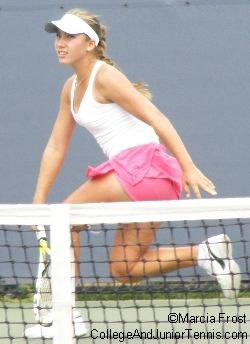 Stephanie Vidov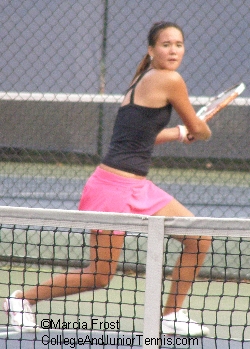 Kristy Frilling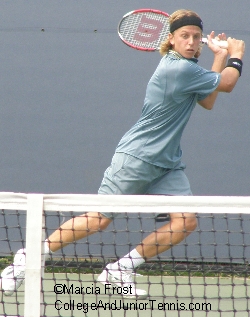 Dennis Kudla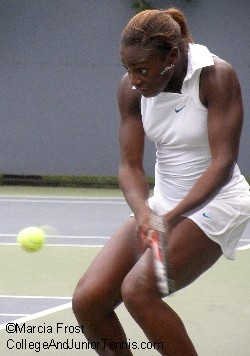 Sloane Stephens
click on a photo to enlarge

At The Open
With Marcia Frost...
Friday, August 31st-Junior Qualifying, Day One
I was out in Flushing Meadow Park today for the first day of Qualifying for the Junior Championships. It was a day when many top juniors from around the world showed their best to family, spectators and college coaches.
There were lots of good matches out there and I found it difficult to choose. I saw some of the youngest junior girls the U.S. has to offer, first stopping at Sloane Stephens & Julia Boserup. It was quite a roller coaster on Court 20 today as the first set went easily to Julia (6-1), the second to Sloane (also 6-1) and the third went back to Julia (6-0). That was not the case with 14 year old Stephanie Vidov. After struggling a bit into a first set tiebreaker, she took the second 6-2 for an upset over top-seeded Misaki Doi of Japan.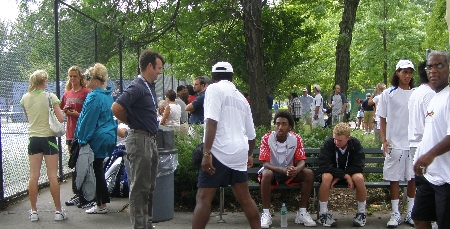 Other American girls whom I caught a bit of today were Nicole Gibbs over No. 2 Isabella Holland of Australia, 6-7(4),6-4,6-2 Alexa Guarachi beating Shao-Zhuo Liu, 6-4,6-3 and Allie Will defeating No. 7 Monica Gorny, 6-2,6-4. Also advancing were Lauren Embree, Sally Peers, Chelsey Gullickson and Kim Couts. Kristy Frilling lost a tough one to Nastassya Burnett which I caught some good points of, 4-6,6-4,6-2.
The U.S. boys did not do quite as well as the girls. The top-seed, Australia's Bernard Tomic, had Dennis Kudla running, but it wasn't enough and he fell 6-3,7-6(2). Also dropping their matches were Chase Buchanan and Evan King. I watched a really good match between two Americans, Adam El Mihdawy & Devin Britton. Despite a nice hometown crowd, No. 13 Devin was just a bit better than New Yorker Adam. There were some crowd-pleasing points and constant breaks before he won, 7-6(3),6-4. Bradley Klahn also pulled off an upset over Brendan McKenzie, 7-5,6-4.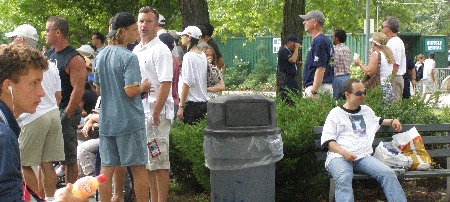 I sat down for one more all-American match-up -- Dennis Nevolo vs. Jarmere Jenkins. It definitely lived up to its hype as Dennis, at one point down 4-6,1-4, came back for a 7-6(3) second and 6-3 third. The final set, along with the end of Frank Carleton's win over No. 5 Marki Verryth, was moved into the main grounds because it was getting dark.
Saturday will be quite a day for me as I'm out in the park for the rest of the Junior Qualifying while trying to catch John Isner vs. Roger Federer and Donald Young vs. Feliciano Lopez. Wish me luck in trying to pull that off!
Boys' Junior Qualifying Singles Girls' Junior Qualifying Singles
Until Tomorrow,
Marcia Frost
---
American Doubles... On Top Of The World
Why am I spending my downtime at the Open watching doubles and interviewing players? I am happy to announce that I have signed a contract with Mansion Grove House to produce a book on American Doubles. The book will explore the United States' domination of doubles in Juniors, College and Professionals. It will also include lots of photos, tips from top coaches and interviews with players who have won major titles in Junior, College & Professional doubles. And, of course, there will be an extensive look at the career of the Bryan Brothers and how they have changed the world of doubles. We are hoping for a release at the NCAAs in May 2008.

I am currently conducting interviews and welcome any ideas of players to include. My current list is quite extensive, but if you have any thoughts -- especially players who have won major titles in Junior, College and Profesional doubles, please e-mail me - Marcia@MarciaFrost.com.
See the Latest
at NIKE
---
Monthly Guides to
College Tennis Planning
Available in Kindle & Print
---
---
See the Latest
at NIKE
---
---
---
---
---
Return to:
College And Junior
Tennis Homepage