At The Open
With Marcia Frost...
Friday, September 1st
Main Draw, Day Five, Junior Qualifying Day One
The college and junior players began in the park just as they finished inside the National Tennis Center. It was a long day for everyone under cloudy skies and a cool wind.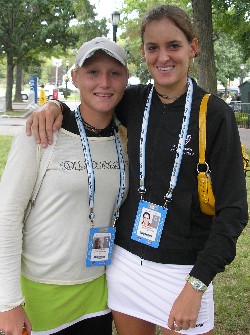 It was hard to believe that it is still summer (a summer with near-constant record breaking heat) as the temperatures had difficulty reaching 70 degrees and the wind increased as the day went along. The juniors out in the park just outside the National Tennis Center main grounds weren't complaining, though, because they were excited to be part of the Junior Open Championships Qualifying.
There were no scorecards or name signs on the outside courts so the large crowds had to figure out on their own who was playing. I had the schedule in hand, but that didn't make it easy to decide what to watch first. I wandered over to JT Sundling vs. Dylan Arnould. They were two players I hadn't seen in awhile. My first reaction (to most of these boys) was how much they have grown. It was definitely a match of two older boys as the long points brought the games back and forth in the first for Dylan, 6-3. The second, even though the score was the same, was more Dylan's.
A match that I kept coming back and forth to -- while others were finishing -- was Carolyn McVeigh vs. Kristy Frilling. I have seen many Kristy Frilling three-setters so I was not surprised that this one headed in the same direction. While Carolyn had a 5-2 lead in the first, it actually didn't end in her favor until a tiebreaker. The second was all Kristy's and even though Carolyn got back into it a bit in the third, she lost it 6-4.
I watched Drew Daniel struggle a bit in the first set, eventually pulling it out in a tiebreaker. The second was much easier for him with a 6-2 win over twelth-seeded Achim Ceban. The Bozhidar Katsarov vs. Mateusz Kecki match seemed to standout among the others as these two fast and furious players kept the action going despite just a 6-2,6-1 score for Mateusz. The score also didn't reflect the closeness in the contest between Johnny Hamui & Alex Domijian. Alex won that 6-3,6-4.
While I wandered through many matches, I had to sit and watch Adam El Mihdawy & Harri Heliovaara. I arrived at 4-3 and was just captivated by the great gets and outrageous winners from both players. It was a non-stop match with a 6-3 set to Harri, followed by a tiebreaker where the No. 13 seed had a match point at 6-4 before losing the breaker, 8-6. The third set was on serve and looked to be heading in the same direction, then Harri started cramping and called for a trainer. He was able to continue play, but never seemed quite the same. He kept it going, though, before dropping 7-5 in the third after nearly three hours.
In addition to Harri Heliovaara and Achim Ceban, Attila Bucko (9), Ricardas Berankis (2), Johnny Hamui (4), Rasid Winklaar (5) and Cesar Ramirez were all upset in the boys draw. In the girls draw, only Tamaryn Hendler (4), Saori Karikomi (15) and Courtney Clayton (10) fell.
I did leave the Junior Qualifying a bit to catch some of the Burdette sisthers in action. Lindsay & Mallory had received a wildcard into the Women's Doubles after winning the Girls' 18 Nationals title. Though they were edged by Michaella Krajicek & Corina Morariu, 6-4,6-4, they seemed to be having a lot of fun out there and were certainly in the game. I expect to see them do well in the Junior Doubles. Another doubles team I watched today was the lone college team. Next week they will be on opposing teams as Alexis Prousis heads back to Northwestern and Anne Yelsey returns to Stanford, but today they played together on the Grandstand against Camille Pin & Milagros Sequera. There was some great play from the college stars in their first appearance together and, had they a bit more time to play on the same side I have no doubt they could do better than their 6-4,6-3 loss. I will look forward to seeing more of them both during the season.
The weather forecast for Saturday includes Hurricane remnants so the decision to move the U.S. Open Junior Qualifying inside was made early. As long as the roads aren't too bad I am planning to make the trek to Sound Shore Indoor Tennis in Port Chester to see the rest of the event.
Until Tomorrow,
Marcia Frost
above from top: Stefanie Nunic & Reka Zsilinszka