At The Open
With Marcia Frost...
Saturday, September 2nd-Junior Qualifying, Day Two

Not quite the crowd you would expect at U.S. Open matches, but the Junior Qualifying went on -- Indoors at the Sound Shore Indoorm Tennis in Port Chester, New York.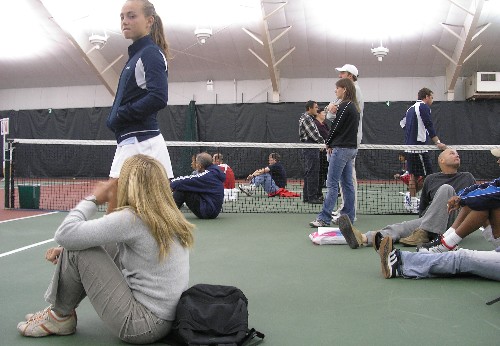 I braved the wind and rain (actually, it wasn't that bad in the morning and only took me 45 minutes!) to head to the Junior Qualifying matches. There was some exciting tennis going on right in the front when I arrived as top-seeded Veronica Li wasgoing at it against New York's own Gail Brodsky. It was quite a baseline battle as the first set continued on serve until Gail broke for 7-5. She couldn't hold it, however, and a series of errors (and near-perfect play from Veronica) put her down 6-2 for the second. The third was a succession of back and forth breaks with long games. At one point, at 4-4, Veronica actually pulled out aces three times at Gail's ad. She did finally break, though, and took the match with a 7-5 third.
At the same time as the above match, Reka Zsilinszka was quickly dismissing Kim ALice Grajdek -- or so we thought. Up 6-0,4-1, Reka was suddenly faced with losing some incredibly long points (one spectator swore he counted the ball go across the net 80 times during one of them!). The long, lobbing ralleys continued until Reka was serving at 5-4. She managed to get through it finally and took her place in the main draw with a 6-4.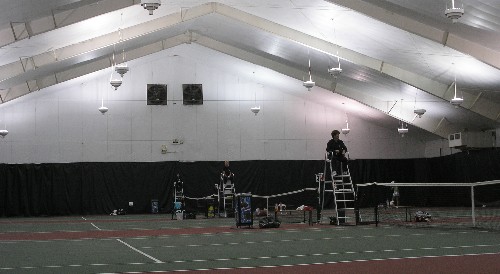 There was a third exciting girls match between second-seeded Emiko Ito and No. 16 Kristy Frilling. It was impossible to keep up while watching the other two, but I did catch some great points before Kristy took it 6-3,6-7(4),6-4. On the boys side, No. 15 Dylan Arnould stunned the top-seeded Guillermo Rivera through some consistent and calculated play. The upset was a lot more difficult for Drew Daniel, who took out No. 3 Christopher Racz in close games to 7-5,7-5.

I don't usually watch the same player two days in a row, but I couldn't resist the match up between No. 6 Jason Jung and yesterday's main story, Adam El Mihdawy. Unfortunately, it was no where near the match it was yesterday. There were some interesting points -- two quick players who can really mix it up out there -- but the match was Jason's with a 6-1,6-2 win.

The main draw is schedule to begin at 11:00 am tomorrow. We'll see if the forecast agrees with that scheduling. In the meantime, I'm off to the meeting to announce the draw and schedule for the beginning of the U.S. Open Junior Championships.

Until Tomorrow,
Marcia Frost