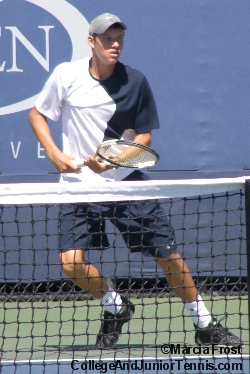 Ty Trombetta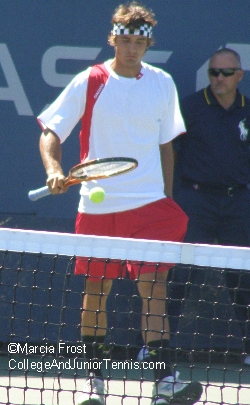 Stephen Donald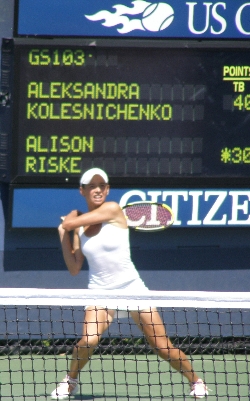 Aleksandra Kolesnichenko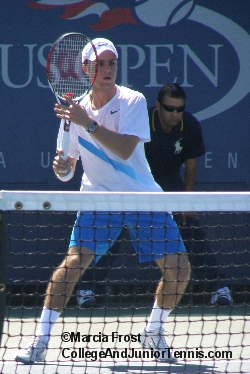 Johnny Hamui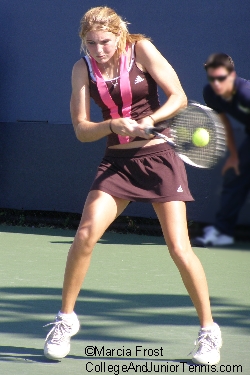 Lilly Kimbell
Alejandro Gonzalez
click on a photo to enlarge

At The Open
With Marcia Frost...
Sunday, September 2nd-Junior Championships, Day One
It was another beautiful day in Flushing Meadow and another day where Americans led most of the courts.
My first stop today was at Jeff Dadamo vs. Stephen Donald. Jeff, who will be going straight to the University of Florida when he leaves here, was passing the Aussie with winners and took a very quick (6-1) first set. I didn't see much change in the second, so I moved on to Johnny Hamui vs. Peerakiat Siriluethaiwattana. That match was a whole different ball game as short games and trading breaks led to a long game at 5-4 that ended with a set for the Thailand teen. The second set was not too close, though Johnny hit a few noteworthy shots, and Peeriakiat took it (6-2).
I usually do not start the Junior Championships watching players I have just seen in the Main draw or Qualifying, but I couldn't help but to constantly gravitate back to Alison Riske's match with Aleksandra Kolesnichenko. It was definitely a crowd-pleaser with exciting points and a three-set finish for Allison, 4-6,6-1,6-1. The same could be said for Rhyne Williams vs. Cesar Ramirez (which happened to follow on Court 7). The ninth-seeded American got a bit confident at times and overshot his opponent. The Mexican hung in there, keeping up the pressure until he hit his last U.S. Open ball at 6-4,3-6,6-1.
Aussie Andrew Thomas did not let up on Floridian Ty Trombetta and he fell, 6-3,6-4. Austin Krajicek's (pictured left) service problems in the first nearly cost him the set, but he pulled it out in a tiebreaker. Alejandro Gonzalez was back in the second (and Austin's serve was not) for him to take it 6-2 and then last year's boys' doubles finalist pulled it out in the third, 6-3. Despite the large, supportive audience, Lilly Kimbell just couldn't get past No. 14 Elena Chernyakova. After the Russian lost the first set, she never let up until she got the next two, 6-4,6-3. In the final junior match of the day, American Lawrence Formentera brought out his best in a 6-3,6-2 victory over Great Britain's David Rice.
There was just one upset today in each draw -- sort of. In the boys', Qualifier Bernard Tomic beat No. 4 Fernando Romboli, however it hasn't been long since Bernard was at the top of the ranking. In the girls draw, another Australian dropped a No. 4 seed as Tyra Calderwood won over Nikola Hoffmanova of Austria.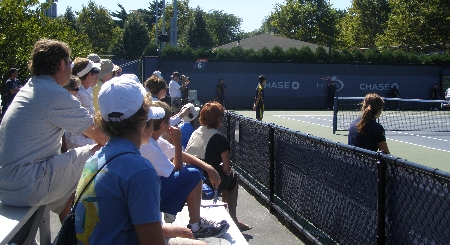 It's been many years since we've had such perfect weather at the U.S. Open and I'm trying to get used to what a "normal" schedule was. The doubles draw startled me by being released today and, though the early release may have cost spots for more American wildcards, it means that we will get started with doubles tomorrow as the junior singles -- and the sunshine -- continues.
Until Tomorrow,
Marcia Frost

Monthly Guides to
College Tennis Planning
Available in Kindle, Print & EBook
for H.S. Seniors
and H.S. Juniors
---
---
See the Latest
at NIKE
---
---
---
---
Return to:
College And Junior
Tennis Homepage