At The Open
With Marcia Frost...
Tuesday, September 2nd-
Junior Open, Day Three
(Main Draw, Day Nine)

Round one finally finished and the second round got underway as the battles continued at the U.S. Open with more upsets.
I started out back and forth between Gail Brodsky-Linda Berlinecke and Christina McHale-Ksenia Lykina. While Brooklyn-bred Gail's match went to three sets, there was no doubt that it was not the better match. In a contest won more by errors than winners, Gail took it 4-6,6-4,6-2 while Christina earned a hard-fought 7-5 first set over the No. 8 seed and then easily took the second (6-1).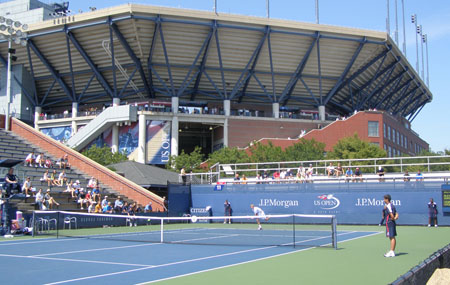 The match between Great Britain's Dan Smethurst and Chicago's Evan King can only be described as unbelieveable. Evan, who has been a leader nationally with a win at the National Claycourts and third place at Kalamazoo, commanded the first set with some beautiful points. With a 6-1,4-2 lead, it appeared the match was all but over. Looks can be deceiving and Dan Smethurst came alive and took the second, 7-5. The third set was filled with long games -- and four match points for Evan -- before it actually went to Dan, 7-5.
I saw the final set of Alex Domijian-Cedrik-Marcel Stebe as the eleventh seeded German sealed it with a 6-3 win. It was also to a third for No. 13 Bradley Klahn and Christopher Rungkat, who ran out of steam for the final set. And Matt Kandath, who beat Devin Britton in Canada last week, couldn't repeat the feat as Devin was right on to a 6-1,6-4 win. I did not see any of Chase Buchanan's upset over Juan Vazquez-Valenzuela (10). I hear he is playing great and I look forward to catching the next one.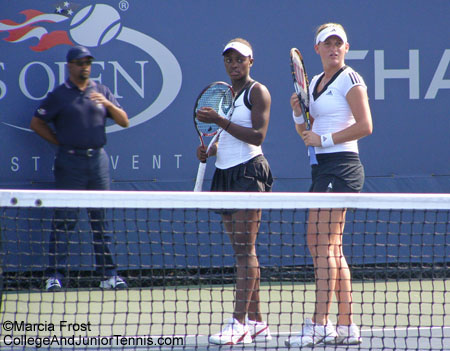 In afternoon doubles, it was a mixed day for Americans. In the girls, Alexa Guarachi & Lauren McHale fell, while sister Christina & Julia Boserup won, as did Sloane Stephens & Mallory Burdette (above). For the boys, it was Matthew Kandath & Ryan Lipman and Devin Britton & Jordan Cox as winners and Evan King & Raymond Sarmiento, Chase Buchanan & Ryan Harrison, and Harry Fowler & Robert Van Overbeek falling, with the last two teams going down in the new 10 pt tiebreaker format that is replacing a third set for the first time this year.

As the sun keeps shining here, play will continue on schedule Wednesday and we'll see what happens next.

Until Tomorrow,
Marcia Frost

P.S.Colette Lewis from Zoo Tennis is also covering the U.S. Open Junior Championships. Check out her stories & photos.



click on a photo to enlarge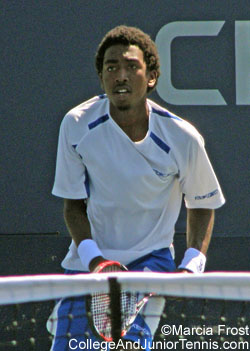 Evan King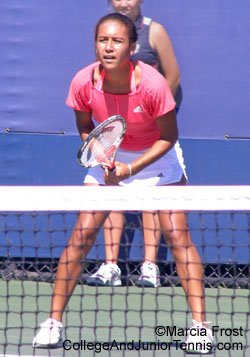 Heather Watson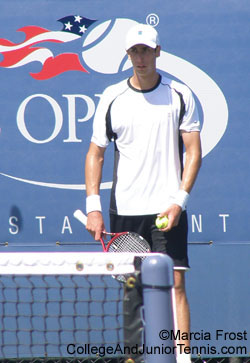 Alex Domijian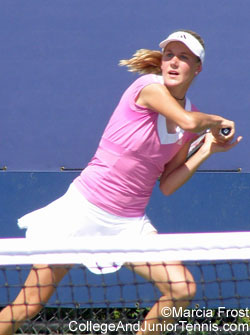 Linda Berlinecke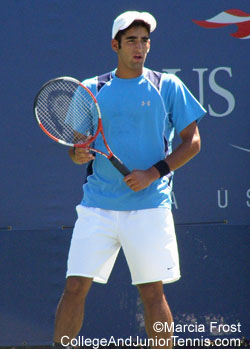 Matt Kandath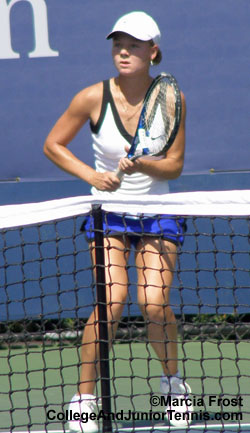 Ksenia Lykina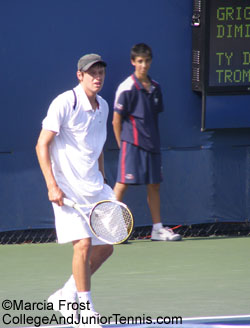 Ty Trombetta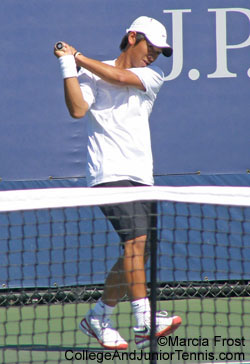 Christopher Rungkat

Monthly Guides to
College Tennis Planning
Available in Kindle, Print & EBook
for H.S. Seniors
and H.S. Juniors
Create an Amazon Wedding Registry
Return to:
College And Junior
Tennis Homepage