At The Open
With Marcia Frost...
Sunday, September 3rd-Junior Championships, Day One
It's hard to imagine that there was anything important going on today at the U.S. Open other than Andre Agassi's loss and touching goodbye, but today was the start of the U.S. Open Junior Championships. And all the excitement that goes with it was certainly evident.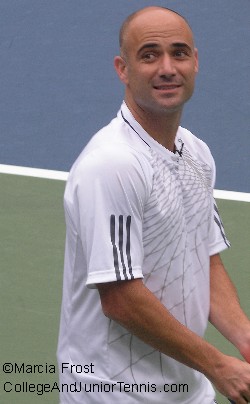 I always try to keep my coverage "well-rounded" by starting with players I haven't seen in awhile, so my first stop was at Andrej Martin vs. Dennis Lajola. The latter, from Hawaii, was quick on his feet to get to many balls, but the Slovak teen would come right back with winners. There were breaks back and forth before a tiebreaker which was surprisingly easy for Dennis at 7-3 and kept the momentum to shut out his opponent in the next set.
There was still time for me to catch the end of (maybe?) Gator Ryan Sweeting's match against No. 26 Oliver Rochus. When I arrived there was a set each for the two hard-hitters. Though he began to hit a bit erratic in the third, Ryan still won it, 6-4. Then the 19 year old began to cramp and couldn't get back into it, dropping the next two 6-4,6-0. He's off to hit with the Davis Cup next week in Moscow and then he will make a decision about returning to the University of Florida.
Local girl Lena Litvak had lots of neighbors cheering, however, Great Britain's Naomi Cavaday was just a little bit better today. The 17 year old, who was born in the Ukraine and spent most of her life right here in New York, fought off five set points -- two at 5-2 and three in the breaker -- before dropping the first 7-6(8/6). Despite an early break for 2-1, Lena had trouble getting past Naomi's serve and then lost her own for 4-3 before dropping the second, 6-4. Next up for Lena is doubles before heading off to Harvard.
The most exciting match I saw today in the juniors was certainly Martin Fugate, another New Yorker, against Croatia's Antonio Veic. There were some great points and close games from these serve and volleyers. Though Marcus stopped two match points in the second set and won it in a breaker, he lost in the end, 6-4,6-7(7),6-3.
Of course, there was a lot I couldn't see on the first day of the Junior Championships and I missed some exciting events. Among them... Incoming Virginia Tech freshman Yoann Re (who also created upsets during his Qualifying) defeated No. 6 Sanam Singh... 15 year old American Chase Buchanan beat No. 7 Petru-Alexandru Luncanu... No. 13 American lost to Artem Smirnov of Russia... And, the one that has most people talking in the junior tennis world, second-seeded Carolina Wozniaki was "defaulted for obsene language" (to a line judge). At the time the Wimbledon champion was leading Alexandra Panova, 6-4,1-2.
Monday's schedule looks incredible (as does the weather) and it's going to be tough deciding which matches to watch. Whatever I do pick you can read all about it here.
Until Tomorrow,
Marcia Frost