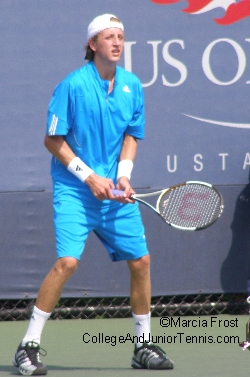 Tennys Sandgren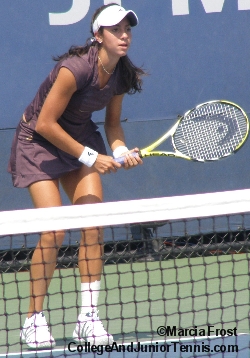 Christina McHale
Harri Helicova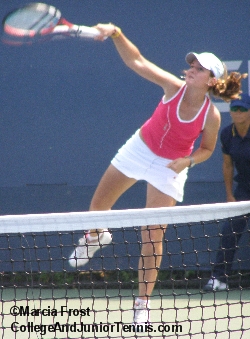 Reka Zsilinszka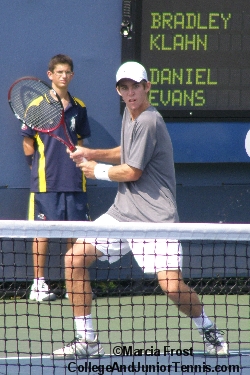 Bradley Klahn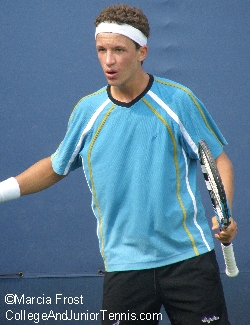 Giacomo Miccini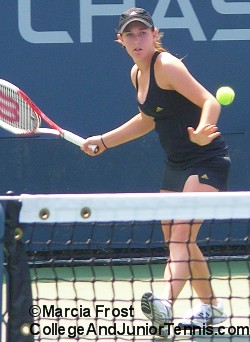 Madison Brengle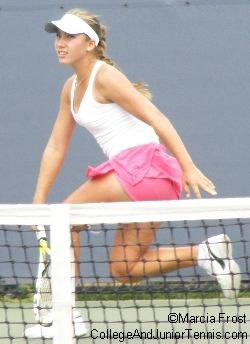 Stephanie Vidov
click on a photo to enlarge

At The Open
With Marcia Frost...
Monday, September 3rd-Junior Championships, Day Two
There was a large number of upsets today. Most of them were Americans and most of them I didn't see.
When there are so many matches taking place at the same time, you have to make some choices. I take a look at the schedule, eliminate people I have recently seen and then take basically an educated guess as to who will be around for me to see tomorrow. There's really no other way to do it and -- usually -- it works pretty well. Today was the exception to the rule. While I did catch parts of a few of the upsets, I was busy watching some other good matches.
I started this still sunny and partly windy day between Court 6 & 7 where I was able to catch two great matches at once. The first was Brooklyn's Gail Brodsky (pictured left), whom I've known since she just started playing tournaments, against defending champion Anastasia Pavlyuchenkova. It was a tough draw for the 16 year old who had created upsets into the quarterfinals at Wimbledon. She probably could have done the same here with many other opponents, however, Anastasia was just too good. The two both had problems with their serve and the games were incredibly long. The first set went with a late break to the top-seed at 6-4 and Gail just couldn't get it going again, falling 6-1 in the second.
The Court 7 matched proved to be a thriller until the very end. Tennys (yes, it's pronounced like the game) Sandgren had been a summer sensation, winning both the USTA National Claycourts and the Hardcourts at Kalamazoo. Today he proved that he's not just a flash in the pan against fifth-seeded Greg Jones. Tennys impressed the crowd by breaking for 4-2 and showing no fear as he held and took the first set 6-4. The Australian was not going down that easy and despite a challenge in a few long games, he took it 6-2. The third was up for grabs as the two battled into a tiebreaker, where the slight edge -- 7/5 -- went to Greg.
I found myself once again torn between two courts as fellow Easterner Christina McHale tried to fight off No. 5 Ksenia Pervak and No. 13 Reka Zsilinszka was trying to get past Oksana Kalashnikova. For 15 year old Christina, the large, supporting group of spectators was just not enough. She lost 6-1,6-1, but not before everyone took notice of this talented 15 year old. For Reka, it was two questionable calls at 2-1 that took her concentration and despite a quick surge when she was down 1-6,1-5, she lost the second 6-2.
Three American Qualifiers have extended their run even further. Frank Carleton may have made his 6-2,6-4 win over Harri Heliovoa look easy, however, Dennis Nevolo worked really hard against Giacomo Miccini to earn his victory. He dropped the first set (after having an opportunity to serve for it at 5-4), 7-5, only to come back and take a 6-4 second. The Italian ran out of steam in the third (6-0) and Dennis joined fellow American Qualifier Kim Couts in the winners circle. (Kim won 6-1,6-3 over Shiho Akita.)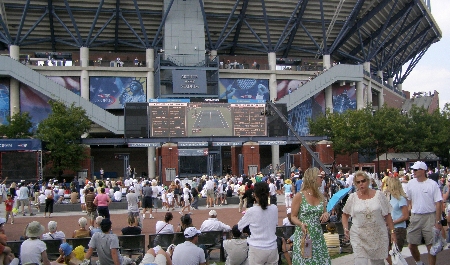 I watched a little as Bradley Klahn dropped 6-2,6-4 to Great Britain's Daniel Evans and Madison Brengle, a finalist at the Australian and Wimbledon, was upset by Australia's Jessica Moore, 6-4,6-2. Both matches had some great points and deuce games. Ashley Weinhold, who needed a wildcard to get in because she has been playing mostly pro events this year, took out ninth-seeded Kai-Chen Chang, while fellow American Julia Cohen (6) lost her match and Alexa Glatch (15) was forced to withdraw due to food poisoning.

At the end of the day -- in addition to James Blake and the Bryan Brothers -- the Americans had lost 15 players. One only wonders what tomorrow will bring.

Until Tomorrow,
Marcia Frost


P.S. Check out some more great stories and photos from the U.S. Open at Zoo Tennis.


---

Monthly Guides to
College Tennis Planning
Available in Kindle, Print & EBook
for H.S. Seniors
and H.S. Juniors
---
---
See the Latest
at NIKE
---
---
---
---
---
Return to:
College And Junior
Tennis Homepage