At The Open
With Marcia Frost...
Wednesday, September 3rd-
Junior Open, Day Four
(Main Draw, Day Ten)

It was another day of picture perfect weather at the U.S. Open, but the competition was flaring as high as the temperatures.
There were lots of breaks, deuces and bits of drama in the match between Sloane Stephens and Katarzyna Piter as a penalty (see P.S.) came into the play of two frustrated players. Floridian wildcard Sloane put up quite a fight, but Poland's Katarzyna eventually took it 6-3,4-6,6-3. Between sets I caught the end of Coco Vanderweghe-Kristie Ahn, with Coco looking much more solid than I have seen her the last few months and Kristie, who had an incredible run through the Women's Qualifying, finally running out of steam, 6-3,6-4.
The United States is taking quite the homecourt advantage in the girls singles draw. In addition to Coco, Gail Brodsky picked up a win today and the bottom quarter already consists of four Americans -- Christina McHale, Madison Brengle, Asia Muhammad and second-seeded Melanie Oudin.
I had not seen Rhyne Williams play in awhile and he is definitely as impressive as a kid who became the youngest boy to win a USTA Pro Circuit event should be, however, Cesar Ramirez is quite a force to deal with. I watched a servers' duel in the first with the only break going to Rhyne for 6-5 which he carried to the set win. The second was quite different as Cesar had the break for 4-2. I left at that point (see P.S.), but Rhyne Williams won over the fifth seed with 7-5,7-6(2). He will now face fellow American Ryan Harrison. The No. 9 seed got past qualifier Hiroyasu Ehara of Japan, 6-1,3-6,6-2. The lone upset in the draw was Serbia's Filip Krajinovic over No. 12 Yuki Bhambri of India. (There were actually no seeds falling in the girls singles.)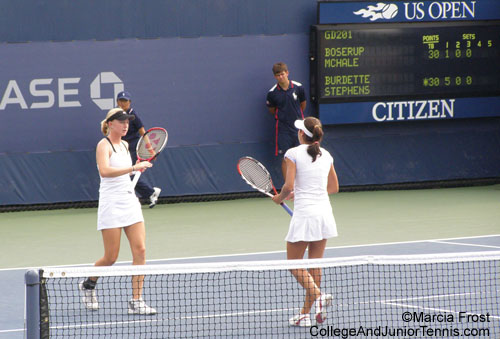 There were a number of doubles teams from the U.S. in action today and I got to see the all-American match up of Mallory Burdette & Sloane Stephens vs. Julie Boserup & Lauren McHale (above). It was a great display of volleying from these four as Mallory & Sloane were the eventual winners, 6-1,7-5.

Timea Babos & Aki Yamasota, seeded seven, were the only top team not making it through today, losing in a 10/4 third-set breaker to Chanel Simmonds & Bianca Swanepoel.

The boys doubles draw was full of upsets, starting with the top. The only remaining Americans, Matthew Kandath & Ryan Lipman, took out the number one seeded Henrique Cunha & Jose Pereira in straight sets. Also falling was No. 4 Matt Reid & Bernard Tomic and No. 8 Guido Pella & Cesar Ramirez. I caught the end of the exciting contest between Jose Hernandez & Ty Trombetta and Peerakit Sirbutwong & Kittipong Wachiramanowong, with the latter finally winning, 7-5,5-7,10/8.

With lots of Americans left going into the quarterfinals (and playing each other) it's pretty exciting around the National Tennis Center. Be sure to check back here and at Zoo Tennis, where Colette Lewis is also covering the U.S. Open Junior Championships. Check out her stories & photos.

Until Tomorrow,
Marcia Frost

P.S. I need to go on a slight rant about the lack of consistency in discipline. While at the Sloane Stephens-Katarzyna Piter match, the chair umpire gave a warning and then a penalty for unsportsmanlike conduct and racquet abuse. No one heard or saw anything that warranted it, however, I believed the chair did and that's why it was issued. On the other hand, Rhyne Williams continued to scream obsentities and throw racquets, and until the point I got up and left Court 11 in frustration at in the second, had still not been given anything but a warning for the fourth instance! Rules are made to be followed -- by everyone.



click on a photo to enlarge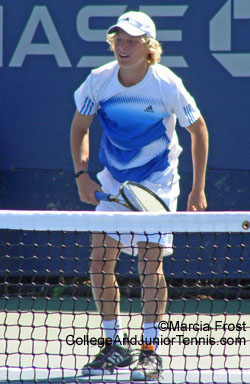 Jordan Cox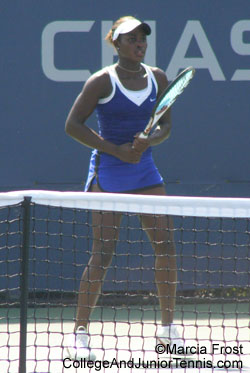 Sloane Stephens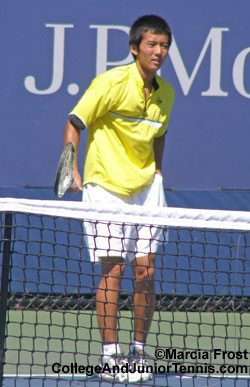 Hiroyasu Ehara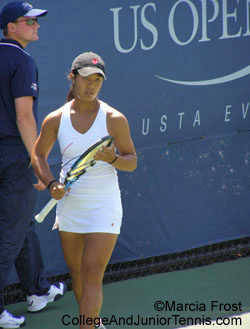 Kristie Ahn
Cesar Ramirez
Dan Smethurst

Monthly Guides to
College Tennis Planning
Available in Kindle, Print & EBook
for H.S. Seniors
and H.S. Juniors
Create an Amazon Wedding Registry
Return to:
College And Junior
Tennis Homepage