Brennan Boyajian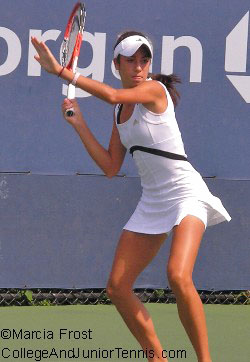 Christina McHale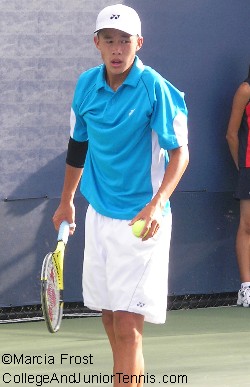 Jason Jung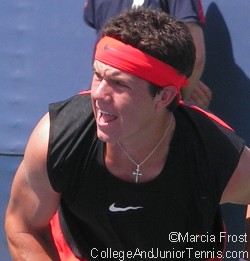 Nate Schnugg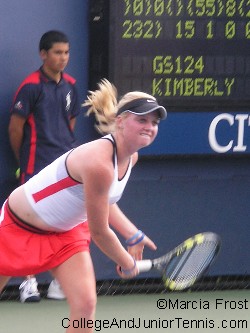 Kim Couts
Clint Bowles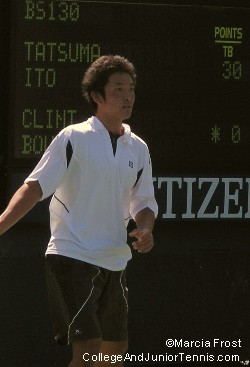 Tatsuma Ito
Click on a photo to enlarge
At The Open
With Marcia Frost...
Monday, September 4th
Junior Championships, Day Two
There were incredible matches everywhere today at the USTA Billy Jean King National Tennis Center, but I focused most of my energy on two Jersey girls and some boys who didn't give up until the end.
Fourteen year old Christina McHale came here this morning from the Garden State to make the most of her wildcard. It didn't make a difference to her that she was playing the number one player in the world because she was determined to give it her all. And no one can say that she didn't. Despite a score that showed a shutout for Anastasia Pavlychenkova, Christina was in the first set from the beginning with almost every game going to deuce -- at least once. In the second set she managed to take three games off the Russian. In fact, she won nearly every point she left the baseline for, but it wasn't enough.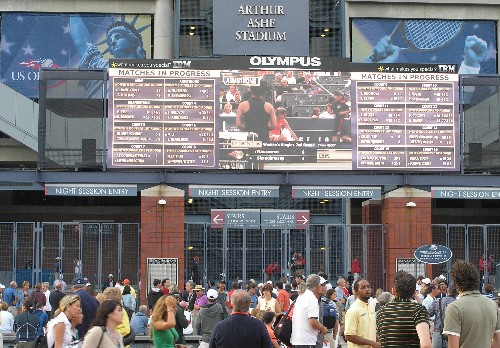 I had been anxious to see Brennan Boyajian, the 16 year old boy wonder who had won four national titles in a row (the last of which was the 16s at Kalamazoo). He was pitted against the ninth-seeded Luka Belic of Croatia, who was much larger and much more experienced at these things, having played the last four Grand Slam events. There was no doubt from the beginning that it was Luka's match, but Brennan still managed to impress the crowd -- and me -- as he gets ready to celebrate his 17th birthday and move up to the highest age group. The final score was 6-3,6-2.
Kim Couts, New Jersey born and (mostly) Florida raised, came out in control of third-seeded Ayumi Morita for a quick 6-2 set. It looked too good to be true that the 17 year old could so easily take out Japan's top junior and one of the best in the world. And Ayumi proved in the second set she wasn't going down that easy. It was very different from the first as the games were longer and closer. A break didn't come until 4-3 and it was finally a close 6-4 for Ayumi. The final set was nothing like the other two as Kim began making errors and couldn't get back into it before falling 6-1.
Some matches I managed to catch some of (and wish I could have seen more)... Paris Gemouchudis over Nate Schnugg, 6-4,1-6,6-3 -- great through the 4th match point...Tatsuma Ito defeated Clint Bowles, 6-3,6-3 -- I expected Clint to put up more of a fight than he did... Thomas Fabbiano squeaking by Jason Jung, 6-4,4-6,6-4 -- When I saw Jason take the third I thought he was on a roll and even though he went down 5-2 in the third, when he came back for the next two games I thought the qualifier might follow through. Still, it was a great showing for him.
Matches I admit I didn't see (but everyone was talking about)... Qualifier Kristy Frilling's elimination of No. 5 Kristina Antoniychuk, 7-6,6-3... Estonia's Jurgen Zopp taking out No. 8 Artur Chernov, 7-6,6-2... Michal Konecny stunning No. 15 Jeevan Neduncheziyan, 6-1,6-0... Daniel-Alejandro Lopez upsetting fifth-seeded Kei Nishikori, 6-3,6-2.
The final first round singles and doubles matches will finish up tomorrow. It looks like we've seen the last of the perfect weather days for awhile, but hopefully the junior matches will be completed before the rain comes.
Until Tomorrow,
Marcia Frost