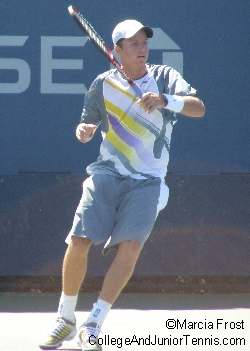 Jeff Dadamo
Alison Riske
Frank Carleton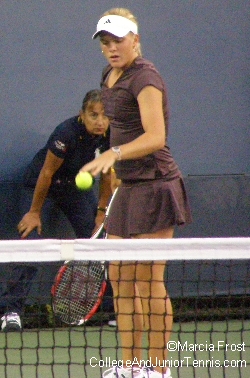 Melanie Oudin
Austin Krajicek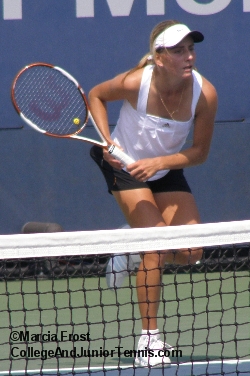 Ksenia Pervak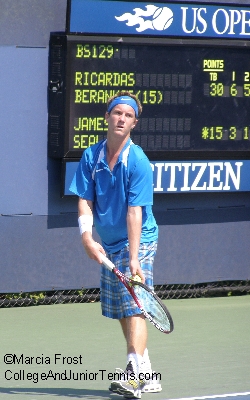 James Bo Seal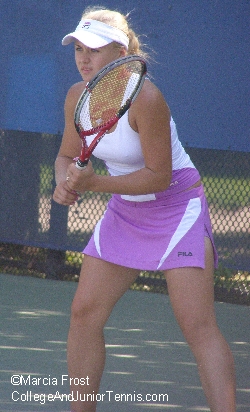 Yana Buchina
click on a photo to enlarge

At The Open
With Marcia Frost...
Tuesday, September 4th-Junior Championships, Day Three
Things moved along today, with the sun still shining and the matches still playing. It's hard to believe after years of rain delayed tournaments that we are actually "on schedule." Today's schedule included finishing round one of singles and half of the second round and everything seemed to move along fine.
There were lots of tight matches today, though the upsets were nothing compared to yesterday. I started the day in what has become my favorite spot -- between Courts 6 & 7 where you can catch two matches at once. Today those matches were Alex Domijian vs. Takanyi Garanganga and No. 15 Ricardos Berankis vs. James Bo Seal. Alex and Takanyi were playing it close with extremely long games. The deuces went back and forth as they headed into a first set tiebreaker. It was Taykanyi who took it from the American, 7/4, but he couldn't keep it going and began to cramp in the second. At 5-2, he retired and Alex Domijian moved to the second round.
Ricardos Berankis and Bo Seal played some great points, but the 16 year old wildcard was no match for the experienced fifteenth seed and he broke at 4-3 and held for the 6-3 set. It was a little easier for him in the second to the same score.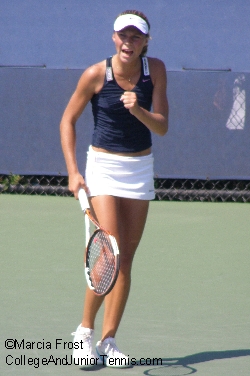 When I arrived to watch Alison Riske and Katarzyna Piter (pictured left) play, the 16th seed had already taken the first set, 6-1. Despite what the score might have said, it was a great match with crowd-pleasing points so I stuck around. Katarzyna continued to dominate on the scoreboard, winning the first three games, but Alison suddenly had an adreneline rush and took the next four games. It looked like she could keep it going, but the kid from Poland came back and took the set, 6-4.

It was a better day for Texan Ashley Weinhold who, despite a struggle at the beginning, beat Romana Tabakova, 6-4,6-3. Also needing some time to warm up was Sacha Jones. The New Zealander lost the first set 7-5 and then came back 7-5,6-3 to upset No. 5 Ksenia Pervak. That was actually the only upset in the girls draw.

Austin Krajicek put up quite a fight before falling to the third-seeded Matteo Trevisan, 6-4,3-6,6-3. And I saw some of another very close one with Peerakiat Sirluethawattan squeaking by Jeff Dadamo, 5-7,7-5,7-6(6). There were three upsets in boys singles -- Andrew Thomas over Jonathan Eysseric (6); Ryan Thacher defeating Stephane (7), 6-4,6-3; and No. 16 Guillermo Rivera-Arraguiz losing to Vladimir Zinyakov.

Wednesday promises to be another day of sunny competition -- I can't wait.

Until Tomorrow,
Marcia Frost


P.S. Correction: Colette Lewis of Zoo Tennis informed me that Alexa Glatch withdrew with food poisoning and did not lose a match, as I got off of the USOpen.org site. Her lucky loser replacement, Yana Buchina, lost the match to Valeria Pulido Velasco, 6-3,7-5.


---

Monthly Guides to
College Tennis Planning
Available in Kindle, Print & EBook
for H.S. Seniors
and H.S. Juniors
---
---
See the Latest
at NIKE
---
---
---
---
Return to:
College And Junior
Tennis Homepage