At The Open
With Marcia Frost...
Thursday, September 4th-
Junior Open, Day Five
(Main Draw, Day Eleven)
Nearly three weeks of facts, figures and U.S. Open tennis have left me a bit bleary eyed to look up the exact statistics, but I have no recent memory of so many Americans left going into day five of the Junior Championships. Though a few fell, it's starting to look more and more like the red, white and blue flag will be flying higher this year.
I have not had a chance to watch Chase Buchanan since he played with Ryan Harrison in the men's doubles (the received a wildcard for winning the USTA National Boys' 18s at Kalamazoo). I have been told by every USTA coach I have run into that the 17 year old has been playing incredible and today I confirmed that for myself. He started the match with an ace and continued with more cross-court winners than I could count, but he had quite a challenge up against Great Britain's Daniel Cox.
In the first set, Chase and Daniel traded breaks before the American held his in the fifth game and took a 6-3 set. The second set was full of long games, but with a service break for 4-3, it seemed to belong to Chase Buchanan. He had the opportunity to serve for it at 5-4 and finished it off with an ace -- or did he? Though there was no call from the linesmen, the chair umpire felt the serve was out. Chase was rattled and match point turned into deuce and a break of serve. Before he knew it, he went from match point at 5-4 to a tiebreaker where he was down 5-1! Fighting off five set points against him, Chase got himself together and took it with a 9/7 breaker.
The other American boys in action Wednesday were playing each other. Rhyne Williams and Ryan Harrison gave battle a new meaning. I actually left at 6-5 Rhyne, a bit fed up with the lack of control on that player's behavior. I'm told neither the temper or the tightness of the match got better before ninth-seeded Ryan Harrison went down 6-7(5),7-5,6-3.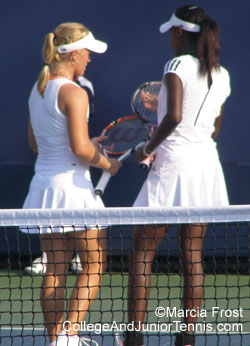 There were no behavior problems, just some incredible talent on display as Devin Britton -- who not only qualified but has now taken out two seeds -- defeated No. 13 Bradley Klahn, 6-4,6-3. The only other upset in that draw was Filip Krajinovic's 6-4,7-6(4) over the six seed, Guillaume Ruffin. Also advancing was Tsung-Hua Yang (1), Gregor Dimitrov (3), Henri Kontinen (4) and Cedric-Marcel Stebe (11).
American girls were all over the courts today at the Billie Jean King National Tennis Center, with four remaining at day's end. Alija Tomiljanovic had quite a job keeping up with Gail Brodsky. The Brooklyn girl had a hometown crowd and it pushed her through an easy 6-1 first set. In the second, it was much closer and, after one trade of breaks in the middle, the two went into a tiebreaker. I'm not sure exactly why, but Alija was not as in the breaker as the match and easily lost 7/1. The match between doubles partners Melanie Oudin & Asia Muhammad (left) was quicker than I could get to with a 6-1,6-1 victory for second-seeded Melanie. Madison Brengle showed fellow American Christina McHale how she ended up in two major finals last year (Australian Open and Wimbledon) as she led the 16 year old and took it 6-4,6-0. I did not see any of Coco Vanderweghe's 7-6(5),6-1 win over Katarzyna Piter.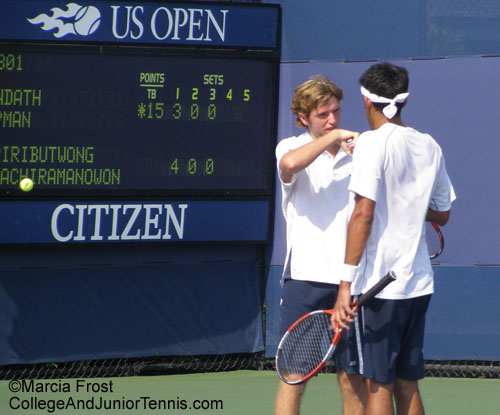 Despite a tough 6-4,4-6,1-0(10/7) lost by Ryan Lipman & Matt Kandath (above) that was as good as the score sounds, American Doubles is still alive at the U.S. Open Championships with Mallory Burdette & Sloane Stephens. The unseeded duo eliminated Chanel Simmonds & Bianca Swanepoel in straight sets. Since there is a threat of the remnants of Hurricane Hannah this weekend, the doubles semis and finals will be played on Friday. Also playing a doubles final on Friday is the Bryan Brothers, who face at Lukas Dlouhy & Leander Paes at noon eastern time.

It's going to be a busy day for me as a try to keep up with all the play during yet another sweltering day at the U.S. Open, but the action on Friday should make it worth it.

Until Tomorrow,
Marcia Frost

P.S.Colette Lewis from Zoo Tennis is also covering the U.S. Open Junior Championships. Check out her stories & photos.





click on a photo to enlarge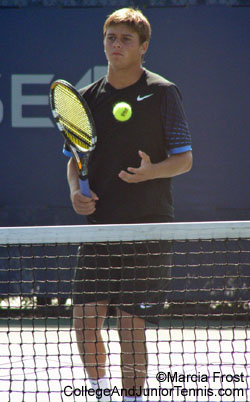 Ryan Harrison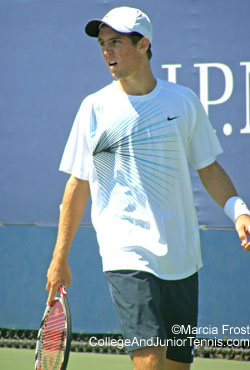 Bradley Klahn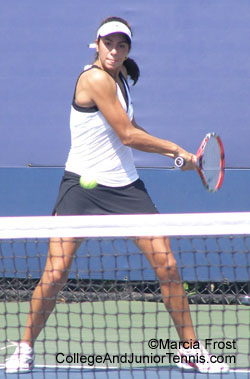 Christina McHale
Daniel Cox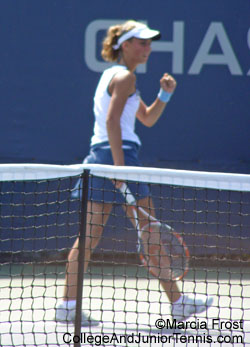 Katarzyna Piter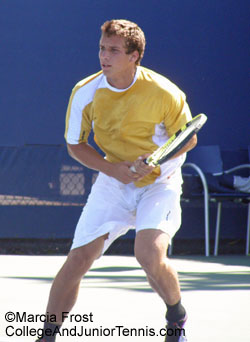 Alex Llompert
Alja Tomijanovic

Monthly Guides to
College Tennis Planning
Available in Kindle, Print & EBook
for H.S. Seniors
and H.S. Juniors
Create an Amazon Wedding Registry
Return to:
College And Junior
Tennis Homepage