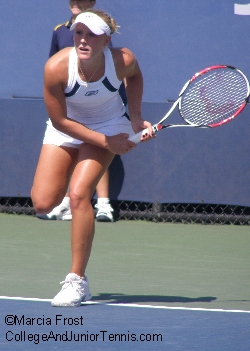 Mallory Cecil
Adam El Mihdawy & Ryan Harrison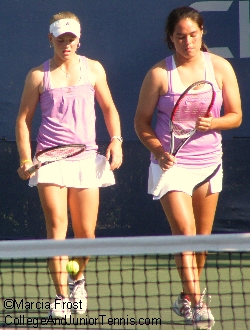 Melanie Oudin & Jamie Hampton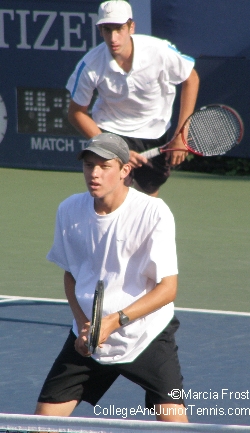 Ty Trombetta & Alex Domijian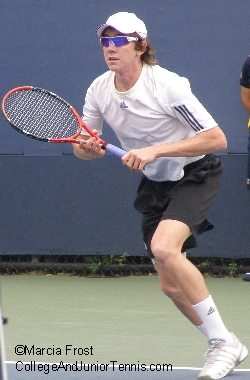 John Patrick Smith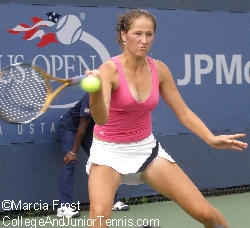 Bojana Jovanovski
Elena Chernakova
Gastao Elias
click on a photo to enlarge

At The Open
With Marcia Frost...
Wednesday, September 5th-Junior Championships, Day Four
Another beautiful day and some Americans coming through with upsets, but the doubles streak is gone as we're halfway through the U.S. Open Junior Championships.
There were only three upsets today in the singles draws. They were all created by Americans who didn't even have places set originally. Dennis Nevolo, who had stormed through the Qualifying with two upsets, today took out No. 12 John-Patrick Smith. It was a match filled with incredible points as the Aussie kept reaching the unreachable as Dennis kept hitting winners. Strangely, that was the case in the first and third as the Americam seemed to "take a break" in the second, double-faulting his way to a 6-2 loss there, but two sets is all you need and he had them, 6-2,6-4.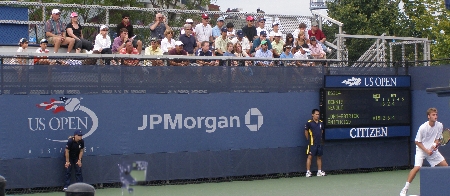 The upsets in the girls singles were created by another qualifier and a wildcard. Kim Couts, who had a similar run in Australia last year when she qualified and then created upsets in the main, today removed 11th-seeded Bojana Jovanovski. In a similar match to the above, Kim won the first and third, though she had quite a hole to start when she was down 4-2 in the first and came back for 6-4,4-6,6-1. I did not get to see Coco Vandeweghe (she'll definitely be a priority tomorrow) and heard it was a great win as she pulled out the tiebreaker (7/2) and then shutout Elena Chernyakova in the second.
I also watched an all-American matchup this morning between Lauren Albanese & Mallory Cecil. Lauren, seeded eight here, was struggling and Mallory definitely had the advantage of great net play. The difference in the match seemed to be service problems and Lauren used her experience on the pro tour to take advantage of that. Lauren, Kim, Coco and Ashley Weinhold are the remaining Americans in the girls. For the boys, Dennis joins Ryan Thacher, who played his second round yesterday, and Ryhne Williams, the ninth seed who today defeated Gastao Elias.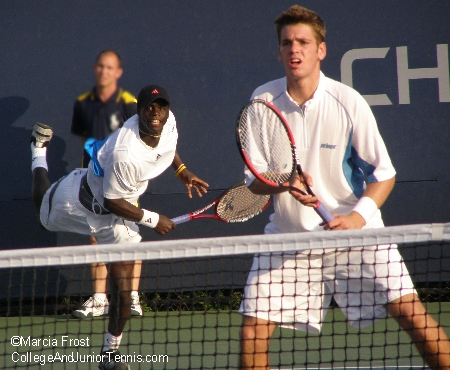 There were lots of doubles today and the results did not support the title of my upcoming book, American Doubles... On Top of the World. With the Bryan Brothers out of contention, there was at least hope to keep the boys streak going, but that is gone. After three titles in as many years (and an all-American final last year), there will be no American boys team winning here this year. (One American, Devin Britton remains with Australian Jared Easton.) The last to fall today were last year's finalists, Jarmere Jenkins & Austin Krajicek (above). They lost in a thriller, 5-7,7-5,7-6(5). It looked for a moment that they might have a comeback after saving four match points in the tiebreaker, but it wasn't to be.
The girls do have one team left representing the United States as Asia Muhammad & Kristy Frilling (left) were victorious over Gail Brodsky & Bojana Jovanovski, 6-3,6-1.

Thursday will be a day full of quarterfinals as we remain under warm and sunny skies with a forecast of fantastic junior tennis.

Until Tomorrow,
Marcia Frost


P.S. More great U.S. Open stories and photos are available on Zoo Tennis.