At The Open
With Marcia Frost...
Friday, September 5th-
Junior Open, Day Six
(Main Draw, Day Twelve)
The view from the top is a good one and today the Bryans made it back there and some juniors found their way to a place they hadn't expected to be.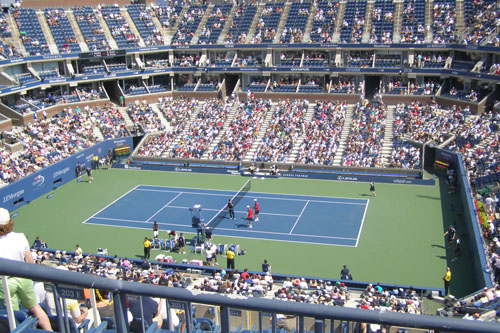 I gave running around a new meaning today as it was back & forth and up & down for junior quarterfinal singles, semi & final doubles, and the U.S. Open Men's Doubles final. I was determined to miss as little as possible and I think I did a pretty good job of it!
In girls singles, an American remains in each semifinal. It was CoCo Vanderweghe who emerged the winner on the top half and though the score read 6-2,6-0, every game I witnessed went to deuce so it was hardly a wipeout over No. 11 Tamaryn Hendler of Belgium, but certainly a good win. Second-seeded Melanie Oudin outlasted fellow American Madison Brengle, who came out with the lead and the first set for 6-4, before Melanie turned up the heat for the other two. It was a close 6-4 in the second. I didn't see the third, however, I was told that Madison "gave it her best try."
Gabriela Paz Franco of Venezuela upset the fifth-seeded Elena Bogdan of Romania, 6-3,6-0. It was far from straight sets, though, as France's Kristina Mladenovic just squeaked past native New Yorker Gail Brodsky. It was full of close points and games that Gail took in the first (7-5). The second would end on a point penalty and Kristina's in a breaker and she would take the third on just one break.
Like the Energizer Bunny, Devin Britton just keeps on going. I hate to be repetitive, but this 17 year old made his way through the Qualifying and has now taken out three seeds. His serve and volley game is loved by spectators and today they got to see quite a bit of it as the kid from Mississippi made eleventh-seeded Cedrik-Marcel Stebe of Germany his latest victim. After a fairly easy 6-3 first, it was a struggle in the second that ended with Cedric's in the same score. I was not there for the final set, but I watched the scoreboard flip deuces until it was Devin's with yet another 6-3. He will face another unseeded player, Filip Krajinovic of Serbia, who just made it to the semis with two tiebreak sets over the fourth-seeded Henri Kontinen of Finland.
While Devin Britton made it into the final four, the other two American boys did not. Rhyne Williams, despite pulling out a tiebreaker in the middle set, lost the other two with 6-3 scores to top-seeded Yeung-Hua Yang of Chinese Tapei. Ohio's Chase Buchanan was the victim of Grigor Dimitrov (3), 6-4,6-3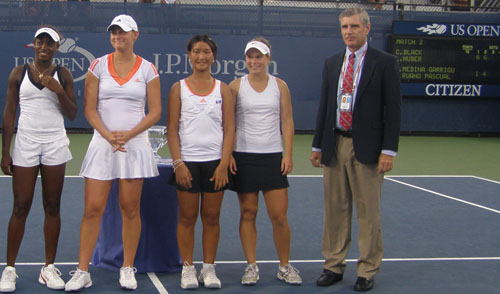 With an impending storm, it was decided to play both the semis and the finals of the doubles today. After an incredible win over No. 5 Richel Hogenkamp & Arantxa Rus, unseeded Americans Mallory Burdette & Sloane Stephens ran out of steam against the very talented Noppawan Lertcheewakam & Sandra Roma as the third seeds took the trophy, 6-0,6-2. (Still, Mallory Burdette did one better than sister Erin, who made it to the U.S. Open Junior Girls' Doubles semifinals in 2001 with Meghan Bradley.) In the boys doubles, it was also the seeds who prevailed as Henri Kontinen & Christopher Rungkat (2) won over Marcelo Arevalo & Alex Llompart.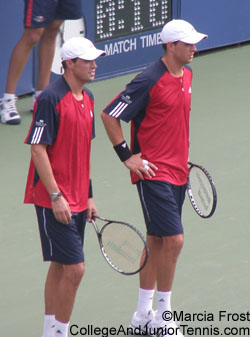 It was a very exciting day for American Doubles stars Bob & Mike Bryan. The twins picked up their sixth Grand Slam event title, second at the U.S. Open. It was a great doubles final that ended in a 12/10 tiebreaker. With the win, Bob & Mike regained their spot as the No. 1 doubles team in the world. I even got to celebrate the victory that was complete with a concert by the Bryan Bros. Band, with Dad Wayne belting out the songs.

There is a good chance I will not get to see the juniors play tomorrow. The forecast is gloomy, with Hanna hitting the area, especially the island on which I live. It has been suggested that the juniors would be playing at Sound Shore Indoor Tennis in Westchester and a possible three hour trip in a tropical storm does not sound like it's going to work. But whether (or should I say "weather?") I'm there or not, I will have a report from the U.S. Open Junior Championships.

Until Tomorrow,
Marcia Frost

P.S.Colette Lewis from Zoo Tennis is also covering the U.S. Open Junior Championships. Check out her stories & photos.





click on a photo to enlarge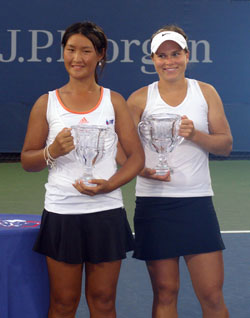 Girls Doubles Winners
Noppawan Lertcheewakam
& Sandra Roma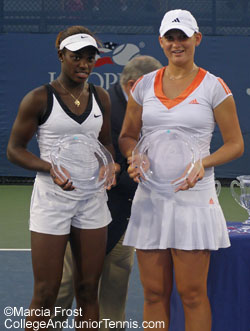 Girls Doubles Finalists
Sloane Stephens &
Mallory Burdette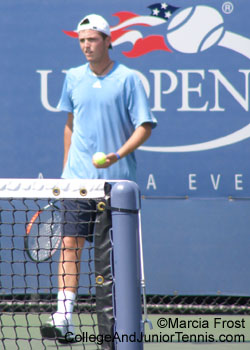 Rhyne Williams
Gail Brodsky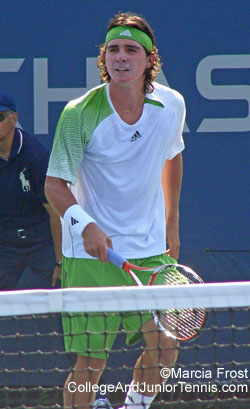 Chase Buchanan
Madison Brengle
Cedrik-Marcel Stebe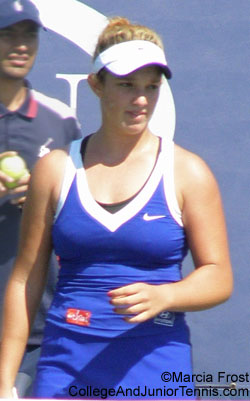 Tamaryn Hendler

Monthly Guides to
College Tennis Planning
Available in Kindle, Print & EBook
for H.S. Seniors
and H.S. Juniors
Create an Amazon Wedding Registry
Return to:
College And Junior
Tennis Homepage