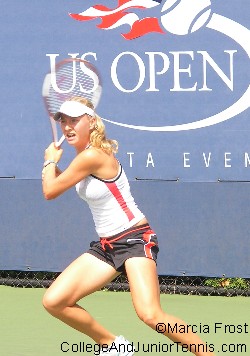 Sacha Jones
Dilyara Saidkhodjayeva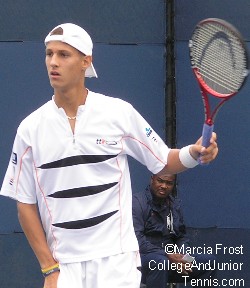 Martin Klizan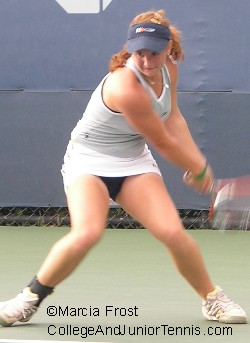 Melanie Klaffner
Gail Brodsky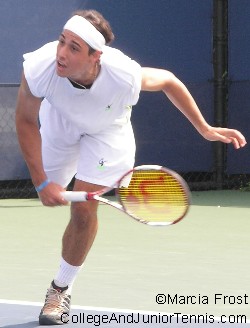 Fernando Romboli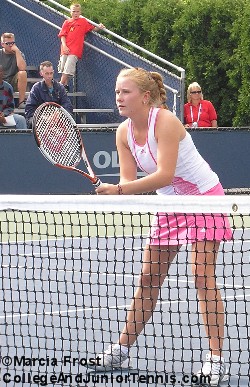 Shinann Featherston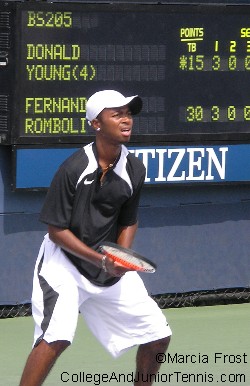 Donald Young
Dominika Cibulkova
Click on a photo to enlarge
At The Open
With Marcia Frost...
Wednesday, September 6th
Junior Championships, Day Four
Anyone who thinks Rafael Nadal's loss was the only big news at the Open today wasn't paying attention to the Junior Championships where upsets were everywhere, Americans dwindled and two local girls experienced their first Grand Slam event.
Though I usually give preference to American players (as our audience dictates), I couldn't help but gravitate back toward the end of yesterday's terrific match between Dilyara Saidkhodjayeva and Sacha Jones. I had an interesting prospect sitting with Sacha's brother GD (whom I know from the University of Illinois) and Coach Richard Barry on New Zealand's solo entry. The 15 year old lived up to her billing as the 16th player in the world (she wasn't seeded because pro results from other players figured in). Despite her diminutive stature, Sacha is strong and quick and got it done -- with quite a bit of fighting back through long, multiple deuce games from the 16 year old from Uzbekistan -- 4-6,6-3,6-1. Sacha Jones is definitely one to continue to watch as the tournament winds down.
Another great girls match which got my attention today was tenth-seeded Raluca Olaru against Qualifier -- and New Yorker -- Gail Brodsky. The games were long and the points great as I admired the footwork of the Romanian. The first set ran into a tiebreaker and I was rather surprised that Gail, who was just playing incredible throughout the set, couldn't get a point. In the second set she became a challenge to the seed again, even coming back from a 5-2 deficit, but Raluca was still a break better for a 7-5 win.
While I was watching the great girls matches, all of the remaining American boys were dropping with the exception of Donald Young. The fourth seed played a tight one against Fernando Romboli, but hung in there for a 7-5,6-3 win. I saw a few points of this match and they were good ones. I'll be looking at Donald tomorrow as he faces Greg Jones of Austria who today eliminated American Michael McClune, 6-1,6-2.
I just caught the end of the big upset on the boys side today as Canadian Peter Polansky* took out top-seeded Martin Klizan. I haven't seen a lot of either boy so I can just remark on what I've seen this tournament and that would be that I wasn't shocked by the win. The field here is wide open with incredible players and seeding does not tell all. The final score on that one was 6-3,5-7,6-4.
In the girls singles today there were a few upsets. It was a real close one with Katerina Vankova of the Czech Republic defeating No. 9 Ksenia Milevskaya of Belarus, 6-7,7-6,7-5. Also, Great Britain's Jade Curtis won over fourteenth-seeded Urszula Radwanska of Poland, 6-3,6-1, but the one everyone was talking about was the least surprising to me. American Madison Brengle eliminated Dominika Cibulkova (7) of the Slovak Republic, 6-3,6-3. As someone who has been watching Madison play for the last month through the Girls' 18 Nationals in San Jose and the women's draw here at the Open, I have no doubt that this talented teen can easily pull off some more upsets. It's going to be quite a match tomorrow when she takes on fellow American Lauren Albanese. Other American girls advancing today were Ashley Weinhold and Julia Cohen.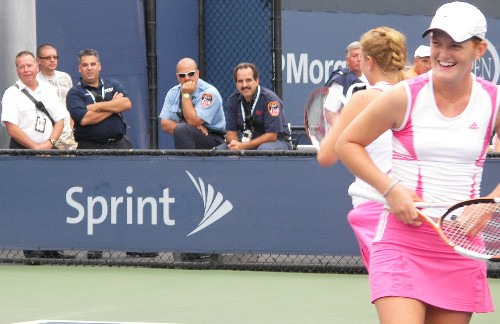 A lot of my attention today was focused on two local girls, who also happened to be members of this year's winning USTA Girls' 18 National Team. Lindsay Clark (above) and Shinann Featherston played to a crowd of friends and family that included some of New York's Bravest (Shinann's dad is the local NYFD Chief). The duo faced the No. 4 seeded Kristina Antonlychuk & Kristina Kucova. They were a bit shell-shocked by their first U.S. Open to the tune of 6-1 in the first, but they warmed up a bit in the second and put on a bit of a show. The crowd cheered them on until the end, when they lost 6-4, but smiled at the greatest experience of their lives -- so far.

It was quite a day today at the U.S. Open Junior Championships, but I know the excitement is far from over. Wherever there is play, there are surprises and I'll be ready for them tomorrow.

Until Tomorrow,
Marcia Frost


*Read more about Peter and his injury comeback here.