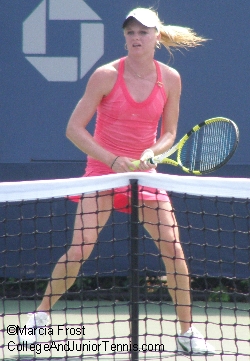 Kim Couts
Ryan Thacher
CoCo Vanderweghe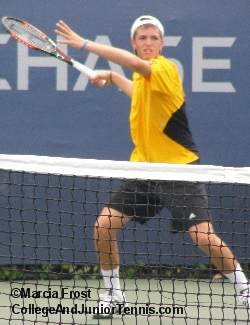 Rhyne Williams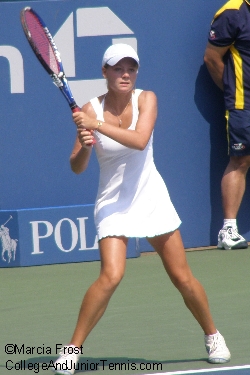 Ksenia Lykina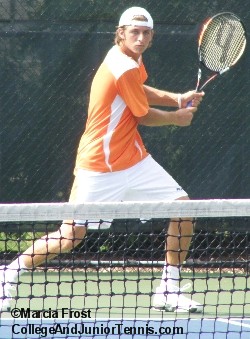 Devin Britton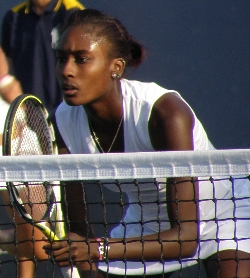 Asia Muhammad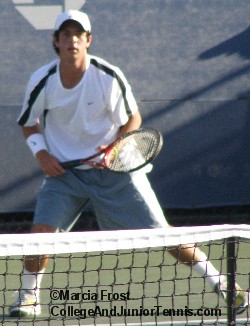 Lawrence Formentera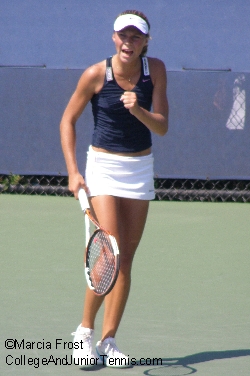 Katarzyna Piter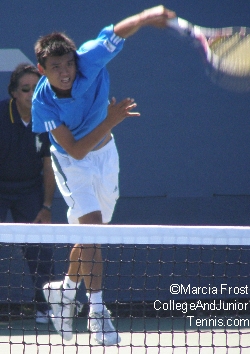 Peerakiat Siriluethaiwattana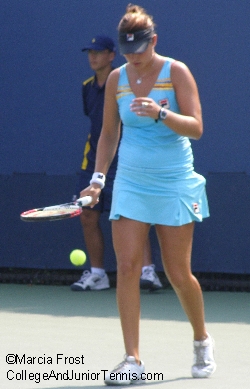 Valeria Pulido Velasco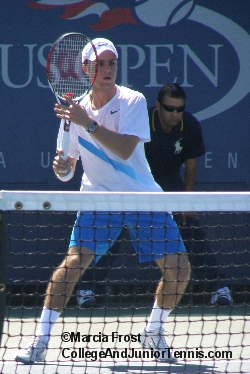 Johnny Hamui
click on a photo to enlarge

At The Open
With Marcia Frost...
Thursday, September 6th-Junior Championships, Day Five
It was a fairytale run for a number of Americans and today it came to an end as the boys all disappeared, and the girls dwindled down.
First went the Bryans, then dropped James and last night Andy went. All of the American men disappeared from their draws and today the boys went also as Ryan Thacher, Dennis Nevolo, Rhyne Williams & Devin Britton did not make it through.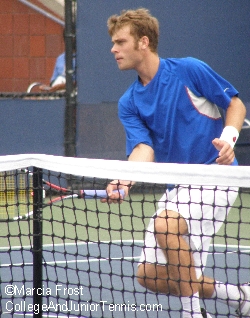 It had been an unbelievable run for Qualifier Dennis Nevolo (pictured left) as the 17 year old had created upsets through four U.S. Open matches. Today he was pitted against No. 8 Roman Jebavy to try and do it again. And it almost looked as if he would. The Midwesterner seemed to be on fire as he came out with no fear and big weapons to shock the seed and thrill the crowd with a 7-5 set. The fire, though, died out in the second as Roman came back and shut him out. It looked like he might get it going again in the third, but Dennis' steam ran out and he fell 6-2.
Aussie Greg Jones (5) kept up the pressure throughout against Rhyne Williams (9). It was a match I went back and forth to, always finding excitement. The games were long and the sets were close in what seemed like a never-ending battle. It did finally end in Greg's favor, 4-6,7-6,6-4.
Ryan Thacher, the Boys' 18 Nationals finalist who had given up his Men's Qualifying wildcard in favor of a family vacation and a Junior Championships wildcard, today ended his great run with a close one against Brit Daniel Evans. The Southern Californian had become quite popular around here and, in addition to quite a few members of the written press and USTA High Performance team, Dick Emberg & Patrick McEnroe came out to check him out for themselves. They may have been disappointed in the final outcome of the last standing American boys singles player, but they were not let down by his performance as he played to the end of his 6-4,7-6(3) loss.
With all of the American boys gone in singles, there was a bit of hope that the U.S. might continue its tradition of having at least one American in the last eight doubles finals. Unfortunately, that was not to be after the second-seeded team of Stephen Donald & Greg Jones took out Devin Britton and Australia's Jared Easton. (Yes, there are quite a few Aussies out here, probably do to the leadership of Tennis Australia by Craig Tiley the last two years)
Fortunately for the U.S. fans, the females have been doing a bit better than the males. Eighth-seeded Lauren Albanese survived a baseline battle over tenth-seeded Ksenia Lykina, 6-3,2-6,6-4 which I caught a bit of during the second and third sets. She was the only one of her countrywomen in singles as Ashley Weinhold (pictured right) fell to Sacha Jones, who would have been seeded had she not been injured through the French Open and Wimbledon. Qualifier Kim Couts looked like she was going to pull out another upset, but it didn't materialize. After dropping the first 6-3, she was up in the second 4-1 and, even after losing four games, saved a match point and broke to get back to 6-6. She got through three more match points in the tiebreaker before Ksenia Milevskaya had it at 7/5.

Kristina Kucova caused the only upset in either singles draw when she beat Julia Glushko (13), 6-3,6-0. Kristy Frilling & Asia Muhammad were responsible for the lone upset in the girls doubles draw as they eliminated fourth-seeded Lenka Jurikova & Katarzyna Piter, 4-6,6-1,6-1. They will play No. 2 Ksenia Milevskaya & Urzula Radwanska in tomorrow's semi to keep American doubles hope alive. Urszula, also seeded two in singles, had her third straight set victory in that draw when she defeated Valeria Pulido Velasco of Mexico today. (Top-seeded Anastasia Pavyluchenkova has not dropped a set in singles either, though she lost in doubles.)

The weather has been just incredible here and though it is supposed to get a bit humid, it has not interfered with play in the past two weeks so Friday's schedule will be for quarterfinal singles and semifinal doubles. There are some great matchups to be found and I am going to do my best to catch as many as possible.

Until Tomorrow,
Marcia Frost


P.S. More great U.S. Open stories and photos are available on Zoo Tennis.



Boys' 18
SINGLES
Quarterfinals
Uladzimir Ignatik/Belarus (1) vs. Thomas Fabbiano/Italy (11)
Jerzy Janowicz/Poland vs. Greg Jones/Australia (5)
Daniel Evans/Great Britain vs. Matteo Trevisan/Italy (3)
Roman Jebavy/Czech Republic (8) vs. Ricardas Berankis/Lithuania (15)
DOUBLES
Semifinals
Uladzimir Ignatik/Roman Jebavy (1) vs. Jonathan Eysseric/Jerome Inzerillo (6)
Grigor Dimitrov/Vasek Pospisil vs. Stephen Donald/Greg Jones (2)
Quarterfinals
Uladzimir Ignatik/Roman Jebavy (1) defeated Radu Albot/Evgeny Donskoy, 6-3,6-4
Jonathan Eysseric/Jerome Inzerillo (6) defeated Daniel-Alejandro Lopez/Matteo Trevisan (4), 6-3,6-0
Grigor Dimitrov/Vasek Pospisil defeated Thomas Fabbiano/Andrei Karatchenia (8), 7-5,4-6,6-1
Stephen Donald/Greg Jones (2) defeated Devin Britton/Jared Easton, 6-0,6-3

Girls' 18
SINGLES
Quarterfinals
Anastasia Pavlyuchenkova/Russia (1) vs. Kristina Kuckova/Slovakia
Oksana Kalashnikova/Georgia vs. Sacha Jones/New Zealand
Ksenia Milevskaya/Belarus (7) vs. Jessica Moore/Australia
Lauren Albanese/USA (8) vs. Urszula Radwanska/Poland (2)
DOUBLES
Semifinals
Misaki Doi/Kurumi Nara vs. Oksana Kalashnikova/Ksenia Lykina (3)
Kristy Frilling/Asia Muhammad vs. Ksenia Milevskaya/Urszula Radwanska (2)
Quarterfinals
Misaki Doi/Kurumi Nara defeated Polona Hercog/Stephanie Vogt, 6-4,3-6,6-4
Oksana Kalashnikova/Ksenia Lykina (3) defeated Tyra Calderwood/Julia Glushko (7), 6-2,5-7,7-5
Kristy Frilling/Asia Muhammad defeated Lenka Jurikova/Katarzyna Piter (4), 4-6,6-1,6-1
Ksenia Milevskaya/Urszula Radwanska (2) defeated Kaludia Boczova/Kristina Kucova, 6-2,6-2
---

Monthly Guides to
College Tennis Planning
Available in Kindle, Print & EBook
for H.S. Seniors
and H.S. Juniors
---
---
See the Latest
at NIKE
---
---
---
---
---
---
Return to:
College And Junior
Tennis Homepage