At The Open
With Marcia Frost...
Saturday, September 6th-
Junior Open, Day Seven
(Main Draw, Day Thirteen)
It has been 16 years since the United States had a boy and a girl in the U.S. Open Junior Championships. On Sunday, the U.S.A. will pick up two trophies and they are not coming from the expected.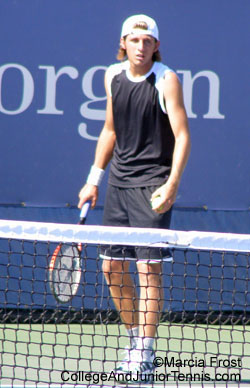 I did not make it to the matches on Saturday (Colette Lewis of Zoo Tennis was there and has a detailed story) because I live in an area that was in the middle of Tropical Storm Hanna. Though we didn't get any damage, the roads around me were flooding and the wind was fierce. While I was cozy next to my laptop, unseeded qualifying wildcard Devin Britton was defeating Serbia's Filip Krajinovic, 1-6,6-4,6-2.
Seventeen year old Devin will face a player exactly his age, but with many contrasts. Grigor Dimitrov of Bulgaria, the three seed, eliminated top-seeded Tseung-Hua Yang of Chinese Tapei, 6-3,5-7,6-4. The only previous meeting of Devin Britton and Grigor Dimitrov was two years and a lot of growth ago so even though the number three player won that easily, a lot has changed.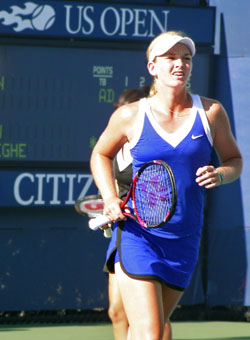 At least when it comes to tennis, I admit when I am wrong. And I seemed to have been wrong about CoCo Vandeweghe. The 16 year old, who turned professional, has not impressed me. I have thought of her as a lot of great talent that needs awhile to be developed as I watched her erratic play in Berkeley and in the women's championships here. I never expected her to get very far in the junior championships. She has certainly proven me wrong.
Californian CoCo Vanderwegh came into the U.S. Open Junior Championships as an unseeded wildcard. She went through the first three rounds without facing a seed, but when she did come up to No. 11 Tamkryn Hendler, she took her out in straight sets. In the semis, she repeated the feat, though Kristina Mladenovic of France pushed her to a 7/6 tiebreaker in the second after a 6-2 first. CoCo's opponent for the final, Gabriela Paz Franco of Venezuela, is also unseeded. The 16 year old, who actually lives and trains in Florida, took away the chance of an all-American final with her first win over Georgia's Melanie Oudin, the number two seed, 6-4,6-4 It was the third upset for Gabriela, who has eliminated Noppawan Lertcheewakam (3) and Elena Bogdan (5) previously.
Sunday is scheduled to be all warm and sunny, drying up the roads and the courts in time for the finals (though Andy Murray & Rafael Nadal do still have to finish their semi). I'm ready to watch some Americans on the podium and, maybe they can repeat the feat of the last boy and girl that played the finals at the same time. In 1992, Lindsay Davenport and Brian Dunn won it.
Until Tomorrow,
Marcia Frost

Monthly Guides to
College Tennis Planning
Available in Kindle, Print & EBook
for H.S. Seniors
and H.S. Juniors
Return to:
College And Junior
Tennis Homepage