At The Open With Marcia Frost...
Saturday, August 28th
Arthur Ashe Kids Day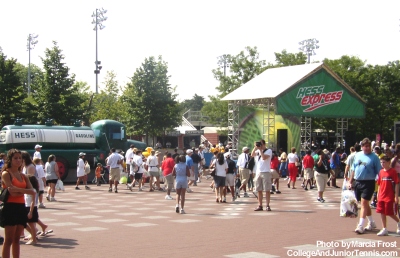 Today was the Ninth Annual Arthur Ashe Kids Day. Lots of money was raised, especially for the charity that was so important to Arthur Ashe -- the National Junior Tennis League (NJTL). Among those in today's show was fifteen year old Donald Young, a participant in that program who turned professional last fall.
Though the stadium show did not draw as large a crowd as usual (tickets were actually handed out for no charge at the last minute), there was still a lot of excitement in the air as co-hosts JoAnna Garcia of the WB show Reba and MTV VJ Quddus led a presentation of tennis and music. Singers JoJo, Gavin DeGraw and Cherie performed their hits. Tennis exhibitions -- including the yearly American Express Challenge which raised money for the favorite charities of the players -- included Andy Roddick, Andre Agassi, James Blake, Serena & Venus Williams, Mike & Bob Bryan, Mardy Fish and Jennifer Capriati. Steffi Graf made a rare appearance and played a match with Olympic Skier Bode Miller. There was even a mixed doubles match between six of the tournament's wildcard entries. Future stars Rajeev Ram, Alex Kuznetsov and Donald Young faced off against up and coming players Amber Liu, Jessica Kirkland and Jamea Jackson.
Admission was free throughout the grounds (the only charge was for the Stadium show) for sponsored activities such as Fidelity Temporary Tattoos, Hess Get Pumped Up, Z100 Party Patrol, NIKE GoTennis, Lincoln Navigate Your Shot, Barilla Challenge of Champions and Olypus Design To Win.
Despite the lower attendance and some technical problems in the musical numbers, the show was still a hit with the audience and, most important, it raised money for some worthwhile causes. Hopefully this event will do even better next year.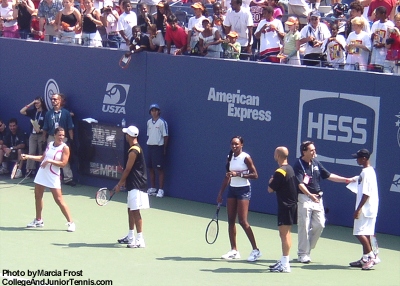 Participating in the American Express Challenge for Charity were Jennifer Capriati, James Blake, Venus Williams, Andre Agassi, Donald Young and Steffi Graf (not shown)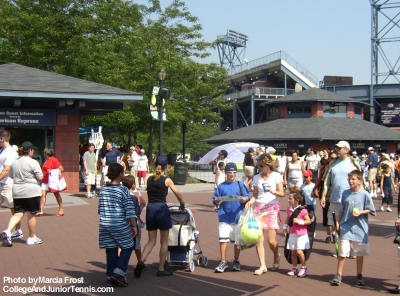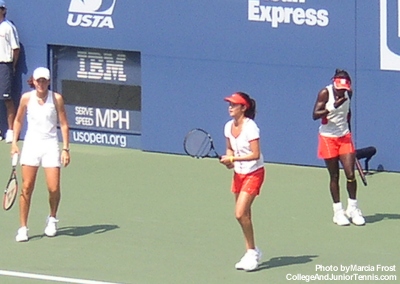 Jessica Kirkland, Amber Liu and Jamea Jackson
Until Tomorrow,
Marcia Frost
Click on a photo to enlarge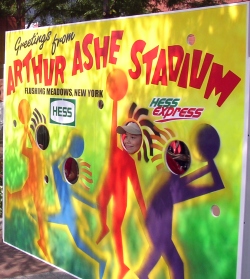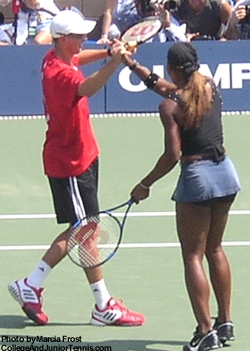 Bob Bryan & Serena Williams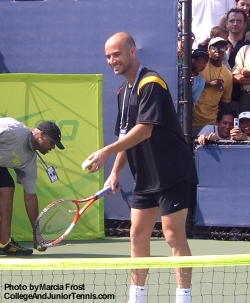 Andre Agassi at
NikeGo Tennis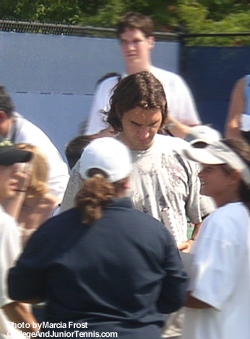 Roger Federer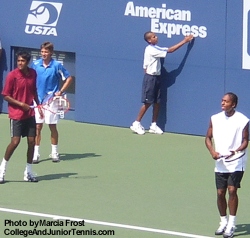 Rajeev Ram,
Alex Kuznetsov
& Scoville Jenkins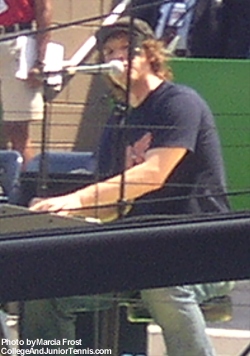 Gavin DeGraw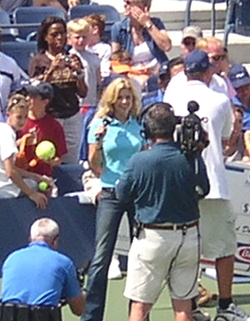 JoAnna Garcia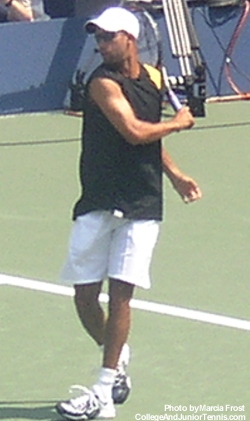 James Blake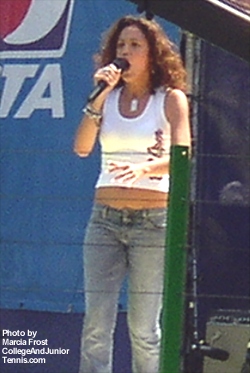 Cherie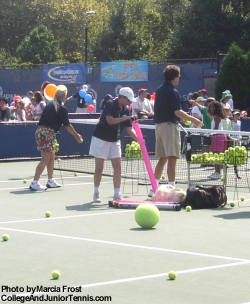 USPTA
Little Tennis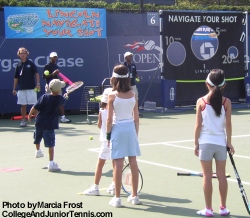 Lincoln Navigate
Your Shot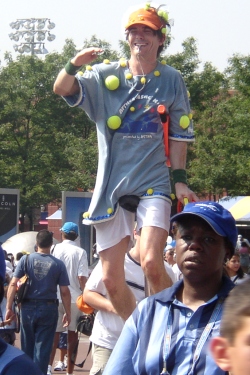 Healthy Smoothies
Delivered to your home
Click for 55%
Create an Amazon Wedding Registry
The Mental Athlete
See A Review
Return to:
College And Junior
Tennis Homepage