At The Open
With Marcia Frost...
Sunday, September 13th-
Americans Hot Again This Year
Unfortunately, I was unable to stick around this year for the U.S. Open Junior Championships, but that doesn't mean I wasn't following the action. Once again the U.S. juniors proved that there's nothing to worry about in the future of American tennis.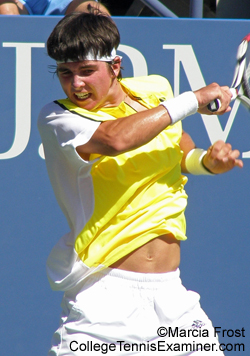 Last year it was CoCo Vandeweghe who took the girls' singles at the U.S. Open while Devin Britton fought his way through the Qualifying to make the finals. This year there was yet another unseeded American on the last day as Chase Buchanan (pictured right) took a break from his college studies at Ohio State University to play the boys singles draw to the end.
It was Australia's Bernard Tomic who prevailed in the end with a 6-1,6-3 in the final. Alongside third-seeded Bernard in the winners' circle was Heather Watson, the eleventh seed from Great Britain, who took the girls' singles with a 6-4,6-1 win over Yana Buchina of Russia. (Top-seeded Kristina Mladenovic of France had been upset by the United State's Asia Muhammad).
Despite the lack of trophies, it was the best showing for American juniors in years. After four days of play there were still five juniors remaining -- Chase Buchanan, Beatrice Capra, Lauren Davis, Denis Kudla and Raymond Sarmiento in singles, Matt Kandath & Jack Sock in doubles. The end of the tournament was plagued by rain and the juniors were even forced inside for a day. The final American girls would fall in the quarterfinals of singles. For the American boys, the quarters started with three, but dwindled as Dennis and Ray bowed out. But Chase Buchanan remained steady, even knocking out Yuki Bhambri of India, the top seed, to keep it going.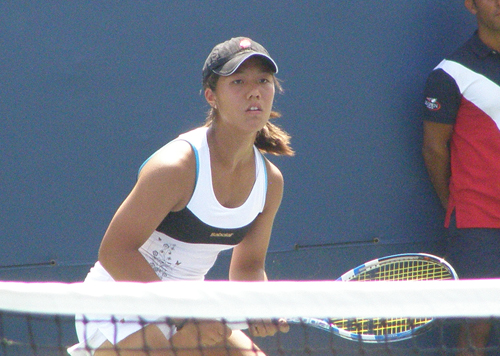 It was also the quarterfinals that saw the end of girls' doubles as the teams of Kristie Ahn (pictured left) & Grace Min lost along with Brooke Bolender & Lauren Herring. The boys team of Matt Kandath & Jack Sock lasted one more round. It was an odd coincidence that all the final American teams fell in the dreaded match tiebreaker played in lieu of a third set. The boys' doubles championship went to Marton Fucsovics of Hungary and partner Cheng Peng Hsieh of Taipei over by Frenchmen Julien Obry & Adrien Puget. Valeria Solovieva of Russia and Maryna Zanevska of the Ukraine won the girls' doubles. And those final matches were also won in match tiebreakers.

Marcia Frost


P.S. Our deepest sympathy to Sloane Stephens and her family for their tragic loss. Sloane's father, former New England Patriots running back John M. Stephens, was killed in an automobile accident in Louisiana during the Open.

Be sure to check out Colette Lewis' Zoo Tennis for more U.S. Open Junior stories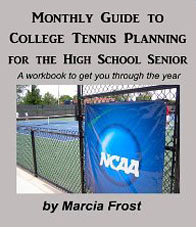 Monthly Guides to
College Tennis Planning
Available in Kindle, Print & EBook
for H.S. Seniors & Juniors
Create an Amazon Wedding Registry
Return to:
College And Junior
Tennis Homepage