August 1, 2006-Final Day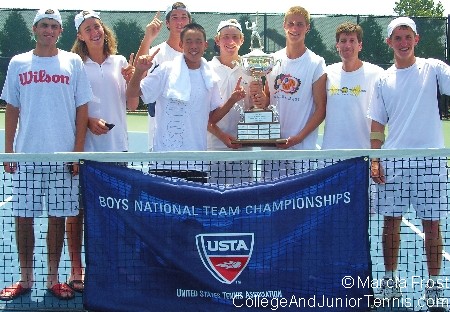 Winning Southern California Team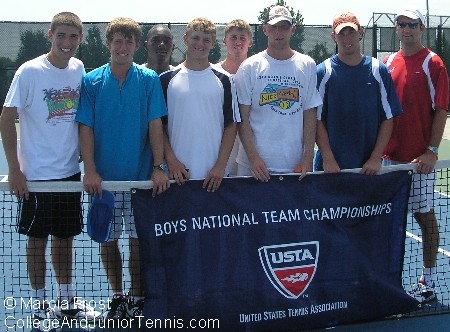 Second Place Southern Team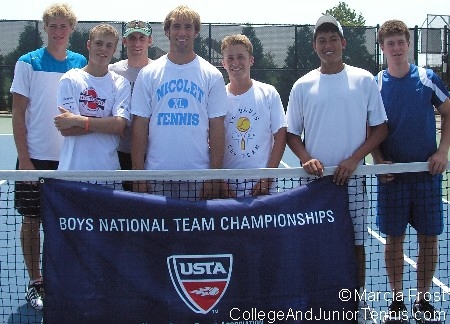 Third Place Midwest Team
A cool breeze for the crowd (which for the first few games was me, myself & I) meant troubling wind for the players to start the finals of the USTA National Boys' 18 Team Championship. The balls weren't always going where the players wanted and frequently didn't even end up on the right court. By late morning, however, the wind died down, the oppresive heat returned and the play became more intense as the finals played out.
From the first doubles point it was clear this was not just any match. There was some of the best volleying I had seen yet as all but the first court ran close as can be. While Davey Sandgren and Jordan Walters ran away (8-1) with their No. 3 doubles against Steve Johnson and Steve Foreman, the other matches remained close. Jason Jung and Gregory Hirshman took one for Southern Cal and the split, leaving it all up to the top doubles. It was down to a photo finish for Nicholas Meister and Ryan Thatcher with some great points to 9-7.
Most of the singles matches ran just as tight with a few exceptions. Andrew Crone and Gregory Hirshman, both big serve and volleyers, were the first to finish with 6-3,6-2 for Gregory Hirshman and Southern California's second point. It was three in a row as Nicholas Meister added another with his win against Calvin Kemp. Both Calvin and Nicholas had great matches all tournament and this was no exception. Though Calvin lost some steam in the end (6-2), the first set was solid to a tiebreaker. Meanwhile, Will Guzick picked one up for Southern, over Steve Johnson, 6-4,6-4.
While those first four singles matches were over, the other three were just getting into their third sets. With one point remaining before Southern California could claim a title, it looked to be up to Ryan Thatcher to do it over Eric Quigley, but it certainly wasn't going to be easy. With all the distractions of the other matches still going on I lost count after four, however, Eric managed to save a multitude of match points. Just when it looked like Ryan had hit a winner, Eric would come back with one of his own. The crowd of teammates from both sides grew larger as the deuces continued and finally it was a game win for Southern. It would take yet another game before Ryan Thatcher had it 6-1,4-6,6-3 and clinched Southern's third straight National Team title.
The remaining two singles matches -- No. 1 and No. 2 singles actually -- were played out. They were both great matches from beginning to end and remained the highest in sportsmanship. It was also two more points for Southern as Bo Katsarov defeated Houston Barrick, 5-7,7-6,6-4 and Jason Jung beat Davey Sandgren, 6-1,5-7,7-5.
It took four days, three sites (all within the campus), countless Atkins Tennis Center staff, dedicated trainers and over 300 gallons of Gatorade to pull off the first USTA National Boys' 18 Team Championship at the University of Illinois. It was one of the most organized events I have ever seen. I especially applaud a terrific tournament committee (led by Tournament Director Jim Tressler & Alex Voss) for having the being prepared for the horrendous heat with water, Gatorade, Powerbars, bannanas and a trainer at every site, every day.
Well, I'm leaving tomorrow morning for still sunny (but drier) California and the USTA National Girls' 18 Team Championships. Let the play continue on West!
Until next year in Illinois,
Marcia Frost
Above:Alex Voss & Jim Tressler

Click Here For The Full Results From The Final Day
Click Here For The Story & Results From July 31st
Click Here For The Story & Results From July 30th
Click Here For The Story & Results From July 29th
Click Here For The Final Results
MORE PHOTOS FROM THE USTA NATIONAL BOYS 18 TEAM CHAMPIONSHIPS