July 30, 2006-Day Two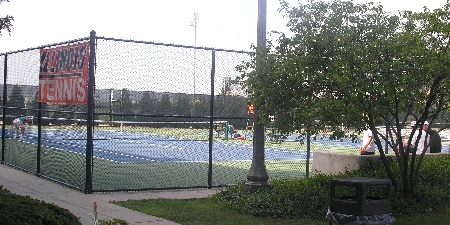 As the mercury and the humidity neared triple digits, the players did their best to stay hydrated while play continued at the USTA National Boys 18 Team Championships.
It was the kind of day that made you wonder why they don't play summer nationals in Alaska. The Atkins Tennis Center trainers were out in full force keeping the players full of fluids and stretched when needed. Players were encouraged to keep their water jugs filled and they did. Still, play was not up to what you would expect on this level because it was just too hot. Points were a bit shorter and there were times when a player -- who you know can certainly do it -- didn't run the extra steps to the ball. I had to give them credit for being out there and playing. I had a hard enough time keeping cool watching, even with frequent breaks.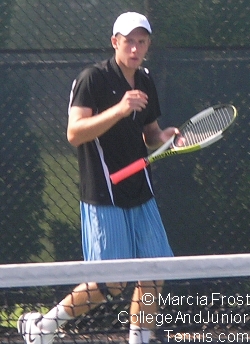 I decided to stay at the Atkins Tennis Center today with an air conditioned lobby to retreat to in times of need. First up there was the quarterfinal matchup between New England and No. 2 Southern. New England had upset Florida (5-8) yesterday. Today's match up was interesting to say the least. Although there was no real struggle in the doubles for the Southern point, the singles were a totally different matter. Of the six matches, an astounding five went to three sets and the sixth -- Davey Sandgren over Eliot Potvin -- ended 7-5,7-6. I was especially impressed with that match which ran as close as the score indicates.
Andrew Crone had some problems with that big serve of his today, however, he and Jake Toole also put on quite a match. The most shocking thing of all was that at the end of this long match up the score showed a 7-0 Southern win which doesn't explain the fight New England put up.
It was No. 1 Southern California vs. alpha seed Texas in the second quarterfinal. I missed the doubles point because I desperately needed a cooling off period, but I'm told it was a good one as two went to Texas and one to Southern Cal -- all with 8-6 scores. The singles was tough for everyone as the temperature registered at 98 degrees. There was a lot less drama than the previous match, though there was good tennis. There were great points to be watched between Ryan Thatcher and Alex Sanborn, even though the score was only 6-1,6-2 for Ryan. There was also a great first set between Jordan Rux and Nicholas Meister. (Jordan pulled it out 7-5 and then took the second 6-3.) The loss was not the only bad news of the day for Texas. Three of their players have fallen ill and it looks like they won't be able to pull a full roster for Monday. No decision has been made on how that will be handled, but tournament officials have decided to move the 11:30 am matches to avoid too much play in midday heat.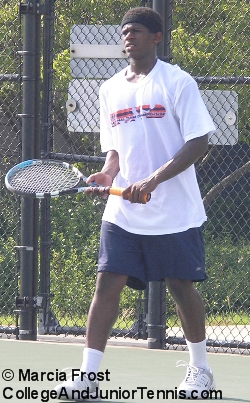 Midwest (3) and Middle States put on quite a show despite the heat. There were a number of good matches, but the coaches seemed to flock to Dennis Nevolo and Julian Sullivan. Though they only played two sets, they kept it going until there was only one other match left with some great points before Dennis' 6-4,6-2 win. It was David Streeter who clinched it for the Midwest with his hard fought 6-3,6-4 win over Arsenio Culver. The other match to watch was Michael Dieberger and Benji Kendall. After battling in the first to Michael's 7-5 win it was still a fight for the 6-2 finisher. In the fourth quarterfinal of the day (held at a different location) Northern California defeated Mid-Atlantic, 5-2.
I'll do my best to stay cool as I try to catch some of the teams that I haven't seen yet.
Until tomorrow,
Marcia Frost
P.S. It was an exciting day at the University of Illinois for a reason other than the team event. Recent graduate Ryler DeHeart won his first two professional titles, the Lewis & Clark Community College USTA Futures singles and doubles.
Above from top: Jake Toole, Julian Sullivan
Click Here For The Full Results From July 30th
Click Here For The Story & Results From July 29th
MORE PHOTOS FROM THE USTA NATIONAL BOYS 18 TEAM CHAMPIONSHIPS