July 28, 2007-Day One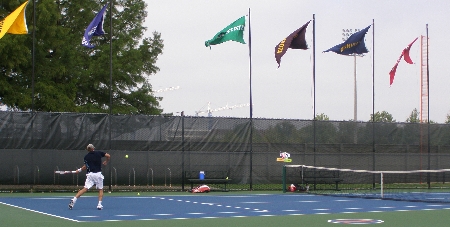 It was a great start to the USTA Boys' 18 National Team Championships as play got underway to partly cloudy skies and reasonable temperatures. It was a refreshing change to the players and coaches after last year's scorching event, but that didn't mean there wasn't plenty of heat on the court.
I decided to stay at the Atkins Tennis Center for the next two days before I start heading to the other courts to catch any teams I have missed. (It's going to be a long few weeks -- I have to pace myself!) One of my favorite aspects of the team event is the element of surprise. Most of these players seem to meet each other on the court over and over, but when you bring in teams with players that rarely (if ever) play Nationals against those who play almost all Nationals, you see a lot of surprises. One match that definitely fell in that category was Midwest's Dennis Nevolo vs. Pacific Northwest's Davis Mangham. Despite a 6-4,6-3 score for Dennis, it was an incredibly close match full of great points from both. Coaches and spectators were all drawn to it and I couldn't help but to sit down and watch as much as possible.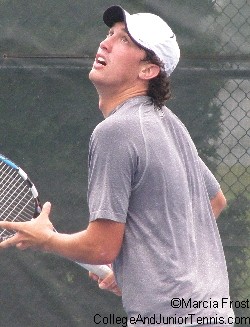 I arrived at Southern-Mid Atlantic when the deciding doubles (No. 1) was tied at 6-6. It came down to 9-7 before Houston Barrick & Eric Quigley took the Southern point over Drew Courtney & Zach Nicholson and it was definitely worth the watch. It would turn out to be a tough day for Houston (pictured right) as the University of Virginia freshman would face Drew again -- with different results. After a dropped racquet kept him from his own match point, Houston fell to his future UVA teammate, 2-6,7-6(7),10-5. It didn't make a difference to his team, however, as Southern took it 5-2.
Doubles once again went down to the final court with Southern California vs. Southwest, but from there it was all So Cal as Bozhidar Katsarov led the way with a 6-1,6-0 dismissal of Dominic Bermudez for a 7-0 team win. Connor Roth (pictured left) got his first win on the University of Illinois courts. Though the incoming freshman can't count it on his Illini record, the 6-1,6-2 victory over Frederick Walsh helped to seal the Midwest's shutout.
The only upset of the day was my hometown Eastern team taking out Missouri Valley (5-8), 4-3. It was played at one of the other sites so I didn't get to see it, but they are on the top of my list today as they take on the fourth-seeded Midwest team.
Until tomorrow,
Marcia Frost
July 27, 2007-Travel Day
I'm on my way to the University of Illinois, home to this year's men's NCAA finalists and -- for the next week -- the USTA National Boys 18 Championships. This event was great last year with exception to the scorching weather and high humidity. The weather looks much cooler this year and I'm looking forward to watching four days of some of the top players in the country as they try to lead their section to the championship.
Until tomorrow,
Marcia Frost
Stories & Photos from the 2006 Boys 18 National Championships
Click On A Photo To Enlarge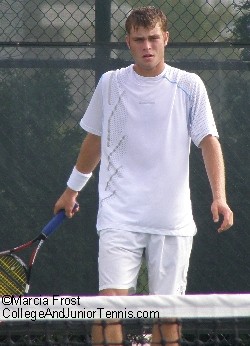 Dennis Nevolo
Davis Mangham
Eric Quigley
Drew Courtney
Frederick Walsh
Andrew Reiff
Andy Nguyen
Brandon Wei
Brian McPhee