July 29, 2008-Final Day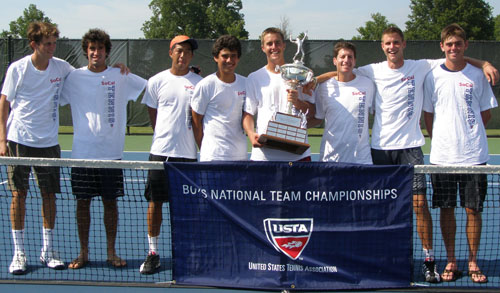 It's getting to be a habit around here with Coach Barry Horowitz once again taking the Southern California team to the trophy stand. The journey, however, for their fifth consecutive title was not an easy one.
My travels on Monday got delayed (that's life on the road) and were highlighted by Hertz not having a car for my reservation, so I missed the matches on Monday. A bit of investigative reporting -- talking with the players -- clarified that the Southern California-Midwest semifinal wasn't quite as close as the 4-3 sounded as the top seed had already clinched it at 4-1 before No. 4 Midwest took two. It was a bit tighter, though, for Florida and Texas as No. 3 Florida (below) took it 5-2 from the alpha-seeded team that had eliminated second-seeded Southern the previous day.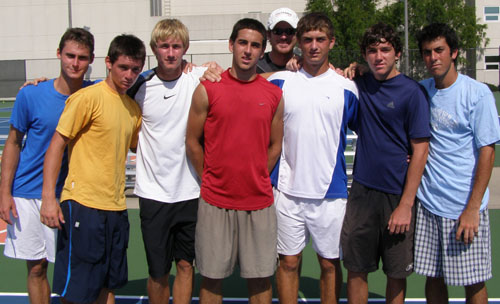 I did arrive at the Atkins Tennis Center first thing in the morning. This will be the final year this tournament will be played on these courts as the Khan Outdoor Complex (which I had a great tour of) will be complete with 12 brand-new outdoor courts. In the meantime, the players have adjusted to the three sites, with the finals and playoffs at the home base. First up on Tuesday was the third place playoff between Midwest and Texas. It was a close doubles point to Texas and then the hometown group took over.
Evan King evened up the match score with a victory over Ben Chen (left). Though the first set was a tight 7-5, Evan was in total control for a second set shutout. It was at No. 5 that Texas took their last point from Daniel White over Denis Bogatov. Billy Bertha would take a win from Max Stevens at No. 3, CJ Griffith would take out Chris Camilone, and -- a month before he officially becomes an Illini -- Dennis Nevolo made himself comfortable on the court by defeating Isomu Tachibana at No. 1. It would be a 5-2 Third Place finish for fourth seeded Midwest.
Just like the near-perfect weather (it didn't really get a bit too hot and humid until the matches finished) the schedule prevailed as the final started right on time. The defending champions took a doubles with a quick 8-5 by Dennis Lin & Oscar Fabian Matthews over Joey Burkhardt & Billy Federhofer. That was followed by Kyle McMorrow & JT Sundling finishing the doubles point at No. 3 (8-4) over Luke Mojica & Spencer Wolf. It was only in the first spot that it was a tight contest, with an early break for Florida lost and a tiebreak finish for their only point.
The singles matches started out without much drama. Jeffrey Morris put Florida on the board with a win over Dennis Lin that was over before I could get to the court. The top match was incredibly exciting through the first set as Ryan Thacher and Brennan Boyajian (right) went at it as only two of the best in the country can. It was a narrow tiebreaker that decided it for Ryan through some amazing points. In the second set, Brennan's incredible shots were countered with more incredible gets by Thacher, and the frustrated Floridian only won one more game. It was a lot less dramatic between Kyle McMorrow and Billy Federhofer as the latter picked up Southern Cal's third point. It looked like another first prize was quickly coming, but as I've seen too often at college tennis matches -- the format the team event is played in -- anything can happen.
As his team was one point away from the finish, Andre Dome dropped a hard-fought 6-3,6-4 to Florida's Joey Burkhardt. Meanwhile, the final two courts split sets. Steve Johnson had won the first set at No. 2, losing the second and cramping. It didn't look as though he would even make it throught the third. He hung in there, but it wasn't enough and Will Spencer suddenly had the match score tied at 3-3. It was all left to No. 6 with a set each to the top seed's JT Sundling and Luke Mojica. They were on serve in the third before JT broke and was serving for it at 5-3. As the crowd started to rise and get ready for the final trophy ceremony, he dropped two match points and was broken by the Floridian. It was soon a 6-6 third set, but the ailing Luke took a second medical timeout (you are allowed more than one if they are different ailments). Though he did get back on his feet, he was too worn and JT Sundling finally took Southern California's fifth in a row with a 7/2 tiebreaker.
A special mention to two of the Southern California team. JT Sundling (middle) had something else to celebrate as he picked up the tournament's Sportsmanship Award. And Steve Johnson, who will be attending the University of Southern California in the fall, retains the honor of having been a member of four consecutive winning teams.
The University of Illinois always feels like home to me, but tournament directors Alex Voss & Jim Tressler (left and far right, respectively) did another great job of making the players feel that way. It was a week of great weather and competition (and I hear there was even a fun frisbee game in there!) for the players before most of them head off to Kalamazoo. The Zoo will also be my next stop as I hit the road again.
Until next year,
Marcia Frost
P.S. I wouldn't be a New Yorker if I didn't make sure I caught up with the Eastern team. They were easy to find -- everyone just told me to look for the "Hooters!"

Contact Marcia Frost if you would like any photos from the B18 Team
Stories & Photos from the 2007 Boys 18 National Team Champs
Click On A Photo To Enlarge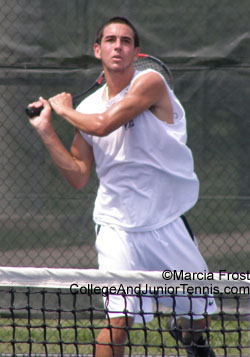 Luke Mojica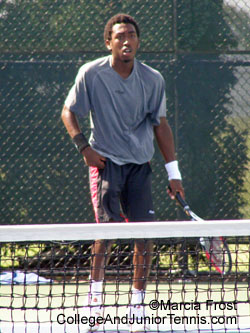 Evan King
Daniel White
Denis Bogatov
Billy Bertha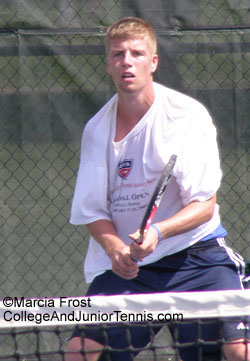 CJ Griffin
Chris Camilone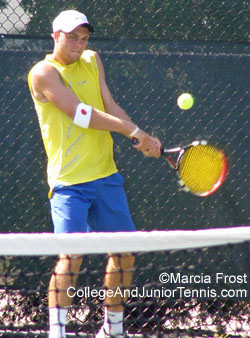 Dennis Nevolo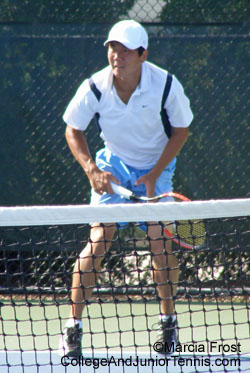 Isamu Tachibana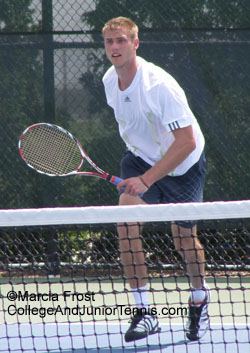 Ryan Thacher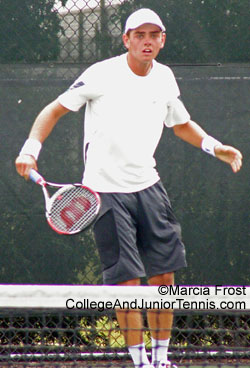 Kyle McMorrow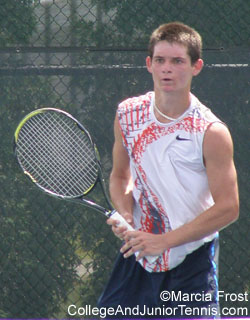 Billy Federhofer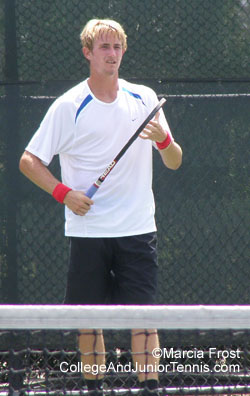 Joey Burkhardt
Andre Dome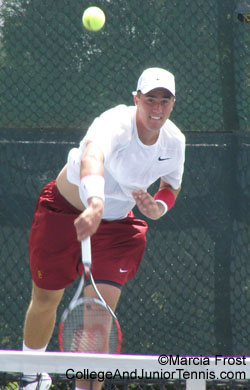 Steve Johnson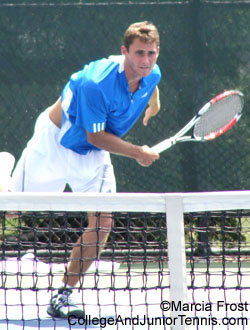 Wil Spencer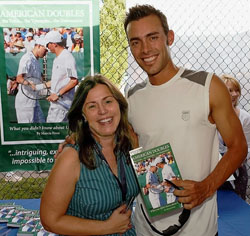 Brian Wilson, one of the NCAA Doubles Champions featured in American Doubles...







Monthly Guides to
College Tennis Planning
Available in Kindle, Print & EBook
for H.S. Seniors
and H.S. Juniors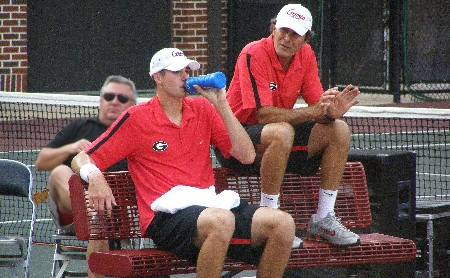 College Tennis featured in
American Doubles...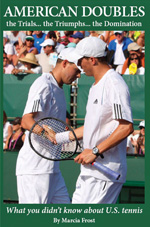 Sibling Pairs featured in
American Doubles...













Return to:
College And Junior
Tennis Homepage