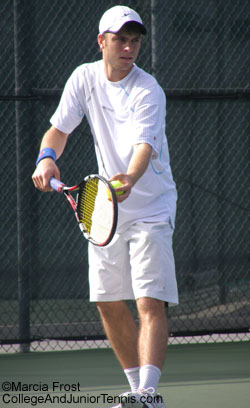 Tuesday, January 22th
Main Draw, Day One
I'm back in Boca at the USTA Pro Circuit event at Patch Reef Park, enjoying a not-so-hot, not-so-humid day. Joining me, along with the actual professionals, are a host of junior players who made it through the qualifying (or got wildcards) as well as some former college stars.
The wind was blowing this morning as the matches got started under a cloudy sky. It was a tough choice to start as there were two juniors and a former top college player on three different courts so I began the day court-hopping. Eighteen year old Dennis Nevolo (right) was up against French pro Vincent Millot in a close one of long games. The teen took the first game with confidence and held until 4-3, but Vincent was just that important point better in the deuce games and that break made the difference in the 6-4 set. I missed most of the second set, arriving with Dennis down 3-0, but the two games I saw that followed showed the set much closer than the 6-0 score.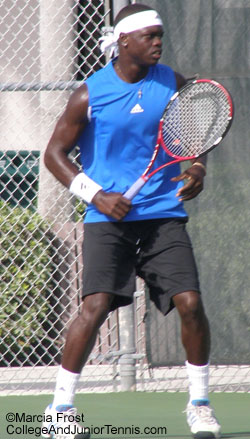 Dennis Nevolo, who also lost in doubles with partner Paolo Casanova, will be continuing to play both junior and pro events before he heads to the University of Illinois next fall, home of former Illini Ryler DeHeart. Ryler has been on the tour since his 2006 graduation and he has already picked up seven titles. The No. 4 seed battled back today after losing the first set to Jose Statham. It was a great match of exciting points that fittingly ended with Ryler diving for match point and his 1-6,6-2,6-2 win.
The morning singles matches also saw another wildcarded junior and former college player, this time on the same court. Seventeen year old Jarmere Jenkins (left) was no match for veteran Alberto Francis, who played for UCLA before hitting the tour. The fifth-seeded Alberto didn't take long for his 6-2,6-1 win. I saw a few points while the frustrated Jarmere tried to stay in it. He'll have more time and experience, though, as he has been traveling the tour (as an amateur) with his brother Jarmaine, a recent Clemson graduate.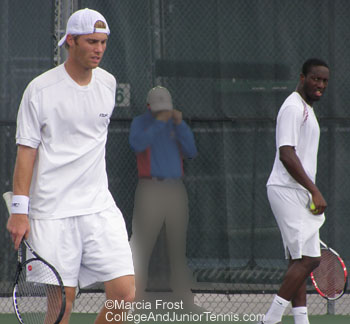 There were only four singles matches today that were followed by doubles (and a brief rain storm). Along with the changes in doubles formats (it's no ad and a 10 point tiebreaker in lieu of a third set), tournament directors have been asked to try to start and finish doubles early so players can participate without worrying about missing the next week's tournament. Today a full round of doubles was played. Among the matches there were quite a few interesting matchups, especially from a college and junior tennis standpoint.
Former Wake Forest players Joe Bates & Todd Paul (above) lost a tough one to University of Miami's alumni Luigi D'Agord and Daniel Lustig. It was a close first set tiebreaker that went to the former before Luigi & Daniel came back for a 6-2 second. It looked to be anyone's match into the tiebreaker before Luigi & Daniel took it 10-8.
I got my first look at the Battistone Brothers and their "two-fisted" racquets. It's almost as shocking as Brian's unusual serve with the volleyball jump. I'm hoping to speak to them a bit about it this week. They are still alive after eliminating Ryler DeHeart and partner Lance Vodicka, a former St. Louis University player. Also still in doubles is Jarmere Jenkins & Adam El Mihdawy, though second-seeded former UCLA teammates Chris Lam & Alberto Francis (below) fell to Uladzimir Ignatik & Andrey Kumantsov in three.

Last year's NCAA doubles champion Andreas Siljestrom for Middle Tennessee State teamed with fellow Swede Robert Jendelund (an Armstrong Atlantic State player) to take an exciting battle over Gastao Elias & Henri Kontinen. The two tiebreak sets brought in a group of spectators that really enjoyed the display.
Wednesday's schedule will be for a lot more singles. I'm especially looking forward to watching two native New Yorkers who I've seen playing for many years going against each other -- Adam El Mihdawy & Marcus Fugate. I'm sure it will be just one of the great matches at the Patch Reef Tennis Center.
Until Tomorrow,
Marcia Frost