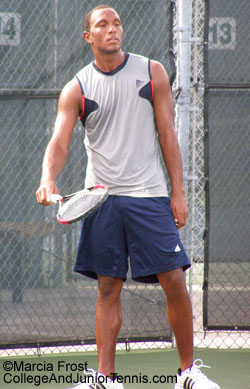 Wednesday, January 23rd
Main Draw, Day Two
It was the battle of the qualifiers on the second day of the USTA Pro Circuit main draw in Boca Raton as five of the eight were still alive after the first round.
It was Marcus Fugate (right) and Adam El Mihdawy first up in the morning after a brief delay to dry the courts from the previous night's rain storm. It was definitely a fierce competition from these two New Yorkers who both came through the qualifying, but had different paths here. Marcus has been officially on the tour for a few years now while Adam is giving it a try, currently retaining his amateur status. They are both hard-hitters and it was no wonder that the balls out of play were long due to the sheer force of the hit. After trading breaks the first two games, both held until 4-4 when Adam managed to break through and then take the set, 6-4. It looked like Marcus was ready to take control when he started the second with an ace, but Adam was just slightly better until the end. He actually just got his match point in at 7-5 when it started to rain for a bit.
There were two more qualifiers at it on Court 10. Former UCLA Bruin Chris Lam faced a tough opponent in Portugese junior Gastao Elias. I arrived with Gastao sealing the game for 6-5 on serve and Chris following with one of his own to a breaker. From the first point, the tiebreaker was great and it was up for grabs. Chris had a set point at 6-5, but it went to Gastao at 8-6. The second was a little less intense and the 17 year old had an easier 6-3 win.
Quite a few teens prevailed today over their experienced counterparts. Chase Buchanan, also a qualifier, came out swinging against 22 year old Jonathan Schneider (below). After Chase ran through the first four games, Jonathan seemed to get over the shock and get more in the match. Despite a number of confrontations with the chair, warnings and a game penalty, it was still the 16 year old's. Between the killer backhand and the ability to come from everywhere to hit winners, he had a 6-2,6-2 win in the hour.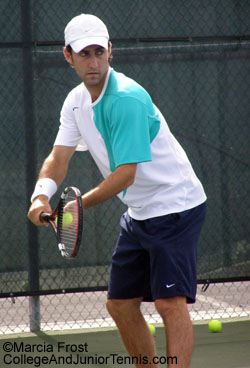 The other qualifiers who advanced today are Amit Inbar, who upset No. 7 Adriano Biasella, 6-7(3),7-6(2),6-3 and Hyung-Kwon Kim who took out No. 6 Julio-Cesar Campozano, 6-4,6-1. Also advancing was the 2007 world No. 1 junior, Ricardas Berankis. The Lithuanian defeated Vladimir Obradovic, 6-3,6-2, and will face the second-seeded Conor Niland on Thursday. I'll be there to watch that, as well as many other great matches at the Patch Reef Tennis Center.
Until Tomorrow,
Marcia Frost