TALKING WITH... VANIA KING
September, 2005 continued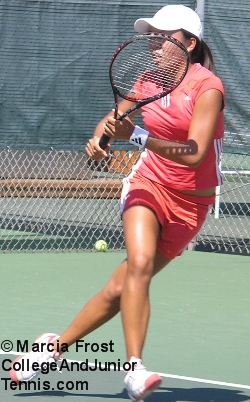 Q: What are you taking from this (U.S. Open) experience?
A: "Every match that I won was a surprise and I was shocked that I actually won. Now that I look back I've learned that I can play at the pro level and I can play at the top level. When I played against Dechy, who is 15 in the world, the score (6-1,6-2) didn't really reflect it. I actually had a lot more chances than I was thinking and I think it was just a mindset that I didn't think I could win. Now I know that I can win."
Q: What has been your best win?
A: "For myself, for my confidence in myself, I would think the first round main draw here. I don't think I fought as hard through that match as I did through Qualifying because it's a tough crowd out there. There's 128 girls that are about the same rank and they all want to get those 16 spots. I think in the last round match of my qualifying was the toughtest match that I played. I lost the second set in a tiebreaker and I was down the next set the whole time. Then it was 4-4 and I broke and I held. The whole time I didn't think I was going to win that match. I think that match was the match I fought the hardest to win. I fought every point. I tried for every ball and I was playing well, but for my confidence the first round main draw match was the best for me."
Q: What tournament did you have the most fun at??
A: "The ITF Grade 1 in Belgium. I just really liked Belgium. The people are really nice and it's really different there. The place we stayed at was really close knit. Everybody knew everybody. It was fun. And we also won the doubles there."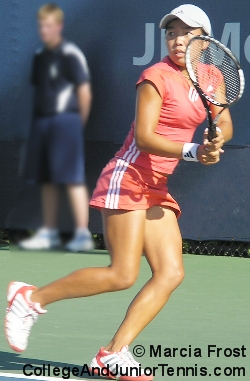 Q: Is there a tournament that you haven't played that you'd like to?
A: "Not really. I've been to all the Grand Slams, which was my goal."

Q: Where do you go from here?
A: "I'm supposed to go the the Fed Cup in Barcelona for the 16 and under, provided that I'm healthy. This week I feel like a worn out car -- slowly, part by part."

Q: Are you thinking about college?
A: "Not right now. It's pretty far away for me. It's a year and a half. Right now I'm just thinking about playing my best tennis." more
---