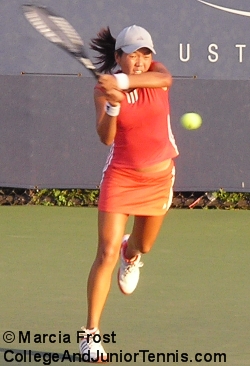 Q: Tell me about your brother and sisters. I know your brother Philip finished college
A: "At Duke, yes. Before he went to school he was 270 in ATP, but he decided to go to college. Right after he went to college he played three tournaments and did pretty well, then he tore a tendon in his left wrist. So he was out for eight months and he's just starting again. On the men's side it's so much tougher. There are so many more players and it's much harder to get points."
Q: And your sisters?
A: "They're twins -- Mindy and Ivana. Mindy plays for UPenn and Ivana is at Princeton. They're both sophomores."
Q: Do your parents play tennis?
A: "I believe my dad played a bit in college, but he wasn't anywhere close to that level. My mom didn't play. I think she played Ping Pong. "
Q: At what age did you start playing tennis?
A: "I started my first tournament at around seven, but I picked up a racquet around five."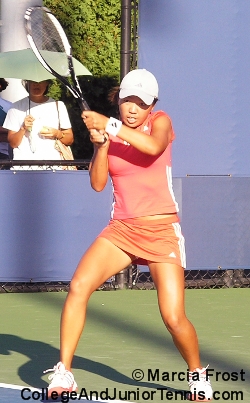 Q: Where do you train?
A: "At the new USTA Training Center in Carson (California). I like to go there. It's pretty convenient for me. It's only 10-15 minutes."
Q: I hear it is beautiful.
A: "Yes, it's a really nice facility. They have a lot of courts, a ball machine and coaches."
Q: Are you working with anyone in particular there?
A: "I hit mostly with Eliot (Telscher, Director of High Performance) and Ray Ruffels."
* * *