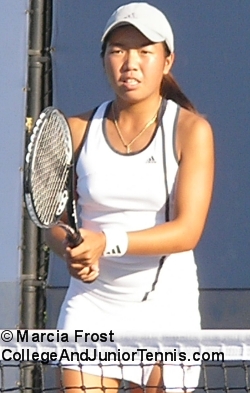 It's been quite a few weeks for Vania King. The 16 year old took full advantage of a wildcard into the U.S. Open Qualifying. Not only did she win all three of her Qualifying matches, but she one her first round Main Draw match and was a finalist in the Doubles of the Junior Championships (with Alexa Glatch.)
The three weeks at the National Tennis Center were exhausting for Vania, but more exciting than she could ever imagine. The Qualifying matches were grueling three-setters and her final loss in the Main Draw was in the Grandstand opposite fifteenth-seeded Natalie Dechy. She held her head high (as she deserved to) when she lost that match, as well the main draw doubles match she and Alexa dropped to fifth-seeded Daniela Hantuchova and Ai Sugiyama. There was still more tennis to play.
When Vania's Main Draw commitments were over she had little time to rest before the Junior Championships began. She made to the third round of singles before falling to sixth-seeded Marina Erakovic. All was not lost as she remained alive in doubles with Alexa and the two girls took it all the way to the finals, trying to repeat the titles they earned at the USTA Nationals. The California girls almost did it, but going home with second place from a Grand Slam event is never a bad thing.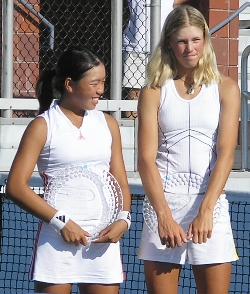 The U.S. Open accomplishments are just part of Vania King's resume. She comes from a family of tennis playing siblings (brother Phillip won Kalamazoo twice and was a four-year All-American at Duke). She has garnered a multitude of USTA National and ITF singles & doubles titles. These include the USTA National Girls 18 Hardcourts, LTA International in Roehampton and the USTA International Winter Championships. At the USTA International Spring Championships and the Thailand International, she took both the singles and doubles titles. Add that to a many second thru fourth placements at high profile tournaments, and you have a player who doesn't leave the top of the rankings.
It actually took the full three weeks of the U.S. Open for Vania and I to get together. It worked out in the end, because by the time we did get together there was so much more to talk about than there was that first week.
by Marcia Frost