At Wimbledon With Marcia Frost...
Friday, June 29th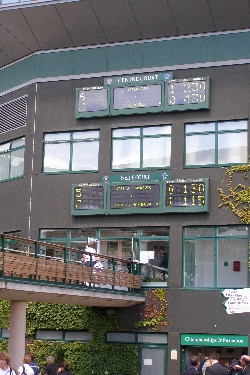 Hello from Jolly Ole' England! The trip was long, though I did get a last minute upgrade to Business Class (thank you, American Airlines) which made it a bit easier. I spent most of the day exploring the All England Club and getting settled in the pressroom.
The one thing that is not "grand" about this event is the weather. It's rainy and a bit cool. I'm told that this is the norm and the tournament has extra days built in to cover the uncooperative weather. The matches today were stopped, started and moved, with quite a few being completed. The event is run with precision and it seems they are prepared for anything that might happen -- even bomb threats. It didn't take long for security to be increased when there were bombs found in the centre of London.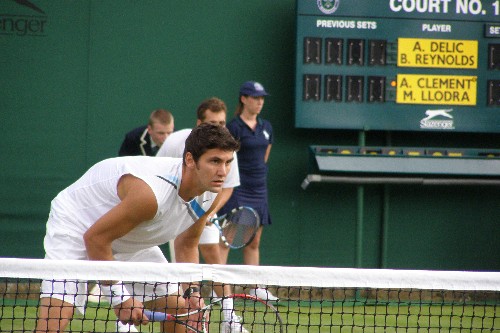 Before I succombed to jet lag and returned to the hotel, I stopped to watch a bit of NCAA champion (University of Illinois) Amer Delic and former Vanderbilt player Bobby Reynolds play doubles. Amer had also made it to the second round of singles before he was stopped in a third-set tiebreaker by fourth-seeded Novak Djokovic. The doubles match against Arnaud Clement/Michael Llodra was at an incredibly close 3-6,4-6,7-6(5),7-6(9),3-3 for the Americans when it was stopped because of rain. Amer's former Illinois' teammate, Rajeev Ram, is also still playing doubles, as well as Stanford grads Scott Lipsky & David Martin. I hope to catch some of those matches too.
Weather permitting, the juniors are scheduled to begin on Saturday. The All England Club is quite a bit smaller than the USTA Billie Jean King National Tennis Center so let's see how many I can manage to cover!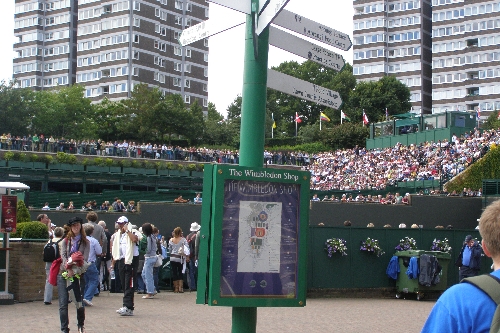 Until Tomorrow,
Marcia Frost

Story from June 28th>
The Official Wimbledon site is one of the best around and also has coverage of the junior events. Be sure to check it out at http://www.Wimbledon.org