Scholarships for the 2002-03 season are now also available from the following schools:
Fresno State University-Contact women's Coach Kevin Epley at epper3210@cs.com or men's Coach Brad Dancer at DancerBrad@aol.com.
Florida A& M-For the women's team, call (850) 561-2735 or write to FAMU7womentennis.hargrove.att.net.

* * *
Tomas Berdych of the Czech Republic was the singles winner at the Mobilux Junior Open in Luxemborg. Tomas defeated Janko Tipsarevic of Yugoslavia in the finals, 3-6,6-0,7-6. Gilles Muller teamed with Steve Darcis for the doubles over top-seeded Michael Konig and Bas Van der Valk. In the girls' draws, unseeded Russian Vera Douchevina was the singles winner over the Czech Republic's Barbora Strycova in the finals, 6-4,6-4. No. 1 seeds Jenlena Jankovic and Matea Mezak took the doubles over Svetlana Kuznetsova and Eva Birnerova, 6-4,6-0.

* * *
Great Britain's Tom Pocock and Ross Hutchins had two meetings in finals during November. At the first event -- the Vierumaki Junior Cup -- Tom was the winner, but Ross took the TATS Open in Finland. Ekatarina Kirianova of Russia was the girls' singles title winner at the latter event.


* * *
November 2001
Jenna Loeb, currently ranked No. 8 nationally in the USTA Girls' 16s, won her second straight New York State High School Tennis Championship. The doubles event went to sisters Megan and Katherine Zebrowski.

* * *
The "Little Mo" Nationals were held October 27-29 at the St. Stephen's Tennis Academy in Austin, Texas. The following players took home the trophies:
Girls' 11-Nikole Novikova
Girls' 10-Jessica Alexander
Girls' 9-Jordaan Sanford
Girls' 8-Noel Scott
Boys' 11-Conor Biller
Boys' 10-Blake Davis
Boys' 9-Russell Bader
Boys' 8-Jonathan Lo

* * *
Green Mountain College in Vermont, an NCAA Division II school, has women's and men's tennis scholarships available for the Fall of 2000. Anyone interested should contact Coach Rob Purdy at RPurdy@sover.net

* * *
Unseeded Lauren Cash defeated No. 3 seed Joanna Roth, 6-4,6-0, in the finals of the Eastern Sectional Closed Girls' 16s.

* * *
Chris Kwon won the Volki Thailand Junior Open Championships for the second year in a row. Chris defeated Amanjot Singh of India in the finals, 6-2,6-0. Unseeded Casey Dellacqua of Australia took the girls title with a 7-5,6-1 win over No. 1 seed Magda Vaharia of India. Both singles winners also took home the doubles trophies.

* * *
October 2001
Due to the current events, it was decided not to hold the Maureen Connolly Challenge Trophy. The event was to be held in England and will resume next October. In other MCB news, the "Little Mo" nationals will be held October 27-29 in Austin, Texas. Trophies were handed out to the following players at the San Diego regionals: Mike De Coster (Boys' 8); Eric Gast (Boys' 9); Filipp Pogostkin (Boys' 10); Austin Chafetz (Boys' 11); Karen Forman (Girls' 8); Jordaan Sanford (Girls' 9); Pamela Montez (Girls' 10); and Nikole Novikova (Girls' 11).

* * *
At the Indian Junior Tournament in Mumbai, India's Isha Lakhani and Switzlerand's Dominic Stockler were the singles winners. In doubles, Anuwant Dalodom and Natapong Pongkunsub of Thailand took the boys', while Sanaa Bhambri of India and Pichaya Laosirichon of Thailand captured the girls.

* * *
This year' first Chandra Rubin American Junior Tennis Circuit was held in Atlanta as an ITF event. (It is not on the USTA schedule.) In the finals:
Boys' Singles-Andrei Radulescu/Canada defeated John Isner/USA, 6-1,6-3
Boys' Doubles-Jeffrey Groslimond/Brett Ross-USA defeated Raian Luchici-Romania/Andrei Radulescu, 6-3,6-2
Girls' Singles-Alexandra Hirsch/USA defeated Michelle Mitchell/USA, 6-3,6-2
Girls' Doubles-Dia Evtimova-Bulgaria/Ivana Lisjak-Croatia defeated Michael Babicova/Renata Herdova-Slovakia, 7-6(7),6-3.

* * *
---
September 2001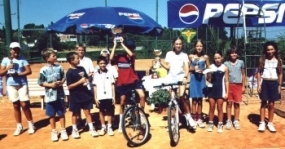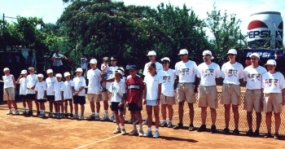 Winners and Staff from the Smrikva Bowl

The Smrikva Bowl was held again this Summer at the Tennis Club Smrikve in Croatia. This event is held each year for players 10 and under in Croatia, as well as other countries. This year's winners were Marin Draganja, who defeated Marcan Dino in the finals and Petra Martic, who outlasted Indire Akiki. Both winners are from Split, Croatia, home to Wimbledon winner Goran Ivanisevic.


* * *

In the finals of the ITF Junior World Team Championships for boys and girls 14 and under, the German boys and the Czech Republic Girls took the titles. Second place went to Yugoslavia and Russia, respectively. The Russian boys team edged out the Slovenians for third place, while the girls from China beat those from the Slovak Republic for third. A total of 32 teams participated in the week long competition in the Czech Republic.


* * *

At the Copa Mundo Maya in Guatemala, Marcela Arroyo of Mexico made her way through the draw without dropping a set and losing no more than three games in any one set. Marcela took the championship with a 6-3,6-0 win over Liz Cruz. Rodrigo Gabriel took the boys title in his hometown over Juan Bolivar Berrido, 1-6,6-1,6-2.


* * *

Daniela Kix became the first Austrian girl to win at the Fischer Junior Open. Daniela defeated Karolina Sprem of Croatia in the finals, 6-3,0-6,6-2. Israel's Dudi Sela took the boys singles title over Austria's Daniel Koellerer, 1-6,6-4,6-1, and then took the doubles with partner Michael Ryderstedt. The girls doubles went to Tatiana Golovin and Marta Domachowska.


* * *

The University of Illinois has a scholarship available for the Spring semester for its women's team. Anyone interested should contact Coach Joanne Russell at russell4@ntx1.cso.uiuc.edu


* * *

The Little Mo East Regionals were held the first week of August. The following players were winners: Nicole Pivonka-Girls' 8; Tammy Hendler-Girls' 9; Amy Simidian-Girls' 10; Courtney Rauscher-Girls' 11; Daniel Riggs-Boys' 8; Dennis Kudla-Boys' 9; Rashaad Williams-Boys' 10; Thomas Ligon-Boys' 11.


* * *

USTA Sportsmanship Awards were given out in August to Jared Miller (Midwest Open), Katrina Tsang and Rajeev Ram (USTA Super National Hardcourts).


* * *
August 2001
For the second consecutive year, the Port Washington Summer Classic was held in commemoration of Dana DeCarlo, a player who had trained at the Port Washington Tennis Academy. Players received trophies after the final round:
Arthur Kirakosyan defeated Adrian Serowik, 7-6(3),6-3-Boys' 18
Amy Roche defeated Samantha Berthod, 7-6(5),6-4-Girls' 18
Dennis Lee defeated David Bitton, 6-0,6-0-Boys' 16
Elizabeth Kobak defeated Melanie Tu, 6-0,7-6(4)-Girls' 16
Michael Sroczynskidefeated Alex Asksanov, 6-3,6-2-Boys' 14
Kimberly Weltman defeated Brittany Berckes, 6-2,6-2-Girls' 14
Robert Ferrante defeated Lance Goulbourne, 6-3,6-3-Boys' 12
Gail Brodsky defeated Jacqueline Wu, 4-6,6-1,6-1-Girls' 12

* * *
Fourteen year-old Nicole Pitts is having an exceptional Summer. Nicole won singles and doubles at the Copa Merengue in the Dominican Republic and the swept the titles again at the 2001 Cable & Wireless Tournament in Jamaica. In the latter tournament, Nicole did not drop a set -- losing only five games the during whole event.

* * *
Peter Shultz took home the Boys' 18 Sportsmanship Award at the USTA Super National Clay Court Championships.

* * *
July 2001
The annual Eastern Open Championships were held this June at the Port Washington Tennis Academy in New York. The final rounds were as follows:
B18-Michael Accordino defeated Zachary Rodd, 6-0,6-0
G18-Melissa Tu defeated Alexandra DeGuzman, 7-5,6-2
B16-Faisal Mohamed defeated Sean Corrigan, 6-1,6-3
G16-Jenna Loeb defeated Daisy Ames, 6-0,6-3
B14-Cory Parr defeated Ken Matsumoto, 6-4,6-1
G14-Erina Kikuchi defeated Anuja Ankola, 6-1,6-1
B12-Lance Goulbourne defeated Milo Hauk, 7-6(4),6-1
G12-Carlissa King defeated Laken King, 6-4,6-4

* * *
Players from seventeen European countries competed at the 2001 ITF/ETA 16 & Under Development Championships. This two-week competition featured a feed-in system with a match for each player, each day. Based on the combined results, the following players will receive an ITF GSDF Travel Grant: Aleksander Skripko-Belarus; Adrian Ungur-Romania; David Savic-Yugoslavia; Milan Mihailovic-Yugoslavia; Florian Mergea-Romania; Elena Stoianova-Belarus; Nadejda Vassileva-Bulgaria; Anastasya Yakimova-Belarus; Simona Iulia Matei-Romania; and Elena Gancheva-Bulgaria.

* * *
Twelve year old junior Julia Cohen played her way into the quarterfinals of the Women's Open in Fort Lauderdale, Florida, before losing to Eveline Rusdianto. Julia then surprised the crowd by taking the consolation finals and the mixed doubles third place trophies.

* * *
The benefit Bark & Meow Tennis Tournament will be held September 1st & 2nd at Laurel Park in Marietta, Georgia, from 10 am-8 pm. The cost is $25.00 per registration. Prizes and certificates will be rewarded. The event benefits the Humane Society of Cobb County. For more information, contact Keith Atkins or Matt Finley at 770-420-2601.

* * *
June 2001
At this year's Italian Junior Open, top seed Kai Kanepi of Estonia won the girls singles title after defeating Hungary's Virag Nemeth, 6-0,3-6,6-2. In the boys singles, Columbia's Alejandro Falla took the trophy after a 6-4,6-1 win over Gilles Muller of Luxembourg. Doubles titles went to the teams of Tomas Berdich/Bart De Gier and Petra Cetkovska/Matea Mezak.

* * *
Cory-Ann Avants of the United States made it all the way through the qualifying of the International Tournament in Sante Croce to face top-seeded Argentina's Gisela Dulko in the finals. Despite an incredible tournament from Cory-Ann, Gisela prevailed, 6-2,6-3. The boys winner in that event was Brian Dabul, taking the home court advantage.

* * *
Unseeded Tom Eklund of Sweden took the International Raiffeisen Spring Bowl after deeating Markus Egger of Austria in the finals, 2-6,7-5,6-1. Austria's Christina Schiechti took the girls title for her home country, easily defeating Slovakia's Linda Smolenakova, 6-0,6-1.

* * *
May 2001
The Port Washington Easter Classic may no longer be on the USTA National Junior Schedule, but the event is still popular for Eastern Tennis Association players. First place trophies were given out to the following participants:
Derrick Chou-Boys' 18
Jon-Carlo Marras-Boys' 16
Jonathan Chan-Boys' 14
Alex Vasin-Boys' 12
Iris Liang-Girls' 18
Caren Seenauth-Girls' 16
Anna Tatishvili-Girls' 14
Erina Kikuchi-Girls' 12

* * *
Yeu-Tzuoo Wang of Tapei picked up his eighth (!) ITF Junior title with his win at the Tapei International Junior Championships. Another junior who is collecting titles is Indonesia's Angelique Widjaja. The Japan Open Junior Championships gave her two of those when she took both the singles and the doubles.

* * *
Sportsmanship Awards were given at USTA National Open Championships to Stacey Percival (Girls' 14s), Ryan Farlow (Boys' 14s), Brendan Mahoney (Boys' 18s), Bo Verhulsdonk (Girls' 18s), Bradley Livingston (Boys' 16s) and Jacqueline Hughes (Girls' 16s).

* * *
April 2001
The 25th Annual Little Mo Championships in Texas produced the following winners: Girls' 8-Blair Shankle; Girls' 9-Hideko Tachibana; Girls' 10-Jessica Alexander; Girls' 11-Morgan Shaw; Boys' 8-Jacob Rothernl Boys' 9-Zachary Chu; Boys' 10-Blake Davis; and Boys' 11-Jantzen Witten.

* * *
At the 5th Annual Fullerton Junior Tennis Tournament, the final results in Tier 1 were:
Boys' 12-Steve Johnson Jr. defeated Blake Wardman, 6-0,6-3
Boys' 14-Skate Gorham defeated Carsten Ball, 6-3,6-3
Boys' 16-Jamil Al-Agba defeated Jeffrey Das, 6-0,6-4
Boys' 18-Doug Stewart defeated Robert Yim, 6-2,6-2
Girls' 12-Brittany Rosen defeated Paloma Escobedo, 6-4,6-2
Girls' 14-Mykala Hedberg defeated Vania King, 6-2,6-4
Girls' 16-Erica Schweyer defeated Leslie Koffi, 6-0,6-0
Girls' 18-Casey Cross defeated Nicle Nicole, 6-0,6-1
Eric Lee, Sean Cherie, Aaron Bert, Molly Banos, Rebecca Lin, Daron Moore and Casey Cross were Tier 2 winners.

* * *
The 21st Ascuncion Bowl took place in Paraguay in March. This is one of the few international tournaments that has events for the younger age divisions. Bruna Paes and Roman Recarte took the 14s titles; Jorge Aguilar and Larissa Carvalho the 16s; and Gilles Muller and Petra Cetkovska the 18s. Gilles also won the Banana Bowl the following week as Svetlana Kuznetsova took the girls trophy.

* * *
Americans Kristin Cargill and Derrick Bauer won both singles and doubles at the Costa Rican Bowl. Kristin's doubles partner was Ashley Shellas while Derrick teamed up with Jose Armando Carrascosa from Mexico.

* * *
On her home court, Maria Jose Argeri won the girls' singles at the 22nd Argentina Bowl. Petra Cetkovska and Barbora Strycova of Czech Republic were the doubles winners. For the boys' trophies, Uruguay's Marcel Felder left with singles and doubles with partner Brian Dabul of Argentina.

* * *
The Valley Champs took place in Tumwater, Washington for the 12 & 16-year old age divisions. The following players were singles champions: Eric DeBusschere (B12), Peter Kung (B16), Ashley Anderson (G12) and Amanda Taylor (G16).

* * *
---
April 2001
The annual Port Washington Winter Classic showcased some of the Eastern section's top juniors. The final matches of this event were:
Boys' 18-Zachary Rodd defeated Brandon O'Gara, 3-6,6-0,6-4
Girls' 18-Jenna Loeb defeated Olivia Nix, 6-4,6-3
Boys' 16-Garday Milchutskey defeated Dima Lutsker. 6-3,7-6(2)
Girls' 16-Julia Koulibitskaya defeated Amy Roche, 6-3,6-2
Boys' 14-Winnington Grazette defeated Jonathan Chan, 6-4,6-2
Girls' 14-Noelle Hickey defeated Ana Tatishvili, 6-2,6-0
At the International Bavarian Junior Challege in Germany, unseeded Florian Mayer of Germany took the boys singles title with a 6-2,1-6,6-2 win over Slovakia's Peter Capkovic. Hungary's Virag Nemeth took the girls' singles after defeating Myriam Casanova of Switzerland, 6-2,6-3. Doubles titles went to Edina Gallovitz/Elke Clijsters and Bart de Gier/Michal Koning.

* * *
Alex Bogdanovic of Great Britain won his first ITF Junior trophy at the Uruguay Bowl in Montevideo. Maria Jose Argeri of Argentina was also a first-time ITF winner at the same event.

* * *
The following players were winners at the Mauna Lani Junior Open: Skyler Tateishi (B12); Holden Ching (B14); Jonathan Farm (B16); Cole Millare (B18); Sara Yoshinaga (G12); Julienne Yamamoto (G14); Jessica Broadfoot (G12); and Kimberly Kaloi (G18).

* * *
Brevard Community College in Melbourne, Florida is offering Full Tuition/Book Scholarships for its 2001-02 women's tennis team. For more information, call (321) 254-9143 or write to keencoach@cs.com.

* * *
Paul Capedeville of Chili collected boys' singles wins at the 23rd Milo Cup and the Nicholas Macchiavello Almeida Cup.

* * *
The St. Valentine's Day Tennis Classic was held in Mobile Alabama. The following players prevailed in the finals:
Girls' 18-Tiffany Crenshaw defeated Nikki Roe, 2-6,6-0,6-2
Girls' 16-Janel Cooley defeated Tiffany Crenshaw, 6-1,6-1
Girls' 14-Janel Cooley defeated Megan Mohler, 6-1,6-0
Girls' 12-Morgan Carney defeated Sheetal Kandola, 7-5,6-1
Boys' 18-Vikrum Kandola defeated Brandon Rumph, 6-4,6-3
Boys' 16-Vikrum Kandola defeated Brandon Rumph, 6-4,6-4
Boys' 14-Michael Smith defeated Michael Lenaghon, 7-6,6-2
Boys' 12-Mike Marshall defeated Karam Kandola, 6-2,7-5

* * *
---
February 2001
January was quite a month for Eva Birnerova from the Czech Republic. Birnerova took singles and doubles (with partner Galina Voskobaeva) titles at the Venezuela International Championships and the Pony Malta Cup in Columbia. She was also a finalist at the Coffee Bowl, losing to Gisela Dulko, 6-0,6-3.

* * *
The 37th Coffee Bowl boys singles finals came down to the top players in the world. Janko Tipsarevic prevailed, defeating Ytai Abougzir, 5-7,6-3,6-2. Doubles winners were Bruno Echagaray/Santiago Gonzalez and Maria Jose Angeri/Gisela Dulko. Tipsarevic also won the singles at the Australian Hardcourt Championships.

* * *
Unseeded Tomaislav Peric of Croatia won the boys singles trophy at the 8th Slovak Indoor after defeating Christian Johansson of Sweden in the finals, 6-0,6-4. The girls' winner, Myria Casanova of Switzerland, also unseeded, topped Virag Nemeth, 6-4,6-2.
---
January 2001
Andy Roddick of the U.S.A. and Maria Emilia Salerni of Argentina have been named as 2000 ITF Junior World Champions in singles. Salerni also captured the doubles title. The boys doubles champions are James Nelson and Lee Childs, Great Britain's first ITF Junior World Champions.
The titles were well justified as Salerni managed to reach the finals of nine of the ten tournaments she played while Roddick won an impressive 42 of 47 junior matches. He has continued his run in the professional circuit, currently ranked at 160 by the ATP.
The 2000 ITF Junior World Champions will be honored at a dinner in Paris during the French Open.

* * *
At the Georgia Junior Winter Open, the following players prevailed in the finals:
Boys' 12-Matthew Poleon
Boys' 14-Davey Sandgren
Boys' 16-Walter Whitmire
Boys' 18-Roddy Cantey
Girls' 12-Bianca Svensson
Girls' 14-Kelley Moore
Girls' 16-Ellen Dawson
Girls' 18-Hallie Erickson

* * *
Tennis For American Youth (TAMY) is a new, non-profit organization dedicated to American junior tennis players. According to TAMY, less than 40% of U.S. college scholarships go to Americans. The goal of the organization is to get American corporations to sponsor teams of players for training and travel. For more information, or to apply for a TAMY sponsorship, go to http://www.tennis4america.com.

* * *
The Price Cup was held in Miami, Florida the first week of December. Yugoslavia's Jarko Tipsarevic won the singles title after defeating Argentina's Bryan Dabul, 6-1,6-2. Shuai Peng of China was the girls winner after topping Yulia Beygelzimer of the Ukraine, 7-6,3-6,7-5. Doubles titles went to Bryan Dabul/Pietro Ansaldo and Petra Cetlovska/Eva Birnerova.
Tipsarevic was also the singles winner at the 14th Yucatan Cup in Mexico. The girls title at that tournament went to Marion Bartoli and doubles were won by Bruno Echagaray/Santiago Gonzalez and Giorgia Mortello/Melissa Torres.
* * *