NCAA DIVISION III MEN'S CHAMPIONSHIPS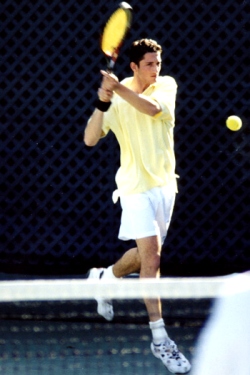 Williams College was the big winner as Josh Lefkowitz (right) led his team to a trophy before picking up one of his own.
It was a fitting way for the No. 1 ranked Josh Lefkowitz to end his college playing career. First Josh brought Williams to their third National Championships in the four years he was on the team with a 4-3 win over Emory. Next, Josh overcame Kevin Whipple of Gustavus Adolphus in the finals of the Singles Championships for that trophy.
In the Doubles Championships, the California-Santa Cruz streak of winning the last four trophies ended. The Claremont-Mudd-Scripps team of John Cham-A-Koon and Ivan Yeh made their way through a draw of the top doubles pairs in the nation to pick up their first national title. They defeated Kalamazoo's Kyle Harding and Jeff Keen in the finals, 6-4,6-2.