NCAA DIVISION III WOMEN'S CHAMPIONSHIPS
Repeat was the word for NCAA Division III women as Anusha Natarajan & Mary Ellen Gordon, Elena Blanina and Williams College made it two for two.
With a 6-3 win over Emory, Williams College became the first team to repeat as NCAA Division III women's champions in the tournaments 21 year history. This trophy brought the team its ninth championship overall.
Elena Blanina (right) of Methodist College won her second NCAA Division II Singles Championship. Elena survived Trinity University's Lizzie Yasser in a tough, 7-5,7-6(2) match. The junior will have an opportunity to return again next year and continue her streak.
Anusha Natarajan (left) and Mary Ellen Gordon (right) of Emory added another Doubles crown this year as they defeated Rathi Mani and Kat Copiozo of Washington University, 6-1,6-2. It was a final bow for Senior Anusha. Mary Ellen Gordon, a sophomore, was also a semifinalist in the singles event.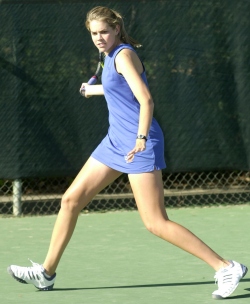 ---
OM: medium none; BORDER-LEFT: medium none; MARGIN: 0px; BORDER-TOP: medium none; BORDER-RIGHT: medium none">
Monthly Guides to
College Tennis Planning
Available in Kindle, Print & EBook
for H.S. Seniors
and H.S. Juniors