Friday, May 18, 2007-Day Two
Women's Team Round of 16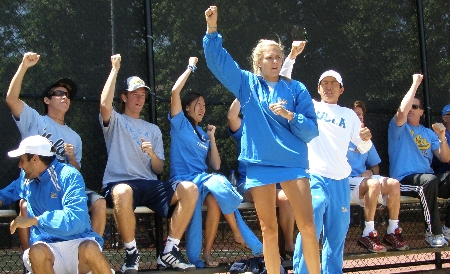 There seems to be no end to the excitement at the University of Georgia as the upsets continue through the women's round of 16 at the NCAA Division I Championships.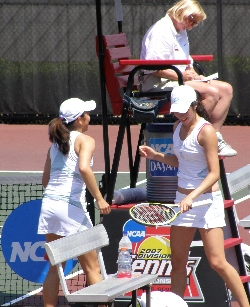 I arrived for the last quarter of the UCLA-Northwestern match. It appeared to be as one-sided as the 5-0 Bruins score indicates. I have to say that I am genuinely surprised at that one. It's not that the twelth-seeded UCLA women didn't earn the victory, but Northwestern has had an incredible season and earned their No. 5 seeding. And today they went down in straight sets across the board.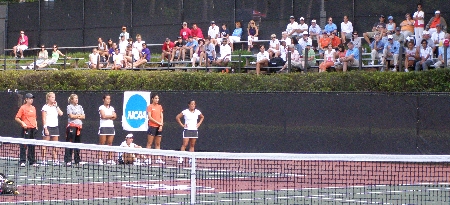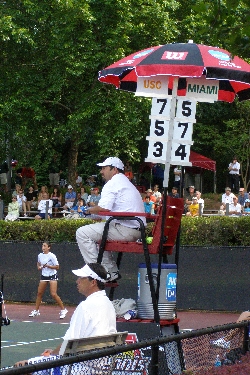 Anyone who thinks women's tennis is boring wasn't at today's (9) Miami-Southern California (8) match. It was a match I would watch, leave, and come back to an hour later to find it still going and still exciting. There were three three-setters and, with the score tied at 3-3, it all came down to the number ones' as Lindsey Nelson and Audra Cohen battled it out. It was a heartwrentching match that had the crowd on their feet. Last year's Singles Finalist was drained emotionally and physically and Audra took it -- 5-7,7-5,6-3.


The Yellow jackets came out with their brightest yellow sneakers and made their presence known to Fresno State. They lost the doubles point without a win, but it didn't stop the determination in singles. It was yet another close match today with two of college tennis' top players -- Kristi Miller and Melanie Gloria -- not even finishing. With the former leading 2-6,6-2,5-4, it could have been a different outcome had they, however, GT's Alison Silverio sealed the 4-2 victory with a win over Renata Kucerkova.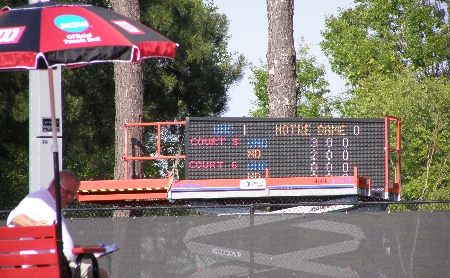 Just when I thought I had seen it all, I found the Notre Dame-North Carolina match. Now, No. 11 North Carolina was not among my top picks for teams to be this far at the beginning of the season, but I saw today how they got here. The Tar Heels dominated the doubles point. Then, despite the support from her strong tennis family (Margie, Ramsey & Stan, pictured below), Austin Smith fell to Cosmina Cioubanu and the Irish evened it. The team score continued to trade with an NC win from Sara Anundsen and ND's Colleen Rielley, and the tension mounted with three matches left.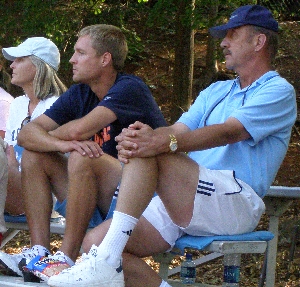 It was a close match at No. 1 as Jenna Long edged past Catrina Thompson at 5-7,6-4,6-4 and gave North Carolina the 3-2 lead. With Sanaz Marand up 3-0 against Brook Buck, it looked like the Tar Heels had the win, but this is the game of tennis and anything can happen. Sanaz began to cramp and fell in a 7-5 third set. The score was 3-3 and it was down to the Irish's Christian Thompson and Katrina Tsang. Neither one was ready to quit and it seemed to go on forever. I stopped taking notes after the sixth match point, but Christian did finally take one and Notre Dame moved on to the quarters.
In the matches today that I wasn't able to see, top-seeded Stanford had no problem shutting out No. 16 Vanderbilt. I heard No. 4 Florida struggled a bit over No. 13 Baylor, but pulled it out 4-2. Second-seeded Georgia used the homecourt crowd to help them to a 4-1 win over William And Mary (15). And (10) California blanked (7) Clemson.
Saturday is the men's quarterfinals and there are four matches to be excited about. Let's see if North Carolina State can continue as the only unseeded team in the tournament after they face Baylor. And will the third time (this season) be the charm for Illinois to take Ohio State? Also on the agenda is undefeated Georgia and UCLA, as well as Virginia and Southern Cal. It's going to be quite a day!
Until tomorrow,
Marcia Frost