Wednesday, May 23, 2007-Day Seven
Singles, Day One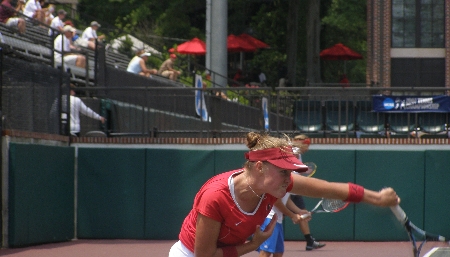 It's been a long week for those of us who were here through the team and it's starting to show. Although all of the top seeds survived, there were upsets and injuries.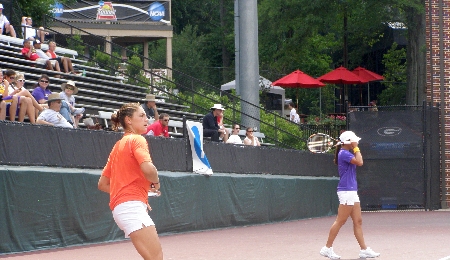 Fortunately my assistant (/daughter) arrived to help me out, but it is still a daunting task to try to cover 64 matches. I spent most of the day trying to just catch a bit here and there. Afterall, there are still many days and many matches to go. I did my usual first stops at the Eastern players and it was a tough go for the three that are in it.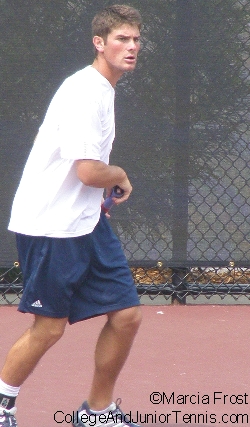 Ohio State's number one, New Yorker Bryan Koniecko, had a rocky start against Vanderbilt's Ryan Preston. It was a one break difference in the first to Ryan, only to be the same in the second for Bryan. I was back for the end of the third and watched the Buckeye's 6-3 victory. A few courts away another New Yorker was having a similar fate. I've been watching Shadisha Robinson since she was little and she always likes to take her time. It was no different today as she won the first set against Tennessee's Blakely Griffith, only to lose the second and come back in the third. I caught some of the close points in this match.
The final New Yorker on the court today was seventh-seeded Stephen Bass (right). Though he advanced with a quick 6-2,6-4 win over Southern Cal's Kaes Van't Hof, his ankle injury is still visibly painful. We'll have to see if the Notre Dame senior can keep it up thorugh the next rounds.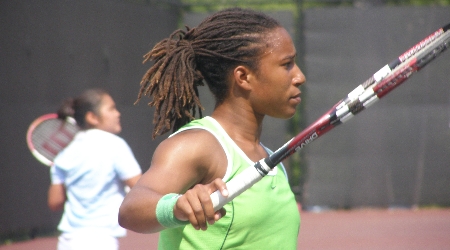 There were only a few minor upsets in the alphabetical 9-16 seeds. LSU's Ken Skupski took out Todd Paul of Wake Forest, 6-2,6-3; Denver's Adam Holmstrom fell to Martin Sayer of Radford; and UCLA's Riza Zalameda lost to TCU's Ana Cetnik. Also of note for Wednesday was the retirement of Matt Bruch of Stanford, who has been plagued by injuries this year but appeared to be better when he won Pac 10. Top-seeded Audra Cohen was also stretched by Georgia's Monika Dancevic in a three-set crowd-pleasing match. And, as always, I enjoyed watching the exciting game of Megan Moulton-Levy (above) as last year's semifinalist defeated Madina Rakhim, 6-0,6-3

Doubles begin on Thursday so I'm looking for even more excitement at the NCAA Division I Championships. Until Tomorrow,
Marcia Frost


click on a photo to enlarge
Anastasia Zhukova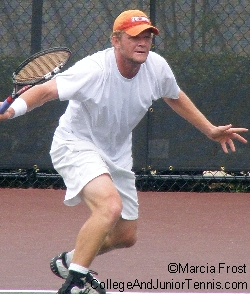 Clancy Shelds
Blakely Griffith
Chris Surapol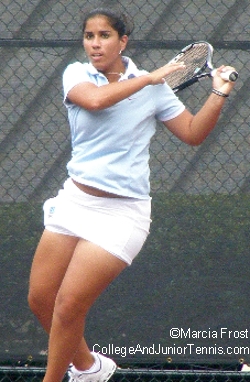 Sanaz Marand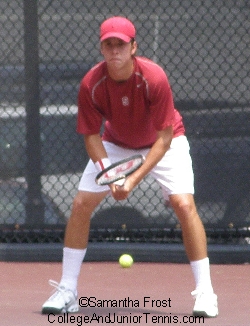 Matt Bruch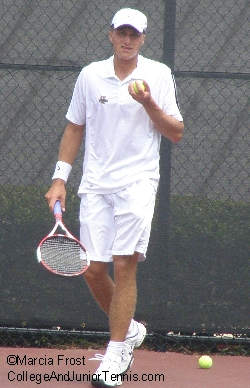 Ryan Preston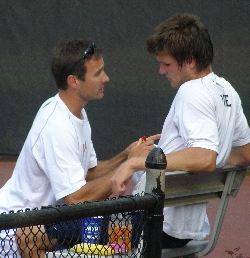 Create an Amazon Wedding Registry
---
Monthly Guides to
College Tennis Planning
Available in Kindle & Print
Create an Amazon Wedding Registry
Return to:
College And Junior
Tennis Homepage