Finals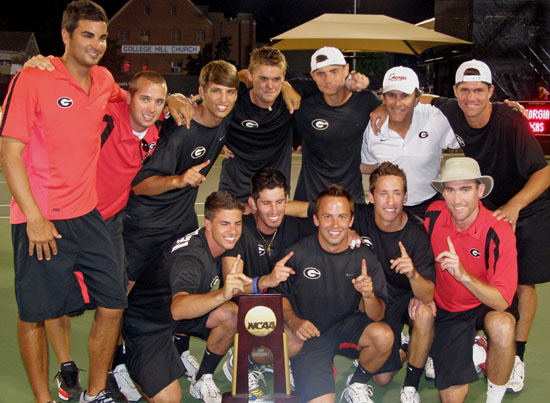 Georgia (4) 4, Texas (7) 2
Travis Helgeson (G) defeated Dimitar Kurtovsky (T), 4-6,6-2,6-3
Nate Schnugg (G) defeated Kellen Damico (T), 6-4,6-2
Luis Flores (G) defeated Ed Corrie (T), 6-3,1-6,6-1
Jamie Hunt (G) defeated Luis Diaz Barriga (T), 6-1,6-4
Javier Garrapiz (G) vs. Milan Mihailovic (T), 4-6,6-2,2-1 Did Not Finish
Miguel Reyes Varela (T) defeated Christian Vitulli (G), 6-4,6-3
Jamie Hunt/Nate Schnugg (G) vs. Ed Corrie/Kellen Damico (T), 8-7 Did Not Finish
Luis Diaz Barriga/Miguel Reyes Varela (T) defeated Luis Flores/Javier Garrapiz (G), 8-6
Dimitar Kurtovsky/Josh Zavala (T) defeated Travis Helgeson/Christian Vitulli (G), 8-3
Semifinals
Georgia (4) 4, Virginia (1) 3
Somdev Devvarman (V) defeated Travis Helgeson (G), 2-6,6-3,6-4
Nate Schnugg (G) defeated Treat Huey (V), 6-4,6-2
Luis Flores (G) defeated Dominic Inglot (V), 6-2,6-1
Jamie Hunt (G) defeated Sanam Singh (V), 4-6,6-3,6-0
Javier Garrapiz (G) defeated Michael Shabaz (V), 7-5,6-3
Ted Angelinos (V) defeated Christian Vitulli (G), 4-6,6-3,6-2
Somdev Devvarman/Treat Huey (V) defeated Jamie Hunt/Nate Schnugg (G), 8-4
Dominic Inglot/Michael Shabaz (V) defeated Luis Flores/Javier Garrapiz (G), 9-7
Travis Helgeson/Christian Vitulli (G) defeated Houston Barrick/Sanam Singh (V), 8-5

Texas (7) 4, UCLA (3) 2
Dimitar Kutrovsky (T) defeated Harel Srugo (UCLA), 3-6,6-2,6-3
Kellen Damico (T) vs. Holden Seguso (UCLA), 6-4,5-7,2-2 Did Not Finish
Mathieu Dehaine (UCLA) defeated Ed Corrie (T), 6-4,6-2
Luis Diaz Barriga (T) defeated Michael Look (UCLA), 6-3,1-6,6-2
Jeremy Drean (UCLA) defeated Milan Mihailovic (T), 7-6(3),6-2
Miguel Reyes Varela (T) defeated Nick Meister (UCLA), 3-6,6-3,6-0
Nick Meister/Harel Srugo (UCLA) vs. Ed Corrie/Kellen Damico (T), 7-7 Did Not Finish
Luis Diaz Barriga/Miguel Reyes Varela (UT) defeated Mathieu Dehaine/Holden Seguso (UCLA), 8-6
Dimitar Kutrovsky/Josh Zavala (UT) defeated Jeremy Drean/Michael Look (UCLA), 8-5
Quarterfinals
(in draw order)
Virginia (1) 4, Baylor (9) 2
Somdev Devvarman (V) defeated Lars Poerschke (B), 6-3,6-2
Denes Lukacs (B) defeated Treat Huey (V), 6-4,7-6(5)
Dominic Inglot (V) defeated David Galic (B), 6-7(3),6-3,7-5
Dominik Mueller (B) defeated Sanam Singh (V), 6-3,6-4
Michael Shabaz (V) defeated Attila Bucko (B), 6-2,6-4
Ted Angelinos (V) vs. Jordan Rux (B), 7-6(2),3-6,3-2 Did Not Finish
Somdev Devvarman/Treat Huey (V) defeated David Galic/Denes Lukacs (B), 8-6
Attila Bucko/Lars Poerschke (B) vs. Dominic Inglot/Michael Shabaz (V), 7-3 Did Not Finish
Houston Barrick/Sanam Singh (V) defeated Dominik Mueller/Jordan Rux (B), 8-3

Georgia (4) 4, Mississippi (5) 0
Travis Helgeson (G) defeated Erling Tveit (M), 6-4,6-4
Nate Schnugg (G) defeated Matthias Wellermann (M), 6-4,6-7(4),6-1
Luis Flores (G) vs. Robbye Poole (M), 7-5,6-7, Did Not Finish
Jamie Hunt (G) vs. Jonas Berg (M), 3-6,6-3,4-3 Did Not Finish
Javier Garrapiz (G) vs. Kalle Norberg (M), 6-4,5-4 Did Not Finish
Christian Vitulli (G) defeated Bram ten Berge (M), 6-3,7-5
Jamie Hunt/Nate Schnugg (G) defeated Jonas Berg/Erling Tveit (M), 8-4
Luis Flores/Javier Garrapiz (G) defeated Bram ten Berge/Matthias Wellermann (M), 8-6
Travis Helgeson/Christian Vitulli (G) vs. Jakob Klaeson/Tucker Vorster (M), DNF
UCLA (3) 4, Southern California (6) 2
Harel Srugo (U) defeated Robert Farah (S), 7-6(4),6-3
Holden Seguso (U) defeated Kaes Vanít Hof (S), 7-5,7-6(5)
Jaak Poldma (S) defeated Mathieu Dehaine (U), 7-6(3),6-3
Michael Look (U) vs. Gary Sacks (S), 6-2,4-6,4-5 Did Not Finish
Abdullah Magdas (S) defeated Jeremy Drean (U), 6-4,6-3
Nick Meister (U) defeated Andrew Piotrowski (S), 6-4,6-4
Robert Farah/Kaes Vanít Hof (S) defeated Nick Meister/Harel Srugo (U), 8-6
Mathieu Dehaine/Holden Seguso (U) defeated Abdullah Magdas/Gary Sacks (S), 8-5
Jeremy Drean/Michael Look (U) defeated Andrew Piotrowski/Jaak Poldma (S), 8-6

Texas (7) 4, Ohio State (2) 2
Dimitar Kutrovsky (T) defeated Bryan Koniecko (O), 1-6,6-2,6-3
Steven Moneke (O) defeated Kellen Damico (T), 6-4,1-6,6-2
Justin Kronauge (O) vs. Ed Corrie (T), 7-6(8),5-3 Did Not Finish
Luis Diaz Barriga (T) defeated Shuhei Uzawa (O), 6-1,2-6,6-1
Milan Mihailovic (T) defeated Matt Allare (O), 7-6(4),6-4
Balazs Novak (O) defeated Miguel Reyes Varela (T), 6-2,6-2
Ed Corrie/Kellen Damico (T) defeated #10 Bryan Koniecko/Steven Moneke (O), 8-5
Drew Eberly/Justin Kronauge (O) vs. #53 Luis Diaz Barriga/Miguel Reyes Varela (T), 7-6 Did Not Finish
F Dimitar Kutrovsky/Josh Zavala (T) defeated Matt Allare/Shuhei Uzawa (O), 8-4
Round of 16
(in draw order)
Virginia (1) 4, Michigan (16) 0
Somdev Devvarman (V) vs. Matko Maravic (M), 7-5,4-1 Did Not Finish
Treat Huey (V) defeated Jason Jung (M), 6-4,6-2
Dominic Inglot (V) defeated Andrew Mazlin (M), 6-3,6-4
Sanam Singh (V) vs. Mike Sroczynski (M), 3-6,6-4,1-0 Did Not Finish
Michael Shabaz (V) defeated Chris Madden (M), 6-3,6-0
Ted Angelinos (V) vs. George Navas (M), 6-2,5-4 Did Not Finish
Somdev Devvarman/Treat Huey (V) vs. Matko Maravic/Andrew Mazlin (M), 6-5 Did Not Finish
Dominic Inglot/Michael Shabaz (V) defeated Jason Jung/Mike Sroczynski (M), 8-4
Houston Barrick/Sanam Singh (V) defeated Chris Madden/George Navas (M), 8-3

Baylor (9) 4, Tennessee (8) 1
Lars Poerschke (B) defeated Kaden Hensel (T), 6-2,6-1
Denes Lukacs (B) defeated J.P. Smith (T), 6-2,6-3
Boris Conkic (T) vs. David Galic (B), score unavailable, Did Not Finish
Dominik Mueller (B) defeated Davey Sandgren (T), 6-0,6-1
Attila Bucko (B) defeated Matteo Fago (T), 3-6,6-3,6-4
Jeremy Tweedt (T) vs. Jordan Rux (B), score unavailable, Did Not Finish
Kaden Hensel/J.P. Smith (T) defeated David Galic/Denes Lukacs (B), 9-8(4)
Attila Bucko/Lars Poerschke (B) defeated Davey Sandgren/Jeremy Tweedt (T), 9-8(3)
Boris Conkic/Matteo Fago (T) defeated Dominik Mueller/Jordan Rux (B), 9-8(2)

Georgia (4) 4, Pepperdine (13) 1
Bassam Beidas (P) defeated Travis Helgeson (G), 6-2,6-4
Nate Schnugg (G) vs. Omar Altmann (P), 6-3,4-6, Did Not Finish
Luis Flores (G) defeated James Lemke (P), 6-1,6-4
Jamie Hunt (G) vs. Mahmoud Kamel (P), 7-5,5-4 Did Not Finish
Javier Garrapiz (G) defeated Rikus de Villiers (P), 6-2,6-1
Christian Vitulli (G) defeated Alex Moreno (P), 6-3,6-4
Jamie Hunt/Nate Schnugg (G) defeated Bassam Beidas/Johannes de Villiers (P), 8-1
Luis Flores/Javier Garrapiz (G) defeated Mahmoud Kamel/James Lemke (P), 8-2
Travis Helgeson/Christian Vitulli (G) vs. Omar Altmann/Brian Brogan (P), 5-7 Did Not Finish

Mississippi (5) 4, North Carolina (12) 2
Erling Tveit (M) defeated Benjamin Carlotti (N), 6-3,6-2
Matthias Wellermann (M) defeated Stefan Hardy (N), 4-6,6-3,6-2
Robbye Poole (M) defeated Chris Kearney (N), 7-5,6-4
Clay Donato (N) defeated Jonas Berg (M) 6-3,2-6,3-2 retired
Kalle Norberg (M) vs. Taylor Fogleman (N), Did Not Finish
Bram ten Berge (M) vs. David Stone (N), 7-5,7-5
Jonas Berg/Erling Tveit (M) defeated Taylor Fogleman/Chris Kearney (N), 8-4
Robbye Poole/Matthias Wellermann (M) defeated Clay Donato/Stefan Hardy (N), 8-6
Tristan Heinrich/David Stone (N) defeated Jakob Klaeson/Tucker Vorster (M), 8-5

Southern California (6) 4, Oklahoma State 2
Oleksandr Nedovyesov (O) defeated Robert Farah (S), 6-1,3-6,6-2
Kaes Vanít Hof (S) defeated Ivan Puchkarov (O), 6-4,6-1
Jaak Poldma (S) vs. Dmytro Petrov (O), 3-6,6-2,3-3 Did Not Finish
Nathan Byrnes (O) defeated Gary Sacks (S), 4-6,6-4,6-4
Abdullah Magdas (S) defeated Anton Bobytskyi (O), 6-1,6-0
Andrew Piotrowski (S) defeated Igor Sobolta (O), 7-6(3),5-7,6-3
Robert Farah/Kaes Vanít Hof (S) vs. #18 Nathan Byrnes/Oleksandr Nedovyesov (O), 6-6
Abdullah Magdas/Gary Sacks (S) defeated Dmytro Petrov/Ivan Puchkarov (O), 8-3
Andrew Piotrowski/Jaak Poldma (S) defeated Anton Bobytskyi/Igor Sobolta (O), 8-4

UCLA (3) 4, Florida State (14) 0
Harel Srugo (U) vs. Jean-Yves Aubone (F), 6-4,5-5 Did Not Finish
Holden Seguso (U) vs. Clint Bowles (F), 1-6,5-5 Did Not Finish
Mathieu Dehaine (U) defeated Sam Chang (F), 6-3,6-3
Michael Look (U) defeated Maciek Sykut (F), 6-3,6-2
Jeremy Drean (U) vs. Chris Cloer (F), 6-4,3-5 Did Not Finish
Nick Meister (U) defeated Brad Mixson (F), 6-4,6-3
Nick Meister/Harel Srugo (U) defeated Jean-Yves Aubone/Clint Bowles (F), 9-7
Mathieu Dehaine/Holden Seguso (U) defeated Sam Chang/Maciek Sykut (F), 8-4
Drew Bailey/Brad Mixson (F) defeated Jeremy Drean/Michael Look (U), 8-5

Texas (7) 4, Florida (10) 0
Dimitar Kutrovsky (T) vs. Greg Ouellette (F), 4-6,7-5, Did Not Finish
Kellen Damico (T) vs. Nestor Briceno (F), 6-3,3-6,2-1 Did Not Finish
Ed Corrie (T) defeated Alex Lacroix (F), 6-2,6-2
Luis Diaz Barriga (T) defeated Jeff Dadamo (F), 6-2,3-6,3-6
Milan Mihailovic (T) vs. Tyler Hochwalt (F), 6-4,3-6,1-0 Did Not Finish Miguel Reyes Varela (T) defeated Johnny Hamui (F), 6-4,7-5
Ed Corrie/Kellen Damico (T) defeated Jeff Dadamo/Greg Ouellette (F), 8-4
Luis Diaz Barriga/Miguel Reyes Varela (T) defeated Nestor Briceno/Alex Lacroix (F), 8-6
Dimitar Kutrovsky/Josh Zavala (T) vs. Barton/Tyler Hochwalt (F), 7-4 Did Not Finish

Ohio State (2) 4, Illinois (15) 3
Bryan Koniecko (OS) defeated Ryan Rowe (I), 7-5,6-2
Steven Moneke (OS) defeated Ruben Gonzales (I), 6-4,6-3
Justin Kronauge (OS) defeated Marc Spicijaric (I), 6-4,6-7(0),7-6
Billy Heiser (I) defeated Matt Allare (OS), 6-4,6-0
Balazs Novak (OS) defeated Roy Kalmanovich (I), 6-2,6-3
Waylon Chin (I) defeated Drew Eberly (OS), 7-5,2-6,6-2
Bryan Koniecko/Steven Moneke (OS) defeated Billy Heiser/Ryan Rowe, 8-6
Ruben Gonzales/Marc Spicijaric (I) defeated Drew Eberly/Justin Kronauge, 8-5
Waylon Chin/Brandon Davis (I) defeated Matt Allare/Balazs Novak, 9-8(4)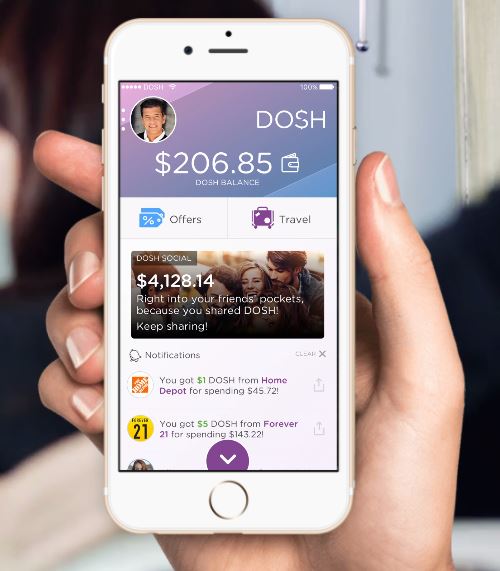 Collegiate: Zipcar for students - cars located right on campus. Find out if your campus zips and join for just $15!
Fetch Rewards
Use code V4NJK at sign up and get a $2 bonus
Rosewe.com
Free Shipping on all Orders





Book Your Perfect Bahamas Family Vacation Here! Atlantis, Paradise Island.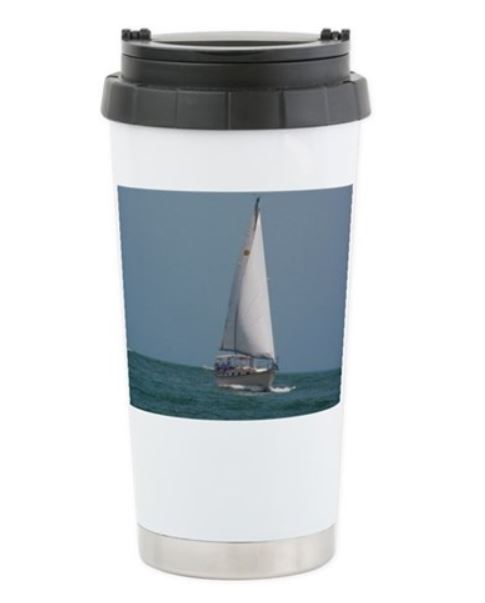 Take an extra 10% Off + FREE shipping on your first order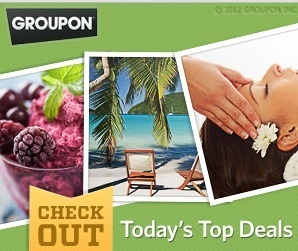 Get $6 off your first order of $48 on organic snacks & sustainable products At Brandless which also donates a meal for every purchase






Return to:
College And Junior
Tennis Homepage