1st Annual
APPLE & EVE LONG ISLAND TENNIS CLASSIC
A USTA Circuit Event
July 14-21, 2003
7/21/02-Final Day
Though it seemed by the upsets in the first round that the first Apple & Eve Long Island Tennis Classic would be a tournament of surprises, the final results were not. In both draws, the No. 2 seeds prevailed. Yoon-Jeong Cho of Korea took the singles title while the doubles went to Jessica Lehnhoff and Jennifer Embry. The event proved a successful one and plans are underway to bring it back next year.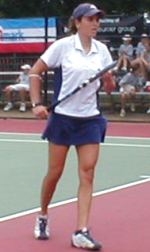 7/20/02-Day Five
Jessica Lehnhoff -- pictured right -- survived an amazing eleven match points before falling to second-seeded Yoon-Cho Jeong. Though she managed to come back from a 5-1 deficet in the second set to force a second tiebreaker, Jessica couldn't pull it off. She has one more chance to reach her first final as a professional, though, as she plays the doubles semis this afternoon with partner Jennifer Embry.
7/19-02-Day Four
While all of the juniors have been eliminated, recent University of Florida player Jessica Lehnhoff continues to make her way through the draw. She has advanced to semifinals in both singles and doubles.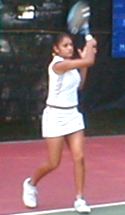 7/18-02-Day Three
Sunitha Rao -- pictured left -- just couldn't get past Japan's Miho Saeki. The sixteen-year old was understandably nervous against the No. 195 player in the world and managed only one break. Sunitha fought back on some long points before succombing, 6-2,6-2. Though the tournament has her listed as an amateur, Sunitha recently turned professional and will play the USTA Circuit before the US Open Junior Championships.
Tanner Cochran made it through the blistering heat and almost won her battle with Elena Taterkova, the player from Ukraine who yesterday ousted top-seeded Laura Granville. In a match that lasted just under two hours, Tanner fought through a 6-3,7-5 loss. With a few hours to cool off and rest, Tanner was then to team up with Shenay Perry for a tough doubles match against NCAA champions Laura Kalvaria and Gabriela Lastra. (Click here for more on Tanner Cochran.)
It was a similar story for Amber Liu in her match against the No. 163 player in the world, Akiko Morigami. Amber kept up with the pressure, breaking serve and sending long games through multiple deuce points. Akiko just kept coming back one better and moved on to the quarters, 7-5,6-4. (Click here for more on Amber Liu)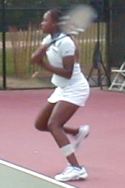 Shadisha Robinson -- pictured right -- was unlike her fellow juniors. She walked onto the court in control and not intimidated by Jane Chi. She took command to a 4-1 lead, but could not hold it. Shadisha, who just turned 17 last week, began to have service problems and lost her edge. Jane prevailed, 6-4,6-2. (Click here for more on Shadisha Robinson)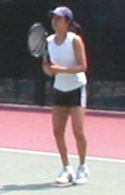 7/17/02-Day Two Main Draw
The amateurs continue to move on as the fourth one in the draw, Sunitha Rao, won her match today. Though it took some work, Sunitha got past fellow American Kelly McCain, 6-2,5-7,6-1. The other juniors had the day off (with the exception of a practice session for Amber Liu -- pictured left -- and Tanner Cochran).
In another match reminiscent of the recent college season, Jessica Lehnhoff defeated Gabriela Lastra, 6-2,2-6,6-1. The match was closer than the score indicated as both players hit hard through long points.
7/16/02-Day One Main Draw
Juniors took full advantage of their wildcards today, causing major upsets. Amber Liu, currently the top ranked player in the USTA Girls' 18 National Rankings, defeated the seventh-seeded Mi-Ra Jeon of Korea, 2-6,6-3,6-2. Shadisha Robinson, another top-ranked junior who has been playing the ITF circuit the last few months, overpowered No. 5 seeded Mashona Washington, 6-2,2-6,6-4. Also advancing today was Tanner Cochran -- pictured right. Tanner defeated Tara Snyder, 6-1,2-6,6-2. More detailed action on these talented juniors to come for second round play as well as featured stories next week.
This event will benefit the Long Island Tennis & Sports Foundation. The Syosset-Woodbury Community Park is located on Jericho Turnpike in Woodbury. Tickets are only $10 each ($5 for Town of Oyster Bay residents). Holders of an Advantage Club card from sponsor Pathmark can buy one ticket and get one free. For more information, call 516-367-3100.
Marcia Frost